We spend a lot of time thinking about the songs we love, and 2016 gave us plenty of great music we'll remember. It gave us a lot of crap, too—songs that wore us out every time they came on. These were our least favorite songs of the year.
Justin Timberlake, "Can't Stop the Feeling"
There are certain songs notable not only for their popularity, but for an insufferable repetition most appealing to small children. Consider "Who Let the Dogs Out," "MMMbop," and 2016's entry to the canon, Justin Timberlake's "Can't Stop the Feeling," a soundtrack contribution to fad toy spinoff movie Trolls and a decent argument for teleporting Justin back to The Mickey Mouse Show. An almost five-minute runtime and memorable lyrics like, "Just dance, dance, dance!" somehow qualified this funk-lite earworm as a #1 hit, but even its official music video was a flat, tacky ripoff of the song Timberlake wishes he wrote: Pharrell's Grammy-winning Minions theme "Happy." Now, in a cynical demonstration of Academy predictability and mediocrity creep, "Can't Stop the Feeling" is itself nominated for a Grammy. (An Oscar nod can't be far off.) If Timberlake gets a statue for this smug nonsense, he ought to apologize and donate it to the Wiggles. — ANNA GACA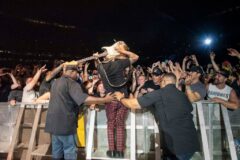 Desiigner, "Tiimmy Turner"
In which Desiigner ruins a good thing by not going the Shai route. The Bed-Stuy upstart became the XXL Freshman Class's unexpected highlight when he turned his freestyle performance into a  bluesman's requiem. It took him less than 40 seconds to disprove he was Future's clone, because doppelgangers don't have souls. Desiigner was so free a spirit that when cameras captured him leaving prison after his brief September stay, he looked like he'd just left 1 OAK's VIP section.
But the surefire hit became a four-minute redefinition of overthinking. Mike Dean's overproduction turns that charm into a nuisance. Desiigner's ad-libs are reduced to joyless accoutrements. His spontaneous rat-ta-taing is indelible by itself, but picture someone throwing pink Starbusts at your face like you're some kind of invalid. They're not as sweet, huh? The instrumental doesn't seem quite sure of its purpose either: We get what sounds like a trap retrofitting of the Halo theme song topped off by a clubfooted rework of Jamie xx's "Loud Places."
"Panda" was it. "Tiimmy Turner" ain't. Bed-Stuy took an L, but by the grace of "OOOUUU," the neighborhood recovered. — BRIAN JOSEPHS
John Mayer, "Love on the Weekend"
What is John Mayer doing all week that he has to wait until the weekend to do his loving? "It's a Friday, we finally made it / I can't believe I get to see your face," he sings with all the sensuality of a toothpaste tube to open "Love on the Weekend," his lone single from 2016. Bruce Springsteen has spent his entire career proving it's possible for a moneyed rock superstar to convincingly mine the woes of humble nine-to-fivers in song, but Mayer gives us no sense of the drudgery, no reason to believe he's ever spent a Tuesday afternoon doing anything other than making hilarious guitar faces and giving embarrassing interviews to Playboy. Over a lightly flanged electric guitar, sounding like he's just discovered Rumours for the very first time, Mayer channels his unabashed weekend horniness through bland images of a fast car and a message in a bottle. "I'll be dreamin' of the next time we can go / Into another serotonin overflow," he sings, and you wonder whether the happiness hormone is really the overflowing bodily fluid he's thinking about. — ANDY CUSH
Lukas Graham, "7 Years"
I heard "7 Years" so much this year—in cabs, waiting at the optometrist, waiting at the regular old doctor, waiting for laundry to finish—that I briefly tricked myself into believing that I liked it. In theory, it felt kind of funny as a curiosity: the chronological, Broadway-ready nature of it. It used concise images and one hypnotic melody (the same fucking little lick, over and over, contoured along the lines of "Bad Day") to tell the entire story of this babyfaced, flat-brimmed Swedish lout's existence. How was it possible to a whole life into four minutes?
It's pretty easy, I imagine, if yours is lame and boring. This is no "A Very Good Year," folks. And one need only glance at the opening frames of the video, in which lead singer Lukas Forchhammer scribbles into a diary like he's the sad-boy answer to Knausgaard, and tune into those cornball crib chimes at the beginning of the track to know that it's basically a moral imperative to denounce and reject this song. In case that's not enough, consider this crucial line: "I'm still learning about life/My woman brought children for me/So I can sing them all my songs." Some kids have it rough. — WINSTON COOK-WILSON
Macklemore & Ryan Lewis, "Spoons"
Macklemore means well, but his blurred lyrics have always been his downfall. The tone deaf track "Spoons" might have been released as a joke, but some of the bars are just unforgivable. There's too many to write down, but some of the lows include: "she's like 'I'm tired' and I'm like 'Aw, man'/I was 'bout to crush the coochie like a tall can," "my boo boo thang, she get too comfortable, bathroom door open when she boo boo-ing," and "she said Fifty Shades of Grey was the best read/I'm more of a Giving Tree type of guy, Shel Silverstein." I thought Drake's "got so many chains they call me Chaining Tatum" line on "Pop Style" was bad, but it didn't take much for Macklemore to take the cake. This song might exceed the boundary of 2016 and go down as one of the worst hip-hop songs ever recorded. — JOSH ROSENBERG
Drake – "Fake Love"
At the end of October, just a handful of business days before the presidential election, Aubrey Drake Graham turned thirty years old. I don't know how he celebrated the occasion; I imagine alcohol was involved, along with some self-reflection. I see Drake, or someone close to him, giving a toast. Thirty is still very young in the context of what should be a long, full life, and age is just a number, but every new decade brings a more concrete reminder that everything is going forward. You are different than you used to be. Your concerns—monetary, political, social—have been altered by the momentum of your day-to-day. Think of yourself now, and think of yourself ten years ago. It doesn't feel like it's been so long, but much has changed. How could it not? How could growing up not induce one to grow up?
But if Drake recognized this natural transition in real life, his music didn't show it. To mark the occasion of his birth, he released "Fake Love," a whiny, vague rejoinder to his haters reducing all of his well-worn lyrical tropes—the Motherfuckers Who Never Loved Us—to a stereotype. There were fake people, Drake sang, showing him fake love. He didn't trust them; they wanted his place. There was no biting specificity, no names or scenes mentioned, no skillful treading of the line between righteous anger and righteous pettiness—just a sing-songy complaint about all the imagined slings and arrows suffered. "Fake Love" was the summation of Drake's worst traits as an artist—the loads of self-pity, and his insistence on pretending like nothing hurts as a way to show that everything hurts. All of it had been said before, in so many better words, in songs that didn't solely function as excess cement slopped onto the foundation of his ego.
It was "no new friends" curdled into an even smugger mantra, because to stay strapped into an armor of one's self-importance is its own kind of fakery, even if Drake would insist he was being honest. And in a year where emotional honesty—real honesty, not the long sighs that make you look thoughtful to people you want to kiss—felt necessary to me, given the onslaught of terrible world developments brought to us by a ceaseless procession of charlatans and grifters, to keep going with this fake shit was deeply unsatisfying. The motherfuckers may never love you, but that's all they are. To endlessly use their disdain to make yourself seem sympathetic? Well, grow up. — JEREMY GORDON
https://embed.spotify.com/?uri=spotify%3Atrack%3A6NMNgWgEAzde5M8U3lc6FN