Six episodes into its run, HBO's Westworld—the station's garishly expensive cyborg-Jurassic-Park drama—has featured several major Radiohead music cues. Previously, we heard a player piano covers of "No Surprises" pealing in the background of the bar and brothel presided over by Thandie Newton's character Maeve Millay. On the latest episode, we were treated to a version of "Fake Plastic Trees" (a song which, fittingly, takes place in a "fake plastic" world and co-stars a "cracked polystyrene man"). Because that wasn't enough, we also got a string quartet arrangement of Kid A's "Motion Picture Soundtrack."
It feels as if there's now enough Radiohead on Westworld to balance all of the other would-be-trippy pop music covers it integrates. (Fellow '90s alt-rockers Soundgarden and Nine Inch Nails got some shine, as did a slippery orchestration of "Paint It Black.") Often, dramatic irony motivates extroverted prestige-TV pop-music cues: Think "It Was a Very Good Year" or "Don't Stop Believing" in The Sopranos, or nearly every episode of FX's Fargo series. But for Westworld co-show runner Jonathan Nolan, the idea to use Radiohead wasn't so complicated."Well, the album is called Paranoid Android, so it felt natural," Nolan chuckled at New York Comic Con last month. (The album is not called Paranoid Android; he meant OK Computer.) Later, he also admitted, "I just love Radiohead."
There you have it, folks: Radiohead is all over Westworld because they make songs about robots, and because its creator is a Radiohead fan, even though he doesn't know the name of their most famous album. The love seems to run in the family. Nolan's more famous brother and frequent collaborator Christopher tried to use "Paranoid Android" in his 1999 film Memento, but only managed to snag an extended cut of Kid A's ambient instrumental "Treefingers"; later, he'd get a Thom Yorke solo cut into The Prestige.
At the time, the barrelhouse take on "No Surprises" felt like a corny touch, but the covers in this weekend's episode ("The Adversary") make the previous Radiohead cues look subtle. They'll especially wear on those who've been keeping up with prestige TV: The "Shut Up and Dance" episode of Black Mirror closed with a montage dominated by computer hackers circulating the noted "troll face" meme, underscored by a blaring "Exit Music (For a Film)." "We hope your rules and wisdom choke you," the invisible hackers seem to sneer along with Yorke, making one consider, when foisted upon us in this context, how much a Yorke libretto can read like a Banksy parody Twitter account. (Somewhat related, Jonathan Nolan also put the song in his previous series, Person of Interest.)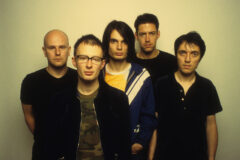 Black Mirror creator Charlie Brooker uses "Exit Music" as literal exit music, as Baz Luhrmann did 20 years ago in Romeo + Juliet. Maeve's walk out of her familiar reality through the Westworld medical department is dominated by a cover of "Motion Picture Soundtrack." We're watching a movie—or at least, a TV show trying to be like a movie—while being reminded that Maeve's existence is essentially a make-believe, well-scripted drama. She also sees a movie of herself—an advertisement for the park—at the conclusion of the sequence. Is she going "crazy"? "Maybe," just like Yorke croons on the original track.
https://embed.spotify.com/?uri=spotify%3Aalbum%3A5UaeboVyWPWEdFB1TUEIc0
The usage feels emotionally exploitative, as well as trite. The plaintive string tones, combined with Maeve—frail, barefooted, speechless—being confronted with the horrors of the workshop and the park's advertisements, feel like an attempt to soullessly engineer pathos. We've seen most of these workshop images in almost every previous episode—bloodied bodies strewn around the floor, skinless human frames being dipped in white liquid, programmers running analytical tests on nude hosts. Maeve herself has been on the loose on the floor before; previously, she'd even replayed the most horrifying images she'd seen, once she was back safe in the park's fictional reality.
Throughout the string-quartet-backed scene, it's also hard not to wonder why Felix—the not-previously revolutionary-minded repairman—agrees to lead Maeve on this illicit tour in the first place, and why they are not being flagged for suspicious behavior. But dramatic logic be damned, Westworld is at pains to jettison us from one emotional plateau to the other, much like guests in the Westworld park stumble between the narratives that have been programmed for them. It feels distracting too, a power play for an expensive show attempting to bludgeon us with its would-be clout; I recalled, also, the "Tomorrow Never Knows" drop in Season 5 of Mad Men, narratively brilliant in comparison. The use of Radiohead in Westworld implies an untoward combination of "Only HBO can sell this to kind of shit to you" and "Only HBO can afford this."
One of the reasons Radiohead were able to rise to such heights in the '90s was by keeping their pseudo-political lyrical ruminations broad-stroke, and their experimental tendencies as a sidebar to their strong, innate sense of pop song form. Their ability to define such a clear niche is why they stand as one of the most popular, resilient, and imitated rock bands of the past thirty years. Forcing one of their songs into interaction with one of the cathartic plot points in your series almost guarantees a dramatic moment that feels smaller than the sum of its parts, especially if the scene hasn't really worked for it. Rather than rounding out the show's narrative, Radiohead end up exposing some of the ways in which Westworld is lacking.