Since she broke out as a solo artist, Dawn Richard—professionally known as D?WN—has steadily separated herself from Puff Daddy's Making the Band lineage. She's progressed from textbook excellent R&B to uncategorizable music: Her latest LP, 2015's Blackheart, was a Greek tragedy's second act in the key of electronica. But although the project's ambition was immense, and well-justified, she hadn't quite escaped the gravitational pull of the then-recently dissolved Danity Kane, who'd reunited in 2013 to middling returns.
Redemption, the final album in a trilogy that started with 2013's Goldenheart, is arguably Richard's first album that exists in a narrative of her own creation. While Blackheart's ambitions might have overwhelmed in one setting, Redemption takes D?WN's multitudes and threads them into accessible strands. D?WN's music has emulated the vibrancy of the dance floor, which has historically been a free space for the LGBTQ community—a population that's even more vulnerable with the election of the absurdly homophobic Vice President-elect Mike Pence.
She makes an effort to tie it all back to her hometown of New Orleans: "LA," a sonic surveillance of Los Angeles' fertile music scene, ends with a brass procession led by New Orleans' Trombone Shorty, while the the futuristic bacchanal of "Lazarus" has hints of a homegrown stomp underneath. Redemption works to rebuild that inclusive atmosphere, while also speaking on her personal journey as a woman. During a recent phone conversation with SPIN, she spoke about the album's themes, the importance of New Orleans to her music, her relationship with the LGBTQ community, and more.
How important for you is releasing this album in a year like 2016?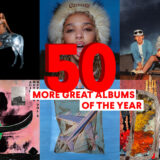 I think it may feel like a really crazy and bad moment, but I actually see the positive in it. I feel like it's a time where motherfuckers feel like they need to come together. It's a fight for unity that we've never seen before.
I saw Saturday Night Live with Dave Chappelle, where he did a skit with Chris Rock where the white liberals were shocked that there was racism in the country. They were just like, "This is everyday for us," and I felt like that was brilliant. It's like that with my friends. My brother, he works at a bank in Seattle: This white lady walked in and asked if he was OK, and he was like, "Yeah, I'm good, I'm okay. It's the same shit I do everyday being a black man in a predominantly white situation." For him, he knows that journey, but it was interesting to see the liberals act the way they did because now they see. So, hopefully we get to see more of this fight for unity, because I think for the first time we're all on the same page in knowing that shit's gotta change, that this shit is crazy.
For a young girl who was born in Louisiana, who would have dealt with being spit on and kicked and all kind of shit growing up, this is the world that I always knew. Being treated crazy, this is what I've known. It's not a surprise to me. It just shows that we have a lot of work to do as humans. Hopefully, the people who weren't awake and living in their bubble, now they have to wake up and see what we've been seeing for a long time. Hopefully, that can cause a unity that impacts change. We have no choice now.

At what point did you realize your reception in the LGBTQ community? 
I think that was always a situation. Danity Kane was just huge for the gay culture: We've always spoke to that community, and respected that community because they've been really good to us. Personally, I grew up never really caring about the idea of "Are you gay or straight? Or a woman or a man?" I grew up in a city where a lot of my favorite artists were either transgender or queer or drag: Katey Red and Big Freedia were huge in New Orleans. I didn't see it in that context, I just respected it for what it was. I grew up where I had hard lines, and my face was hard, and I loved artists like Grace Jones, David Bowie, Prince, and Michael Jackson. My affinity for the idea of beauty never really had a gender or color—it was just dope to me.
Does it sometimes feel like an added weight to the expectations of another community on you? 
There's no weight. It's not like I'm taking this noble stance and speaking for the LGBTQ community. I just feel like I know my fan base and my movement, I love them, and I hear their stories, and they matter. So if I hear their story, I know that it bothers them or speaks to them, so I speak on it. I'm not trying to take no noble cause, because again, I shouldn't be on people that speak on their problems and issues. It's on them. I want their voices to be heard. I love them and I love that they're fighting for their own cause. Sometimes their voices aren't heard, and when their shit isn't heard, and I like to put a fucking period behind it so that it is.

How many songs did you record for this album, in addition to the Infrared EP?
Like a hundred. I just wanted to make sure [Redemption] wasn't overwhelming, because I felt like Goldenheart was too overwhelming with 16 tracks. 

I just wanted to make something that really spoke to New Orleans and the New Orleans sound, and apply that New Orleans sound to the electronic influence that I have in this album. I feel like people haven't really heard New Orleans and that sound in this way. I'm glad that it is relatable, and maybe people who loved Goldenheart have some love here because they love that R&B sound, while I've also developed this whole new fanbase with Blackheart and a lot of EDM fans who've never heard of me. I really wanted to make an album that spoke to both parties.

Why did you choose to cap off the trilogy by going to that New Orleans sound? 
The only people on the album are New Orleans artists. I wanted to give pieces of what I saw growing up, and how there was an appreciation of all colors, races, and genders. Of course, we had our issues, but just the appreciation of the art and the music and where I came from—I wanted that to resonate with the sound. I think electronic culture and pop culture have really embraced New Orleans. We've had Beyoncé and Solange [rep for] Louisiana, which I'm super gracious for because New Orleans is getting a large platform, but I don't think you've heard it in this context with the electronic type of sound.

"Lazarus" is an dance-EDM style track, but it has that New Orleans brass under it.
Yeah, it's got a bop; it's got that brown behind it, that soul in it. That bop, that underground soul, that black, can totally be in there, and exist in pop culture and electronic culture. We're so hell bent on separating the two, but there can be that and it can still be fly. We can all fit in the crowd together. It can be a gay dude, a drag, a transgender chick, a dude that smokes weed, a dude that's a mosh-pitter, and all be in the same vicinity and be boppin'. That's the point: Create that kind of show where you can dance next to any kind of person in the crowd. To me, that's where the grayness lies. Michael did that shit. Prince did that shit.

With the trilogy over, is it a cathartic feeling, or is there anxiety about what's next?
No—there's a martini and a fucking rocking chair and some fucking tea, that's where I'm at. Thank God, and Glad we did it, and now just take it all in and just breathe. It's been 11 years—no personal life, and all work. I've taken no vacations, and I missed so many of my best friends' graduations, and I've missed everything because of work. I wanna see what it's like to just be me, and be a woman, and not worry for a little while.