As we previously reported, a Donald-Trump-inspired episode has been in the pipeline for Law and Order: SVU for a few months. Showrunner Rick Eid told The Hollywood Reporter in September that the show was planning "a story involving some sort of brash demagogue with political ambitions" who had sexual assault charges levied against him. They then ran a promo clip for the episode, which stars Veep actor Gary Cole, in October.
Today, Deadline reports that the episode has been pushed back indefinitely until at least January of next year; originally, it was slated, curiously, to air next Wednesday. The date change is not, their sources clarified, due to the shocking results of the election, but because of a delayed programming schedule due to Game 7 of the World Series. A double episode of Chicago P.D. will air then instead.
The SVU episode had apparently been a source of contention, but as of now, it seems that NBC—the station that aired The Apprentice, remember—is still planning on airing the episode in the new year.
The world, however, can be thankful that they will not have to flip accidentally onto that uncomfortable, dated simulacrum of reality anytime in the near future.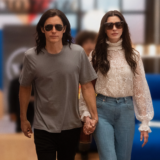 Watch the teaser below, if you can stomach it.