Last month, Bob Dylan was awarded the Nobel Prize in Literature, which sparked a lot of questions of whether music could be considered poetry or literature. Like the Swedish Academy which gave Dylan the award, such questions missed another, more thrilling point: a cross-generational array of poets have taken the soundscapes and narratives of popular music as their writing's main subject. As pop music has become more promiscuous—mixing with other genres like hip-hop and EDM to form an FM Frankenstein—so, too, have the borders of poetry grown looser, thanks to the rise of the internet, where it's easier for gatekeepers to be superseded. Poets have already decided music can be poetry—the music just has to be made theirs. The revolution in literature is here and won't be televised, but rather poured forth from our Spotify queues, speakers, and headphones.
The "Pop Poets" featured here want to be read like MTV was once watched: as an integral part of musical fandom. The majority of this list consists of writers who are of color, queer, trans, and/or women—the very voices that are traditionally disempowered in pop culture, as well as poetry. In Pop Poetry, we see these writers using music as a way to write themselves into the record that they were hitherto refused admittance to. For example, cult icon Kevin Killian's book Action Kylie makes queer identity central to questions of pop music's significance as he dives into Kylie Minogue's work. In Monica A. Hand's me and Nina, Hand writes back against the history of white critics who belittled Simone's talent and dismissed her proud blackness as "haughty" or "difficult."
Most importantly, pop music grants disenfranchised voices an avenue to rewrite personal as well as collective history. Often, we see Pop Poets adopting a cultural figure as either their guide or their ward, a figure who emboldens the writer or a figure whom the writer seeks to save. Pop Poetics becomes a salve for the injustices that normative culture has committed against various artists, peoples, and possibilities, bridging the gap between popular knowledge and popular amnesia. What has been forgotten made visible again, restoring tragic or misunderstood figures to their proper context. Erasure can be erased and a new space drawn to compensate for what has been lost. Thus, the poet Jeremy Reed envisions a new life for an anguished figure like Billie Holiday by depicting "The Billie No-one Knew." More recently, Bobby Crawford's poem "To Jack White, From Meg" (in the Again I Wait… anthology) adopts Meg White's voice in a fierce redress of both Jack White and the critics who valorized him at her expense.
At the same time, however, such revisionist strategies carry the risk of appropriating a figure who cannot "belong" to the poet in the ways they want it to, leading to politically thorny portrayals of already oppressed famous figures—for instance, the white writer Sarah Blake's book-length treatment of Kanye West. Nevertheless, Pop Poetry has, for the most part, signaled the liberation of imaginations from material conditions and musical figures from their text-book fates. New worlds are created, where the "high art" of poetry collides with the "low" form of pop(ular) music.
What follows is a playlist of Pop Poetics: each example pairs an excerpt from a poem with a clip of the song/musician that inspired it, with commentary on some of the entries to give some background on this diverse group of writers. The result will pop your mind's bubble wrap, slide the needle across the record to a new song, bridge the worlds of lit and pop.
1. Action Kylie by Kevin Killian (2008)
Kevin Killian was a founding writer in the New Narrative movement, which focuses on transgressive or taboo themes but structures them around metatext or "found" material from popular culture. In interviews, Kevin Killian—a John Waters-like figure of poetry—explains that he first began writing his book on Kylie Minogue because he was curious whether or not he could take a person "with no talent at all" and make them "advance… into the canon of respectability." Although he began his project with the assumption that Minogue was such a talentless person, he came to genuinely love the singer's work over the course of writing his wildly referential book. Killian is at his best in the long poetic essay "Kylie Evidence," where he chronicles Minogue's career and also her meaning to him:
Her name—Kylie Minogue—is an alphabet from which all meaning has been scooped out, denoting a powerful sovereignty. Rearrange the letters to spell "I like 'em young." More often than not, the icon is in peril, at the mercy of words. Huge, dysfunctional words knock her over on her side. We her fans are evenly split, some of us preferring the "indie Kylie" of "Confide in Me" and Impossible Princess, some of us rejoicing that she has returned to her pop roots with Light Years…

But what does one do with one's enthusiasms? Where do they keep?
---
2. Dated Emcees by Chinaka Hodge
"2pac Couplets"
one line for each year he lived
ninety six minutes after Tyson wins and you're gone
las vegas quickly strips you of your last song
every black man in Nevada pilgrims to trudge you
walk last rites, as only god can judge you
nomad, you Baltimore, you new york, you La.
captured only by wind, a consummate stray
westcoast makes you ours. claims you loudest
you gave game for free, we recoup it proudest…
---
3. Saint Billie by Jeremy Reed
https://www.youtube.com/watch?v=h4ZyuULy9zs
"The Billie No-one Knew"
The woman inside the performer. She is someone fighting for her life behind the scenes, invoking the simplicity of childhood poverty, cleaning bathrooms in antebellum houses and working in a brothel. That woman won't recede into the forest. She's had to adopt a secondary role. She courted fame too young, and got burnt by the illusion of money and success. She's still sitting, skirt above her knees, in the sunlight on the porch. Looking out into the ordinary day. Baltimore in a red sunset. Her mother crying over being left, and cursing her rival in the kitchen. Eleanora. Where is she now? She had to change her name into an unidentifiable opposite.
---
4. There Are More Beautiful Things Than Beyoncé by Morgan Parker
In her poem "Beyoncé on the Line for Gaga," Morgan Parker draws on both of the pair's duets, "Telephone" and "Videophone," in a grand retelling of Beyoncé's relationship with Gaga. Parker's vision of a boastful, swagger-laced Beyonce seems to talk back against the time of "Telephone," when Lady Gaga was perceived to be the artiste of pop music. In this poem, Beyoncé bites back at anyone who would give Gaga more credit:
Girl you know you ain't that busy.
Without me                          you're just two ears
stuffed with glitter…

You say Tell 'em B
I open my legs, throw my shades on like,
Divas gettin money.                                      Hard as the boys.
Give me all your little monsters and I will burn them up.
Give me your hand
and I will let you back this up.
Tonight I make a name for you.
---
5. Shade by Jamie Townsend
                  "Heartbreaker"

Antony sings crazy in love and the world changes completely
each inflection draws out sex as portraiture in invisible ink
your flannel won't save you but the gold lamé bikini bottom
rises from the pool , lights the apex of your arc , & draws together
a swarm of celestial parasites glowing in the greater demimonde
a vintage American Apparel model backlit by subterranean grotto
inverted Mimi diva of the tri-sex self-reflected blinking ,
closing the camera , looking away
the song obliterates signature…
---
6. "DIONNE WARWICK STARES DOWN HER ENEMIES" by Maxe Crandall
Meanwhile, in her everlasting trenchcoat,
Dionne Warwick stares down her enemies,
reducing them to straining teenagers
and secretly considering herself
"America's Last Action Diva."

Like us, she spends much of her time
leaning against doorframes and talking
on the telephone, dreaming of cartoon heroes
while fingering the long cord.
---
7. me and Nina by Monica A. Hand
https://www.youtube.com/watch?v=qUnxCyPJBZc
Monica A. Hand's me and Nina explores Nina Simone's music and legacy, as juxtaposed with her narrator's experiences as a black woman in America. Hand's collection is at its most spell-binding when Simone and contemporary black experience meet, as in the series of poems titled "Nina Looks Inside." Here, Hand talks to Simone directly as she speaks to the ongoing struggle against racial injustice:
Nina I'm tired of listening to you
I get so hot why is it so hard why has so little changed
I'm tired of you remind me

I don't want to hear it no more
What makes you so cold why can't you go
Where the chilly winds don't blow…

Tired of you reminding me

What we still don't have
---
8. "WHAT I REALLY, REALLY WANT" by Melissa Newman-Evans (taken from Again I Wait For This To Pull Apart: A Poetry Mixtape edited by Hanif Willis-Abdurraqib)
The song said to spice up my life so I ate a whole

habanero and now my mouth won't stop burning…

Five young British women at the Stalake Amphitheatre
shaking their asses for thousands of girls dying to hear
what being grown up sounded like if you harmonized.
This is not for the boys. It's for us. It's for me to spoon up…
---
9. "Notorious" by Cathy Park Hong
Biggum Wallah, Biggum Wallah, why so glum?
You in heaven, na, be happy.
You are Hip Hop's Grand Panjandrum in white foxy mink
snuggly over your Bluto belly,
& this fleet of white Cucci Gucci Hummers is for you, ji.
Like a short-order cook slinging hash browns,
you slinged so many rhymes propho-rapping you will die,
now faput. Dead. Why so chee?
---
10. Letters To Kelly Clarkson by Julia Bloch
Julia Bloch's series of Letters To Kelly Clarkson are less about the American Idol and more about femininity and lesbian desire at large. Although every poem begins "Dear Kelly," the actual poem-letters rarely concern Clarkson or "American Idol." Most often, Bloch ties her prose poems to Kelly as a means of leading readers through the ways in which our daily processes somehow reflect the popular media of the day. The poems that are about Clarkson, however, are some of the most beautiful:
Dear Kelly,

Your lips are a caption, translating your perilous, wrecked face. Before the sparkly stage disappears you, you reverse the natural order. In which art + money = love. Your eyes are like flight; you can't get through a whole verse without crying over your dumb luck. I try to dignify myself on the pale couch, writing these notes down, but inside I abandon myself to the next huge dream. In a moment you'll know who your idol is. Girl you sure were swell up there, backlit and startling.
---
11. "To Jack White, From Meg" by Bobby Crawford (taken from Again I Wait For This To Pull Apart: A Poetry Mixtape, edited by Hanif Willis-Abdurraqib
Rolling Stone says I play childish. So simple…

Jack you are a pretty good guitarist.
You are not the last great blues man…

I made you in my image…

The world may never know
and I don't care…

Forget what Rolling Stone says,
I'm the only beat there is.
---
12. a/s/l by Uyen Hua
https://www.youtube.com/watch?v=GYIkwgyVhsU
Juliana Spahr's blurb for Uyen Hua's A/S/L perhaps best sums up the way in which Hua references celebrities: "Uyen Hua gets it. Gets that Beyonce, Wallace Stevens, and Karl Marx are all there, informing and shaping our daily lives, our thinking." Throughout the book, Hua draws on weighty intellectuals like Lacan and pop cultural figures like Samuel L. Jackson within the same breath. Mostly, though, Hua references musicians—reaching a crescendo in the last few pages:
poems aren't songs because an hour of drake talking about trying
to be a good rapper somehow begets a good album. you never
could understand it, but here you are like, bitch, you're in a
pyramid. duffel bag bodies getting girls,
and just be real about it, you fell in love to this cd.
that's why no one gives a fuck about poetry and people hate
poems more than they do al sharpton—
if you sell it, they will buy it. get money, fuck bitches.
---
13. teak by erica lewis
"think it over*
[* "stop! in the name of love"]

after the fall of rome
isn't that exactly
how it is sometimes
how dreams be
the color
before the sun
when the garden
was an eden
---
14. Mr. West by Sarah Blake
"BECAUSE KANYE ISN'T KING KONG OR EMMETT TILL OR A N*****"

When I admire my small, white nose, I'm Taylor Swift.
Too, if I'm made of red candies and floral underwear,
if I spend a day descending all the stairways I can find.
It's one way to be a woman, a woman being a girl.
I could meet the many white knights, with their hands
around swords, their ears perked to the motion of men.
If I ever thought life was a whistle, I thought it twice.
---
15. RiRi (Re)Vision: A Score for Rihanna's "S&M" by Tracy Jeanne Rosenthal
In RiRi (Re)Vision, Tracy Jeanne Rosenthal alternates between sections either titled "Esc," or with the specific seconds of the "S&M" music video that the given section "watches" and describes. Rosenthal uses the "Esc" sections to mimic the effect of exiting a fullscreen Youtube video—the writer gives the reader a moment of contemplative "escape" from the more straightforward relaying of what moments Rihanna is playing out in the video. In the time-stamped sections, readers encounter symbols for play and pause, as well as rewind and fast-forward, so that the video can jump back and forth to reflect upon itself. Rosenthal mainly stays focused on Rihanna and the "S&M" video, but she also takes time to genuinely critique her own position as a white critic writing about a black artist. In the sections where Rihanna and Rosenthal meet, the book achieves a perfect balance of commentary and introspection:
Rihanna has a sadomasochistic relationship to her image. She sings, "I may be bad, but I'm perfectly good at it." It's a simultaneous critique and celebration, pleasure in pain. The New York Times praises "the incongruous hint of anguish in Rihanna's girlish voice," and I understand the thorny path to identifying with the star, the sadism she inspires in my  desire to consume her, and the masochism it must take to make so many people love you.
---
16. Arc & Hue by Tara Betts
"Understanding Tina Turner"

In the early music video era,
I soaked up her battered denim jacket,
leather mini-skirt, spiked wig and stilettos.
I'd throw my head back like her
rippling antennas of brown hair,
belting to no one in particular,
What's Love Got to Do With It?
---
17. Mature Themes by Andrew Durbin
If the poem "Smile On A Jet" opened Andrew Durbin's Mature Themes, readers might be tricked into believing Durbin to be a sensitive observer of pop culture, and nothing more. The poem, after all, begins musing on Justin Bieber with the proper amount of earnest desire and critical distance. A page or so later, though, readers are suddenly hit by Durbin's signature inclination toward the perversely whacky when he moves from observing Bieber to observing a murder/castration plot against Bieber:
going west, I look down from my Delta flight to California below, territory
of the imaginary in which clouds ring out utopias of the golden earth, rivers of milk,
rivers of excess that flow to Justin Bieber's "Baby," ringleader of the virgins
encased in his remote adulthood, he wears chastity like a veil to reinforce tween
sex appeal, which of course would be violated were you to touch him, oh oh oh
I cannot die I cannot be killed I can only fly across the surface of the continent…

the murder plot unravels but ends to reverse expectation and defers death across
the event horizon, into evening, where the oldest man with a Justin Bieber tattoo
meets co-conspirator to finalize his plan to castrate and murder the pop star
---
18. Kiss Me In The Boring Rain by Niina Pollari
"Five"
Sadness
Sticking to my cottons
I click the button on my phone and look for your name

Threadbare white blouse
Under which my shoulder rotates back
And forth as I walk, right
Above my draining heart…

Like a screen
When I do nothing
And all light goes from it
Like hope

Oh
My god
How many times do I look
It's the one thing I am fearless about
---
19. Fake Knife by Dalton Day
"Stand To Carry"
what the dark gives back / isn't light / whoever
told you otherwise / must be a handless sword
/ reaching out / for the gut of a tired thing /
so much of this is gentle / it can't be dark / thank
you for this / I say…
---
20. Tea by D.A. Powell
Music permeates D.A. Powell's Tea, a series of poems that portray young men who had contracted or died from HIV/AIDS.  One section of the book lists "Eleven Disco Songs That Equate Sex and Death Through an Elaborate Metaphor Called 'Heaven'," a morbidly imagined playlist of disco delights that testifies to the musical harmony of pleasure and death during the AIDS epidemic. In "[now the mirrored rooms seem comic…," Powell chronicles the early years of a gay man's adulthood and eventual AIDS diagnosis through the songs he remembers listening to:
… come let me show you a sweep of constellations:      

16, I was anybody's. favorite song: dance into my life [donna summer] and they did dance 

17, first fake i.d.   i liked walk away [donna summer]  I ran with the big boys

18, by now I knew how to move.   on top of the speakers.   give me a break [vivien vee]

19, no one could touch me.  donna summer found god. I didn't care. state of independence 

20, the year I went through the windshield. Sylvester sang I want to be with you in heaven 

I said "you go" and "scared of you." I listened to pamala Stanley I don't want to talk about it.
---
21. Top 40 by Brandon Brown (2014)
In Top 40, Brandon Brown writes a poem for every pop song-entry into America's Top 40 Countdown for the week of September 14th, 2013. He begins with #40, the book working its way up to the #1 song ("Blurred Lines"). Throughout the work, he weaves together his personal narrative with musings on pop music. A memorable dissection of the countdown happens in his poem "LORDE, ROYALS":
America's Top 40 attempts to draw a matrix of collective attention in the present.

Its definition of "the present" is the week…

Its challenge will always be that the Top 40, as with the law of fashion which states that the moment one is in fashion one is therefore out of fashion, begins to fossilize the moment it finally coheres.

But some things appear to never change.

Like the fact that there are royals.

Royals is the first song so far in the Top 40 to be about the Top 40…

In Royals, the content of the Top 40 is brought into relief as a negative form of life against which Ella Yelic-O'Conner and her friends oppose themselves.

I'm not sure how much I am persuaded by the insistence that they aren't "caught up in the love affair," the satire is so pretty as it recapitulates the themes of contemporary royalty.

This is of course the morbidly catchy genius of what it critiques.
---
22. "Little Dolly Parton" by Kevin Simmonds (taken from Divining Divas: 100 Gay Men On Their Muses edited by Michael Montlack)
Little Dolly Parton
saw the town trollop
as the goddess she wanted to be
despite what everyone said about that scandal
in a too-tight dress
blush-slashed face
birds nest hair and a crossing of the street
that took every eye with her
---
23. Picture Palace by Stephanie Young
https://www.youtube.com/watch?v=ZQPvgHEMCFs
… We were fight-
ing in the living room. We were hosting a party. We were listening to
50 Cent. We were listening to Aaliyah. We were listening to Amerie.
We were listening to Baby Bash. We were listening to Bobby Valentino.
We were listening to Faith Evans. We were listening to Feist. We were
listening to Jay-Z and Beyonce. We were listening to Lil' Flip. We were
listening to the Lovemakers. We were listening to Mary J. Blige. We
were listening to Mike Jones. We were listening to Leonard Cohen. We
were listening to the Stranglers. We were listening to TLC. We were
listening to 2 $hort. We were listening to Tweet. We were looking at
cartoons. We were looking at the illustrations. We were moving boxes.
---
24. Nite [chickadees] by Gabriel Ojeda-Sague
https://www.youtube.com/watch?v=BsKbwR7WXN4
Nite [chickadees] is a book of selections from Cher's tweets, specifically the ones dealing with racism and police shootings. Gabriel Ojeda-Sague (a gay Latino whose debut Oil and Candle received rave reviews this year) never alters the tweets, beyond pulling and arranging them from Cher's twitter. Her individual reactions are meant to represent the typical neoliberal response to racism, which, Ojeda-Sague told SPIN, expresses a "melancholy that rhetorically highlights what is fair or morally good in a way that is both touching and affecting, and then also cheap and scary." In one poem/tweet, Cher mis-names Eric Garner as "Gardner," a mistake that many of her followers will likely miss out of oversight or forgetfulness. Arranged as a sort of conceptual sketch—emojis and all—the poem challenges the durability of both Cher's anti-racism and our own memories for fallen POC.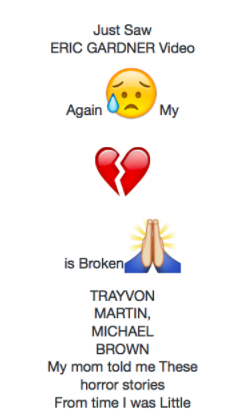 ---
25. Smear Jelly, Dreaming a goo Daughter, & Time travel and friendship by Oki Sogumi
"We Found Love"

the comfort of hearing your favorite pop songs, wherever in the world you go
the horror of hearing your favorite pop songs, wherever in the world you go
Andy Emitt's work can be found on MTVNews, Pitchfork, and Vice—follow him @tymps.