If you were wondering about who Trump would rope into performing at his inauguration—a Paris Hilton DJ set? A reincarnated Confederate marching band?—ponder no more. Today, Billboard reports that former Mötley Crüe lead singer Vince Neil has signed on for the gig.
According to Billboard's interview with the ghoulish 55-year-old rocker, the call from Trump's camp came "months ago." It seems the campaign was so bolstered by chief-strategist-to-be and noted super-bigot Steve Bannon's confidence in Trump's success that they thought to cover all these bases way ahead of time.
Neil told Billboard: "The promoters asked if I was available, and I said yes…So we sent all of the band's passports to the Secret Service so everybody can get in, and all of the crew people, not knowing who was winning. But we were already scheduled to play."
He continued: "I don't know how long I have to play. I don't know if the Republican Party says which [songs] to play and what not to do…It's a little ways out. I'll have more information as time goes on."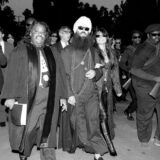 What has Neil been up to lately? Just last month, he got off with probation and a fine for assaulting a woman who asked for Nicolas Cage's autograph—the latest occurrence in a long history of physically abusive behavior toward women. Trump's pre-Oval-Office instincts continue to amaze.
Update, November 19: Speaking to TMZ just hours after the Billboard interview was published, Neil revealed he had been "uninvited" from the inauguration. "I don't know who's playing Trump's party, but God bless 'em," he said.