Friday night, Jay Z, Beyoncé, and others performed at a rally for Hillary Clinton. Later that night, Donald Trump claimed he was not mad about his lack of A-list celebrity support but that he was actually proud to be standing on his own. "I didn't have to bring … Jay Z [to get a big crowd]," he said. "I'm here all by myself. Just me, no guitar, no piano, no nothing."
Because he's capable of letting minor slights go like any other mature adult, Trump brought up Jay Z at least two more times over the weekend, both times ripping the rapper's use of profanity.
"I actually like Jay Z, but the language last night, ohhhh … I was thinking, maybe I'll just try—should I use that language for one of mine?" Trump–who once bragged about grabbing women by their "pussy" against their will–said Saturday morning. "Can you imagine if I said that? So, he used every word in the book … last night. He used language last night that was so bad, and then Hillary said, 'I did not like Donald Trump's lewd language.' My lewd language? … I've never said what he said in my life! But that shows you the phoniness of politicians."
https://www.youtube.com/watch?v=Rz2D0LTTWPg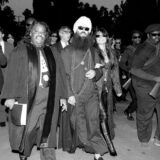 Trump's anti-profanity tirade continued at a Sunday rally in Michigan, but not before Ted Nugent—who once said he'd like to assassinate Barack Obama and Hillary Clinton—warmed up the crowd by performing several songs with his guitar and spewing his own, profanity-filled political opinions. The Cat Scratch Fever buffoon complimented Ohioans, calling them the "hardest working shitkickers mankind has ever known." He also said, "I got your blue state right here, baby," as he grabbed his dick.
Just minutes after that performance, which, again, included both a guitar and profanity, Trump repeated his sad "just me, no guitar" boast and attack on Jay Z's lyrics, which he incorrectly said caused people to leave Clinton's rally early.
"And by the way, my language is much, much cleaner as you know than Jay Z and Beyoncé, boy. Did you hear what, I mean honestly, did you hear that the other night? And so many people were insulted, they left. Because she can't draw a crowd. So she gets stars. But they were so insulted. You know, they're political people. They went in to hear a political something and they hear the worst words, the worst language ever. So they mostly left. By the time Hillary was left to speak, there was practically nobody there, but that's okay. That's okay … Because the other stuff, frankly, is demeaning to what we all represent. It's demeaning."
Trump compares his rally to Clinton's event with Jay Z. "There's no guitar, there's no pianos." Ted Nugent was just on stage with a guitar

— Claudia Koerner (@ClaudiaKoerner) November 7, 2016
The Trump campaign's attack on Jay Z and his art somehow got dumber Sunday night, when Scottie Nell Hughes, a Trump surrogate, said on CNN that one of the rapper's videos opens with a protestor throwing a "Mazel Tov" cocktail at police.
What is a "mazel tov cocktail" pic.twitter.com/xmTiBnoaia

— Deadspin (@Deadspin) November 7, 2016