Nearly 900 people have died at the hands of the police in 2016. According to the Washington Post, 800 of those people were shot to death. With the most important election of this generation looming–and the conversation around the ethics, corruption, morality, and overt xenophobia associated with the presidential campaigns continuing to heighten—SPIN asked politically-minded musicians to speak on issues that matter. For November's digital cover story, artists will look at police brutality, racial profiling and identity, immigration, welfare reform, climate change, and more, asking: What's going on? 
The following is taken from Big K.R.I.T.'s own words, as told to SPIN's Andy Cush. 
When I stepped onstage at the BET Hip Hop Awards last month, I felt anger, frustration, sadness, and hopelessness. It was overwhelming, and it also felt like a blessing. I was performing my verse from a song I did with Kenneth Whalum called "Might Not Be OK," and I chose to wear a police uniform. Eight bars in, if you didn't see the uniform, you might not know where the narrative was coming from. "Stop asking questions, why you filming? / You look suspicious, I think you dealing / Step out of the car, fit the description." It's that split second when someone's ready to take your life.
Philando Castile was killed by police in Minnesota, Terence Crutcher in Minnesota, Keith Scott in Charlotte. The NYPD killed a woman with a mental illness in the Bronx just a couple weeks ago. This has always been going on, but now we have videos of it. Now you can see it, and that brings a new energy to any interaction with an officer. As much as you want everything to be okay, you know there are some people who don't want you to be alive, or to see you doing well. A simple traffic stop could be the end of your life. That's not what I used to think growing up, when getting pulled over meant thinking, "Aw, man. I don't want to go to jail." Now you think, "I don't want to get killed. What should I do with my hands so that I don't get killed?"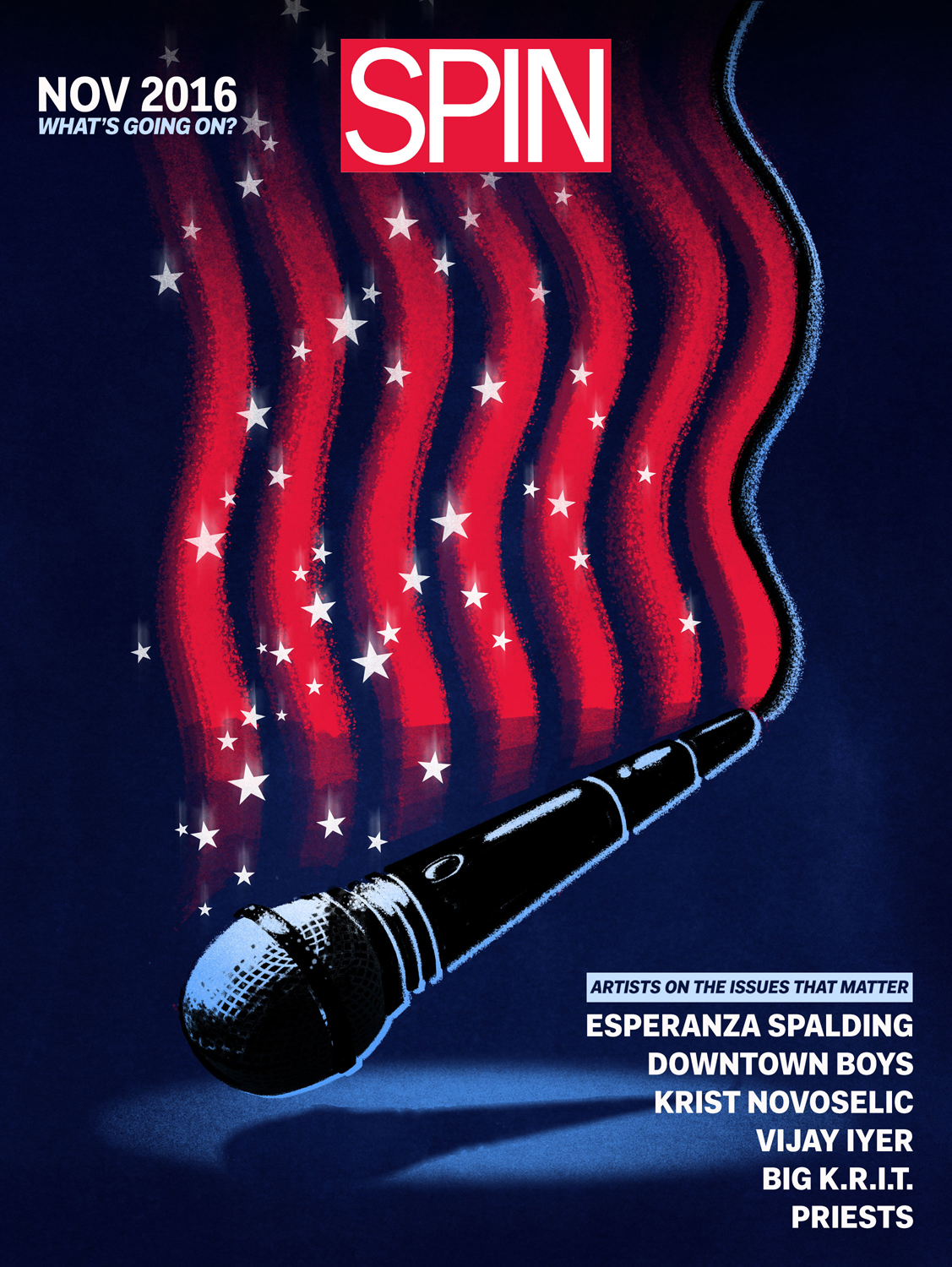 I'm from Meridian, Mississippi–it's a small city where everybody knows everybody. Growing up in my neighborhood, you would usually know the police officer on patrol. Maybe he was your friend's uncle, or something like that. He doesn't want to see you get in trouble. He'd want to keep you out of those situations. When a kid was outside kicking it, instead of putting him against the wall, an officer might just say, "Hey, go home. I know your mama's waiting for you." And it goes both ways: If a person in the neighborhood saw a police officer they knew, they'd say, "Hey, how's it going? Thanks for keeping us safe."
If you're an officer who's policing somewhere that's not where you're from, that bond isn't as strong. You might be a little heightened to what could go wrong, and it might put you in a position to be a little more trigger-happy. You might draw on someone who's just going home from work, or picking up their kids. When you're in the neighborhood where you live, maybe the alley doesn't seem so dangerous to you, the block doesn't seem so dangerous to you.
Policies that require officers to live in the city where they work, like those in place in Denver and Chicago, are one way to start fixing this problem. Beyond that, local police departments need to have sit-down meetings with pastors and other community leaders to get an understanding of the people in the community, and to allow the people in the community to get an understanding of the police officers. We should also be studying the psychological effects of what it's like being a police officer, and they should receive treatment when they need it. I'm a God-fearing man, so I just pray and pray that we can reach some sort of understanding.
I'll be voting for Hillary Clinton this election. I can't vote for Trump. He has said a lot about "law and order," but he never mentions the impact of police brutality. He never mentions the names of any of these people who have been affected by it. Law and order is important, but when you don't feel safe from the person who's pulling you over, it's a problem.
I wish we didn't have to talk about these things, and that we lived in a world where everybody gets along, but unfortunately that's not the case. I hope everyone can stay prayed up, and God blessed, and I'm going to keep doing whatever I can do, musically, culturally. Whatever I can do.
Big K.R.I.T. is a rapper from Meridian, Mississippi. His most recent project was #12FOR12, a mixtape released in July 2016.