On Tuesday, a video of a woman ranting about Vince Staples's "Norf Norf" being on the radio went viral. In the video, the unidentified woman complained about how rappers like Staples are ruining the youth, recited the song's uncensored lyrics through sobs, and repeatedly pronounced "Norf Norf" as "Nerf Nerf." She was an instant punchline to many, but Staples–known for his snarky social media presence as well as his social commentary–isn't joining in on the jokes.
The Independent spoke with Staples for his first comments on the video. "I don't really have much to say about the video — I don't think it's funny at all," he said. "It's not right to attack someone over their stance, their opinions, and their religion. I think that's very immature."
"Norf Norf," a cut off 2015's critically beloved Summertime '06, is a street-level surveillance of the Long Beach that bleakly illustrates the lethal circumstances Long Beach gang members are often trapped in. The woman's issues lie with the coarse language (the "hoes need abortions" line briefly sent her into a crying fit) rather than the perspective it explains.
"We already have a lot of issues between black and white relations in this country based on misunderstandings," Staples said. "In my eyes, she doesn't look like a racist. She doesn't look like a mean person. But it's not very responsible for people to try to take that and jump, looking for some sort of commentary on these issues [in the community]."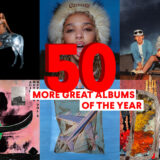 Later, Staples hopped on Twitter to claim he was misquoted in the Independent's article, and further explained himself through a series of tweets:
Thank you to Justin Carissimo for the misquote. Great Job.

— Vince Staples (@vincestaples) October 6, 2016
What I was saying was that the woman in that video is clearly confused on the context of the song which causes her to be frightened.

— Vince Staples (@vincestaples) October 6, 2016
No person needs to be attacked for their opinion on what they see to be appropriate for their children. They have a right to it.

— Vince Staples (@vincestaples) October 6, 2016
This misunderstanding of our community leads to miscommunication which we should convert into a progressive dialogue.

— Vince Staples (@vincestaples) October 6, 2016
Thats all I have to say about that. Stop asking me.

— Vince Staples (@vincestaples) October 6, 2016