Judging by New Zealand-only iTunes (!), one of the first major musical offerings of 2017 will be a new Flaming Lips album. The title is, well, Oczy Mlody, and the estimated release date is January 13th. A single, "The Castle," is set to be released at midnight tonight, according to Stereogum.
The Coyne-core title and album art unofficially surfaced in August, when go-to Lips artist George Salisbury teased visuals and a list of files on his computer titled "The Flaming Lips- Oczy Mlody." It's possible that some of the music may be over a year old, since Wayne Coyne claimed in a May 2015 interview with Mark Radcliffe that the band was ready to "piece [a new record] together" to be released that fall.
Oczy Mlody will be the Tulsa band's first proper release — outside of their "Dead Petz" work — since 2014's The Terror. Bizarrely, a full 12-track listing surfaced on iTunes in New Zealand, indicating a potential adult-fairy-tale through line.
See the first track listing, including possible classic-on-arrival "Do Glowy," below:
1. "Oczy Mlody"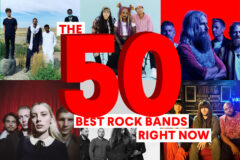 2. "How??"
3. "There Should Be Unicorns"
4. "Sunrise (Eyes Of The Young)"
5. "Nigdy Nie (Never No)"
6. "Galaxy I Sink"
7. "One Night While Hunting For Faeries And Witches And Wizards To Kill"
8. "Do Glowy"
9. "Listening To The Frogs With Demon Eyes"
10. "The Castle"
11. "Almost Home (Blisko Domu)"
12. "We A Famly"