Carlos Santana is fired up. If you thought he might spend the rest of his career raking in hundreds of thousands touring one of his two major versions of Santana—his horn-driven Supernatural band and his recently-reunited "classic lineup"—you've got him fucked up. A new Billboard profile clarifies that Santana is looking to continue the modest success of this year's Santana IV album, which brought the beloved 1970s version of the band—Gregg Rolie, Neal Schon, Michael Shrieve, and Michael Carabell—together for the first time since 1971. The four shows Santana has played with the new old band so far were a huge success, and Santana IV hit #5 on the Billboard album charts. Santana made it clear he was not only hoping to do more dates with the band, but to record new "forward-thinking" music.
But that's not it. Apparently, Santana is looking toward two other album projects, including a LP with the Supernatural band and another (possibly solo) album called Searching for Mona Lisa, which Rick Rubin is supposedly producing.
"I reach out to [Rubin] because my intentionality is to get back to the top 10 or No. 1 on the radio," Santana explained to Billboard. "to get back to the Super Bowl and the World Cup."
Santana last played the Super Bowl in 2003—the pregame show, that is, with guest spots from Michelle Branch and a pre-Dangerously in Love Beyoncé—so makes sense that he might want to "get back" to that. But the World Cup, so soon? Santana collaborated with Avicii and Wyclef on an official FIFA World Cup anthem just two years ago, so it doesn't seem like he would need Rubin to get that gig again.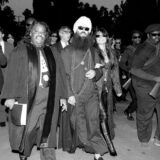 Can Santana reach the heights of "Maria Maria"-level commercial success in 2017? Or a "Game of Love"? "I trust my conscious mind will connect me with Rubin and the Holy Ghost and we can do the impossible," Santana told Billboard.