Next year's Grammys will be great because there's no longer the possibility that Blonde will be snubbed as Album of the Year. Billboard reports that Frank Ocean's mythical album and its accompanying project Endless aren't eligible for a Grammy because he failed to submit either before the filing deadline.
Both projects dropped well before the eligibility cutoff date (September 30), but Ocean didn't submit either album for consideration. (The Recording Academy recently declared streaming-only projects eligible, so Endless would've had a shot.) At first, reports speculated he forgot to put it up for the nomination process, but a source told Billboard that Ocean's team intentionally didn't submit those albums.
Critical consensus and Grammy votes rarely line up; never forget the time a tame Steely Dan album won Album of the Year over The Marshall Mathers LP and Kid A. But Blonde's commercial success and world-stopping hype would've certainly secured Ocean a golden gramophone. He's already won two, for Best Urban Contemporary Album and Best Rap/Sung Collaboration with "No Church in the Wild." Even in a loaded year where A-listers like Adele, Beyoncé, and Radiohead will compete for nominations, Ocean surely would've been a strong contender.
Think about it, though: This is a recluse who sings of his vulnerabilities and sexuality with crystalline precision. You think he wants to give his art up to the whims of a voting electorate that might just decide to snub him for, like, Meghan Trainor? Obviously, it's still a stretch to call the Grammy a marker of any sort of success besides commercial. More perniciously, the Recording Academy still doesn't quite know what to make of contemporary black artists, using "urban" as a euphemism for "made by black people."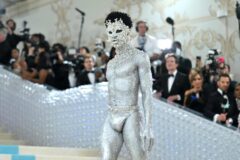 Landmark black albums often get relegated to awards in that prominent but still lesser category; a modern black artist hasn't won the Grammy for Album of the Year since OutKast in 2004, despite several black artists making zeitgeist-grabbing records (Ray Charles and Herbie Hancock won after Outkast, but they scan as legacy artists to the Grammys). Last year was especially galling: Kendrick Lamar's To Pimp a Butterfly topped nearly every major publication's year-end list, and was good enough to sweep the predominantly black categories, yet not quite good enough to beat Taylor Swift's 1989 for Album of the Year.
Ocean, too, has been shorted by the Grammys. In 2013, he was nominated for Best New Artist, and lost to fun. Channel Orange got nods for Album of the Year and Record of the Year, and respectively lost to Mumford and Sons and Gotye. Shouts to milquetoast folk-rock and all, but Earl Sweatshirt didn't rap through sickness to lose to "I Will Wait." You think host LL Cool J is enticing enough for Ocean to want to come back after that, and sit smiling as he loses? (Gambling is illegal, but put everything on Adele to sweep. Adele is like catnip to the old white voters who always vote for awards shows.)
So, the question isn't why didn't Ocean submit Blonde or Endless for Grammys. Rather, it's why would he? The fanatical anticipation for the projects and the communal ecstasy that met their releases reaffirmed Ocean as a bankable star. The critical appraisal reconfirmed him as an Artiste. Ocean is already a myth and arguably a legend; at the very least, he does what he wants, regardless of expectations. Why bend the knee for a gramophone?