Today, VICE published a feature about three men who claimed last spring that Afrika Bambaataa, the founder of the Zulu Nation and rapper behind "Planet Rock," sexually abused them when they were teenagers. Afrika Bambaataa denied the accusations shortly after they made rounds in various publications, but the article revealed that the once-respected figure has gone silent and disappeared into "whereabouts unknown."
In the piece, the three accusers — 50-year-old Ron Savage, 39-year-old Hassan "Poppy" Campbell, and a man only identified as "Troy" — talk about how Bambaataa allegedly took advantage of their trust and left them with psychological scars after continued sexual abuse. The article also likens the systemic corruption of the Zulu Nation to the Catholic Church Scandal: Both abused vulnerable boys from broken homes and sought to keep the abuse a secret through community influence and bankrolling its members.
The organization also allegedly sent out death threats to keep its victims quiet. Campbell recalled that he made a Facebook video in 2015 accusing Bambaataa of molesting him. The threats came when the video resurfaced after Savage appeared on DJ Star's YouTube channel to expose Bambaataa.
"I had got a phone call saying, 'Be careful, because brothers is talking about moving on you about the Ron Savage situation and that video,'" Campbell said. "Somebody called me and told me to watch my back. They were supposed to be moving on me, killing me or whatever."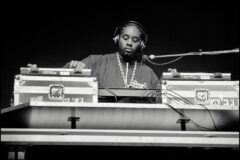 Because of the surrounding factors, the accusers believe there's "a hidden network of victims whose lives were allegedly haunted by death threats, suicides, drug abuse, and violence." Campbell said he's been in touch with victims who "are scared to death to come out," one of whom has committed suicide following Bambaataa's abuse. Read the harsh exposé here.