Update: El-P has tweeted that the de la Rocha solo album is coming in 2017. Rolling Stone also sent out a tweet, saying a rep confirmed that "Digging for Windows" will appear on a "forthcoming solo album."
the ZDR the album is happening. 2017.

— el-p (@therealelp) September 8, 2016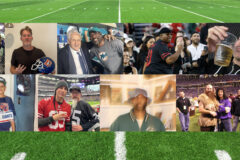 and thats all the info im authorized to give out ; )

— el-p (@therealelp) September 8, 2016
Zack de la Rocha's new song is from a "forthcoming solo album," says rep https://t.co/UHoHzNulU1 pic.twitter.com/tFIvovY1Si

— Rolling Stone (@RollingStone) September 8, 2016
The Prophets of Rage supergroup features Public Enemy's Chuck D; B-Real of Cypress Hill; and guitarist Tom Morello, bassist Tim Commerford, and drummer Brad Wilk from Rage Against the Machine. But not the righteously flammable vocals of Rage's leader, Zack de la Rocha. The singer/activist has been mostly silent since appearing on Run the Jewels 2's 2014 banger, "Close Your Eyes (And Count to Fuck)."
But today is a new day, and with it comes a new de la Rocha song called "Digging For Windows," which is available as a free download on BitTorrent. The new track has the distinction of being the 46-year-old's debut solo single as well as his first piece of new music since 2008's One Day as a Lion EP, his collaboration with Queens of the Stone Age drummer Jon Theodore. Run the Jewels' El-P handles the production on this just-unveiled joint, giving the whole thing a dystopian effect.
"Digging for Windows" comes after years of speculation about a de la Rocha solo album. According to reports, the frontman worked on a full-length with help from DJ Shadow, El-P, and ?uestlove, after Rage Against the Machine disbanded in 2000 (they reunited for a series of tours in the late 2000s), but nothing has officially dropped until now.
And it's really not fair to expect something to live up to 16 years of hype; Frank Ocean almost didn't after a four-year absence. But de la Rocha doesn't sound half bad raging about a bleak future "where the days are all night." Listen below.