Millennials love music, and they love to fuck. The trend pieces say otherwise, but fuck trend pieces–young people are always looking to get it on, even if they're weird about it. To aid the romance, Spotify and Tinder have teamed up to make your swiping experience a musical one: As of today, swipers looking for love (or a meaningless hook-up) can pin their favorite song to their profile to play as potential suitors check them out. Tinder is referring to the new feature as one's Anthem, "that one single track that tells your story." Finally, single horny people will be able to connect through their love of "Nookie."
The new feature is available to anyone with a Tinder account, regardless of whether they have a Spotify account. (However, only users with a Spotify account–paid or unpaid–will be able to listen to the full song; everyone else gets a preview.) It's a neat bit of synergy, that corporate ideal–Tinder could drive users to sign up for Spotify, should they want to streamline their digital experiences by using a single music streaming service. (Similarly, Apple is driving iPhone users to sign up for Apple Music, in order to streamline their Apple experience.) Earlier this year, Spotify rolled out a similar partnership with Bumble, but Tinder's user base is much larger, meaning this could quickly become a fixed step of the dating process. In other words, don't pick a dud, or else you'll be judged for more than just the awkward lighting in your photos.
Watch a promo video below, in which beautiful people do a coordinated dance while bonding over their love for Dillon Francis.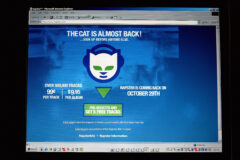 https://youtube.com/watch?v=f49Z0ZPBaWA
CORRECTION: A previous version of this story incorrectly stated the new feature would only be available to paid Spotify users.