This piece originally ran in the September 2011 issue of SPIN to commemorate the 20th anniversary of Nirvana's Nevermind. It has been edited for space and clarity.
Luminaries reflect on Nevermind, from contemporaries like Eddie Vedder, the Flaming Lips' Wayne Coyne, Sleater-Kinney, and R.E.M.'s Peter Buck, to contemporary rock heroes like the Black Keys, the Black Lips, and Against Me!, to Seattle scenesters of the time, to Dave Grohl himself. As you'll see, the effect the record had on music fans and artists alike is as raw and personal now as it was 25 years ago.
Dave Grohl (Nirvana, Foo Fighters)
All of [our] success happened so quickly. The funny thing is that Nirvana were still playing places that held 700 to 800 people by the time we had a gold record. We were still touring in a van when we had a platinum record. I was still living in my friend's back room by the time we'd sold ten million records. It wasn't some crazy VH1/MC Hammer overnight bling success—I think we were all in shock after it happened. I went to Benihana with a credit card like, "Oh my God, this thing works!"
Danny Goldberg (Former Manager)
In hindsight, the most striking thing about the period when Nirvana recorded Nevermind was how normal things were compared to what was to come. They had enough money from the Geffen deal that they didn't have to worry about eating or having a roof over their heads, but not enough to buy anything expensive. They had enough validation from the reception to Bleach to have creative control and confidence but not a hint of the fame that the album would soon create for them. The problems that came up were small and easily handled.When the album was nearing completion, Kurt had told me in a tone of quiet determination that Nirvana could be as big as the Pixies. That was ambitious because the Pixies were a bit bigger than Sonic Youth, and Sonic Youth were the godparents of the scene that Nirvana was part of. In my own mind, the furthest goalpost imaginable was to match Jane's Addiction, who had some hard-rock fans that had eluded other punk bands..Then suddenly "Smells Like Teen Spirit" was on the radio and there were waiting lists (waiting lists!) of people at indie stores who had reserved the album. I wasn't sure how to digest this, so I asked Mark Kates, the head of alternative promotion at Geffen, if this was normal for big cult bands, and he replied with his eyes popping out, "I've never seen anything like this in my life." The next day, my partner told me that a friend of his had been at a Guns N' Roses show in New York when "Smells Like Teen Spirit" was played over the PA, and the huge macho crowd cheered. That was when we realized that it was going to be bigger than anything that anyone involved had dreamed of.
Flea (Red Hot Chili Peppers)
Nevermind and Blood Sugar Sex Magik came out the same day — I remember being so excited because I felt like we had made our great record. I would put on the radio and keep listening to hear "Give It Away," but I kept hearing this Nirvana song and was like, "God, that's a great fucking song. But are they going to play 'Give It Away'?" And then they turned out to be the greatest band in the world.
Charles Bissell (The Wrens)
My recollections are that in 1991, I was head of publicity at [redacted] and living as a woman. I remember blasting an advance copy of Nevermind to clear the coke crust from the speakers of my boombox-with-turntable. And my dweebish intern burst into my office, scaring the bejesus out of me, honestly, and said, "I believe that is the music of rock gods. I would like to form a band with you, beautiful work lady." Okay, more seriously: It is funny how monumental albums like that seem so inescapable at the time (Sgt. Pepper's, Thriller, etc.), especially to other musicians. It seems like for the next eight years, every rock singer wanted to sound like two people screaming — including me, and I was terrible. It also felt like that was the first time I heard people talking about not just who produced or recorded something but who mixed it, à la Andy Wallace. And not just industry types, but fans. At the time, it seemed to me like a big battle in the loudness wars, of making records as loud as fuck, the better to "win" on radio. (Remember radio?) And funny now that the album sounds almost small compared to what came later.
Kevin Whelan (The Wrens)
My story is about me as a wee young lad interning at [name of record company redacted], cutting and gluing together press clippings about [name of big R&B star redacted], when from behind the door of the head of publicity (the door was closed because this person was always doing coke—ah, the old days), I'd hear an advance copy of Nevermind being blasted. From my little intern cubbyhole, as the first chords of "Smells Like Teen Spirit" rang out, I believed I was hearing the music of rock gods.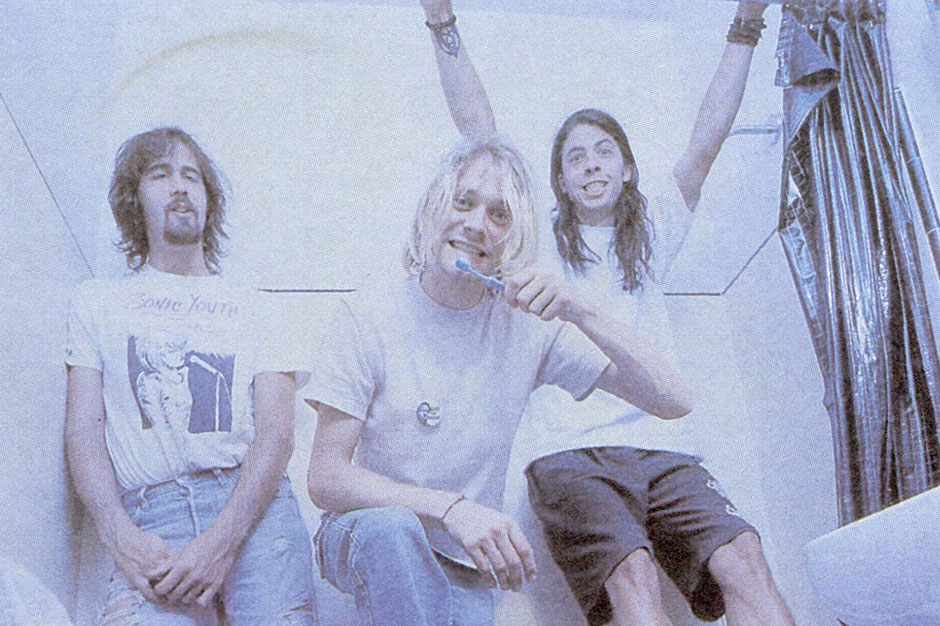 Eddie Vedder (Pearl Jam)
It was summertime in Seattle, and our record Ten was coming out in about a week. There were a few copies of Nevermind floating around on cassette before the record was out, and I remember hearing it on a Walkman, walking by myself on a rare nice day when the clouds broke for the first time in months. Just hearing that tape with the white label, it had an impact. It felt like a change. I remember in April, there were a bunch of people outside this place called the O.K. Hotel. I went up—I knew the guy who poured coffee there—and I was able to go in and see one of the first shows they played for the record. Later that summer, Fugazi were playing in the Mojave Desert. We drove in this little Toyota with Nevermind playing. You could just listen to that thing on repeat, it never dipped.
Carrie Brownstein (Sleater-Kinney, Portlandia)
I was driving to school and 107.7 The End, which is still a radio station in Seattle—never before had this happened and I'm sure never since—played "Smells Like Teen Spirit" over and over. You could tell the weather had changed, the landscape had changed. I drove to school with a huge lump in my throat.
Corin Tucker (Sleater-Kinney)
Everyone was playing it, every cafe, every restaurant, it was everywhere. Suddenly, our music scene wasn't this subtle private thing. Our estimation was that they'd be as big as Sonic Youth. That was as big as we could imagine at the time. I have a ten-year-old boy, and Nirvana will come on and he's like,"Who is this?" It's interesting to watch that happen to a person; it's exactly how I felt when I first heard them. And I saw them play the community building at my school.

Laura Jane Grace (Against Me!)
It didn't feel like anything I had ever heard. And that it's aged so well is a testament to the songwriting. Nothing about the lyrics really seems particular to that era. There aren't any contemporary references that make you feel like, "Oh, that's the '90s." Nevermind is the best Nirvana album, hands down. Anyone who says it's In Utero is lying. They're just trying to look cool.
Sloane Crosley (Author of I Was Told There'd Be Cake)
My middle school was a den of thieves—either of the traditional "Now you see it, now you don't" type or the slick "Hey, can I see that?" type. So I have a vivid memory of walking into the girls' locker room and seeing the cassette single of "Smells Like Teen Spirit" lying unattended on a bench. I picked it up to look at it and this crazy popular girl came out from a bathroom stall and snatched it back. She wore a massive gold hoop in one ear and was the first person I had ever met who rocked fishnets. In gym class. Were they crotch less? Sure, for the sake of my memory. She shoved the tape into her locker, asked, "What are you looking at?" in a way that did not leave room for an answer, and that was that. I kind of thought they would sound like Metallica. Or whatever the musical equivalent of Married…With Children would be. Until I tracked the album down. There may or may not have been bad journal writing in my bedroom with "Come as You Are" on in the background. Or "Polly." Oh God, "Polly." I liked the creepiness of it and the slowness and the way it validated whatever fake angst I had. There were other songs of varying genres I felt I owned. But Nevermind was the first entire album of my generation that didn't feel like it was on loan from the generation just before us.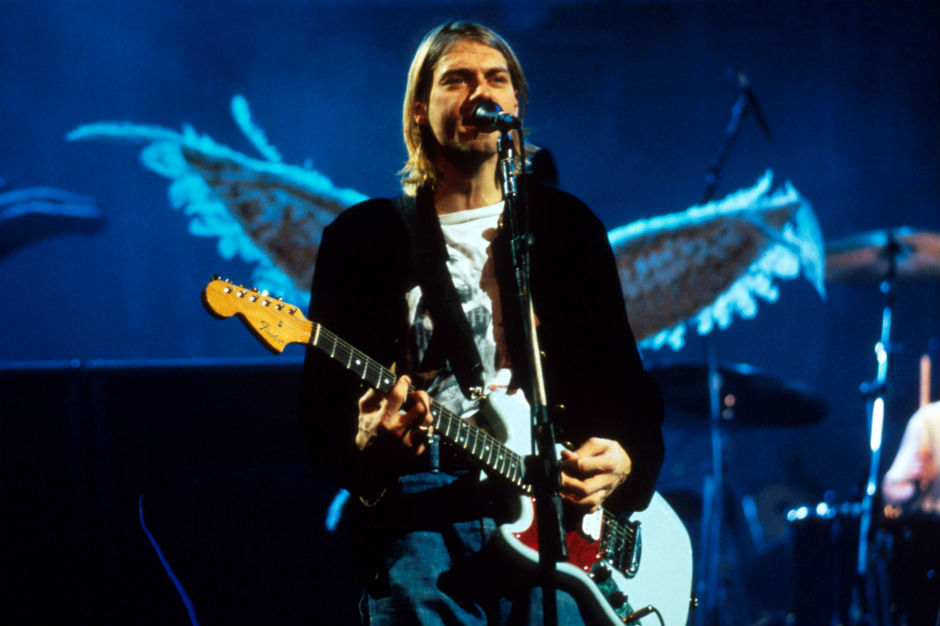 Bob Nastanovich (Pavement)
Up until Nevermind, Pavement and other bands of that ilk were always very much sneaking up on people, building their reputations through zines and college radio and touring. After Nevermind, people started aggressively hunting down bands like ours or small bands that had only been in existence for a few months. I do think that album was special enough to trigger the response it got, but who knows—if it wasn't that, would it have been a different album?A guy like Kurt Cobain becoming one of the most recognizable people in popular culture within a six- to 12-month period—it boggles the mind. Of course, now we have Lady Gaga, people with entire staffs constantly manipulating situations to create a monster-type famous person, but that wasn't the case with Nirvana. They made "Smells Like Teen Spirit" and within 30 days, they were that big. It's kind of fucked up. It can't happen again. It won't happen again.
Wayne Coyne (The Flaming Lips)
I really did love that ensemble they had with the drummer before Dave Grohl—that's no slag on Dave Grohl—there was just an element from Bleach that we loved. We played a couple shows with them, maybe one in Seattle right around Bleach, and backstage the mood at these Sub Pop shows was, you know, everyone was having a great time celebrating themselves. And there was a feeling that Kurt couldn't let loose and be a dork, like, "Fuck, I wish I was having more fun than I am." Later on, you'd run into normal people who'd say, "I like Nirvana," and you're like, "Six months ago they were a cool, freaky Sub Pop group, and now Joe Sixpack at 7-Eleven is into Nirvana." It didn't seem as though punk rock was suddenly outselling the Eagles or something. Most of the underground music remained underground and some of the clichéd copy bands like Bush became popular. Them, STP, Candlebox—who we played with—all that seemed to be the focus of that momentum. Nevermind came out in '91, and by '96, people were saying, "Whatever that is, we're not part of it."That was probably the first time that happened, with us thinking, wrongly, that this is our music and the lunkheads will never know what we have here. It was great and phenomenal and weird and sad—all of those things combined.
Peter Buck (R.E.M.)
Nirvana played in Athens [Georgia] about a month after Nevermind came out, and I had them stay at my house; they didn't have anywhere else to go. It's hard to believe that in the year Nevermind was released, they weren't the biggest band in the world—that was still about three months away. At the time, they played a club and then came over and got drunk. I played 45s. It wasn't any different from when the Young Fresh Fellows stayed at my house.
Ray Davies (The Kinks)
When it came out, I thought it was the most significant American rock'n'roll album since the Doors. Twenty years on and it is still fresh.
Patton Oswalt (Actor-Comedian)
Nevermind first hovered into view, for me, in the bleak, early months of 1992. And it didn't drop-kick my head anywhere new or change my landscape—I did that myself, in my daily situation, moving to San Francisco to further pursue comedy. But what it did do, subconsciously, hearing it as ambient music on long road trips or in dive bars after my shows, was reassure me I was making the right choice. Because Cobain and Co. didn't make being young and confused and dumped-on sound fun—in fact, they assured you your situation righteously sucked. But they also showed you that you could take your rage and frustration and make them loud, and at least annoy other people until you worked your shit out. The sonic portal they opened led me to a bleak, beautiful musical landscape populated by Tad and Alice in Chains and the Velvet Underground and the Pixies and Killing Joke and all of these other bands I'd missed while Roxette was being blasted into my skull at every strip-mall comedy club I was floundering in. And hovering over this lurching, post-adolescent landscape, like a sullen angel, was Juliana Hatfield, who sang, on her song "Nirvana": "Now I've got Nirvana in my head / I'm so glad I'm not dead…" Me too!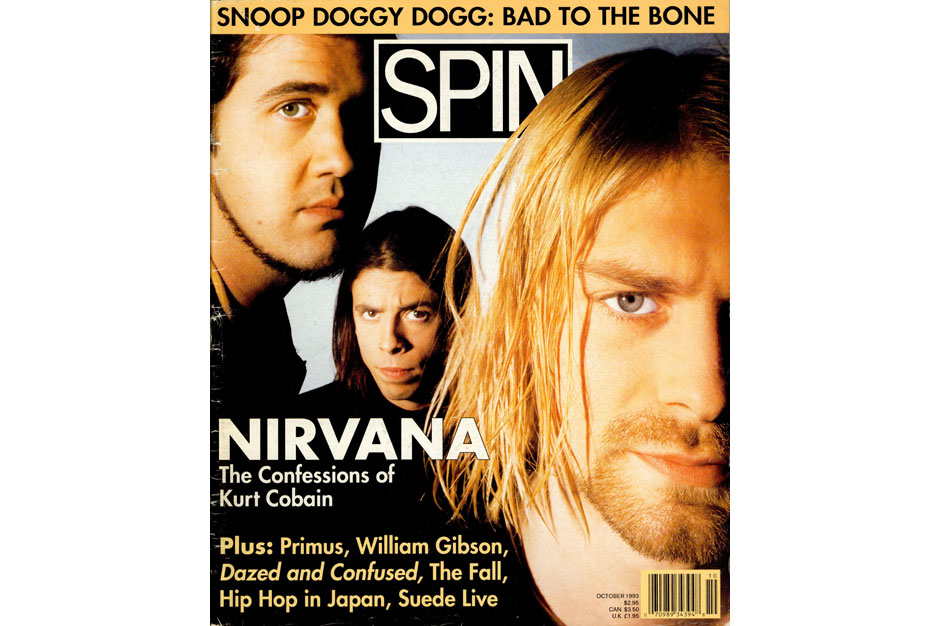 Amy Klein (Former member of Titus Andronicus)
Kurt Cobain was one of the only straight men in rock music to perform while wearing a dress—he was definitely a feminist man. If you read the liner notes to Incesticide, it says something like "If you're homophobic or a sexist, we don't want you listening to our music or coming to our show." People know the story of how the phrase "Smells Like Teen Spirit" originated—Kathleen Hanna spray-painted it on his wall when they were friends back in Washington—but the back story is that they had been out all night defacing a local crisis-pregnancy center, where you go if you're having an emergency and you might think that they're trained professionals, but they'll tell you scary stuff about how you'll go to hell if you have an abortion. And then they went back to Kurt's place. Even though he ended up getting separated from the scene he came from after selling millions of albums, I still think he was really conscious of building communities of bands and creating something that was bigger than just Nirvana.
Amy Lee (Evanescence)
I remember Nirvana and Björk entered my brain at the same time, and I was completely overwhelmed. Before that, it was all classical music for me. That record changed my life; it opened me up to a whole new world. I've never met anyone who doesn't love that album.
Kevin Barnes (Of Montreal)
That was kind of a strange record. When it first came out, I loved it. I thought it was amazing, but it was just so weird when these football players and cheerleaders liked it, too. You had to share the party with people you didn't like. On some level, it was frustrating that these terrible people co-opted the music. But now, it's really beautiful because it broke down walls. It wasn't us versus them anymore. People became less uptight. They weren't as bullying or weren't as stupid. All these dudes who were more butch and uptight started smoking pot more. Instead of "Let's beat that faggot up," it was like, "Let's hang with that guy."
Damian Abraham (Fucked Up)
I was a big Guns N' Roses fan and made the jump to Pink Floyd to Sonic Youth and skipped Nirvana. I went back and discovered Nevermind around the time In Utero came out and was blown away. A lot of people decried it as being a sellout—the production is too polished, and so on—but there is an aggression that still comes through. If you look at the music in the punk world, a lot of it was sunny, happy, shiny pop-type punk, whereas this was a dyspeptic band that sang about serial killers.
Sammy Hagar (Van Halen)
I liked the dressing-down thing; I was so over glitter-rock. Shorts, tank tops, flip-flops around-the-clock was my attitude. I didn't want to get dressed up and pretend to be some rock star anymore. And these guys were doing it and not only getting away with it, but changing the way everybody dressed.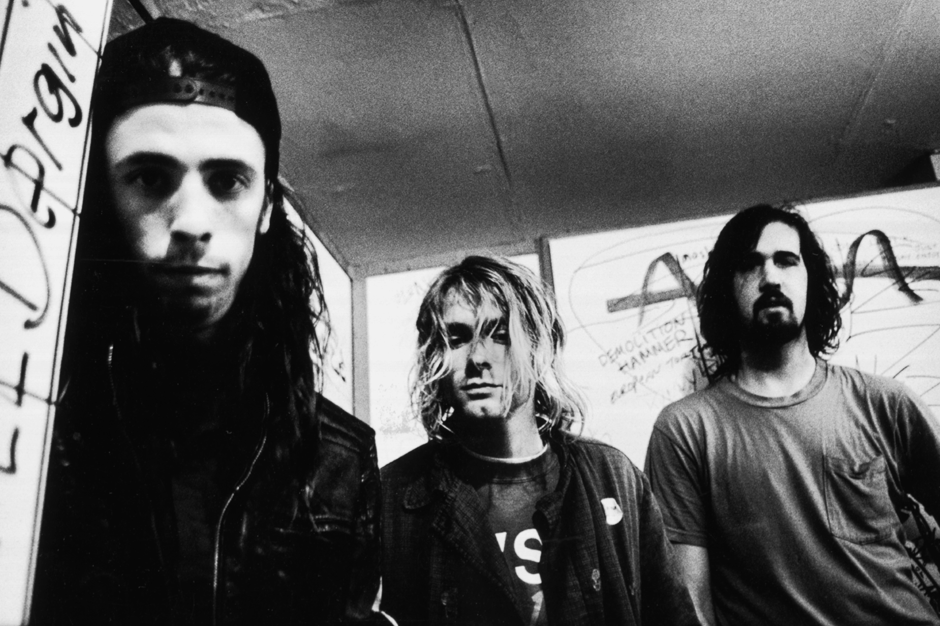 Henry Rollins (Black Flag)
Nirvana arguably knocked that door down, and then old geezers like me coat-tailed. All of a sudden I get to be on Lollapalooza and a major label and I've got a real budget and a real press person. I can go out and do those 160 shows a year and knock my guts out and there's some wallop behind it because someone's actually helping me.Whenever I'd be in the same room with Kurt, he'd look at me, look down, and get nervous and move away from me. I have that effect. But I asked Courtney, "What's up with your boyfriend? How come he won't come over and talk to me?" She said, "Oh, he's high and he's scared of you because you're Mr. Straight-Edge and he digs you, but you freak him out." That music remains timeless. You might borrow your dad's Nirvana CD—so another generation is looking back on it, going, "Well, the old man kind of had it right. This doesn't suck." That music sticks for a reason. It wasn't bullshit.
Mark Ronson (Producer)
I guess because I'd already been into Mother Love Bone and Soundgarden and bands like that, I knew about Nirvana. It didn't hit me like a ton of bricks. In hindsight, it was just a collection of incredible guitar pop songs sung by a beautiful, tormented man. You look at the mythology of it all, but at the end of the day, it's the songs. If they didn't have those brilliant songs, we wouldn't be talking about them right now.
Gerard Cosloy (Matador Records)
We existed pre-Nevermind and we've hung in there pretty well long after, too. One could certainly argue that Nevermind helped usher in a new biz/creative climate that allowed labels like ours to flourish; I'd counter that by claiming it was folks like Ian MacKaye, Jeff Nelson, Calvin Johnson, Corey Rusk, Geoff Travis, Bruce Pavitt and Jonathan Poneman, etc. (and the bands they championed) who helped fashion the environment that allowed Nirvana to flourish. But either way, no matter what I say on the subject, it either comes off like sour grape or, worse, dissing a dead man. I mean, God bless anyone who was actually introduced to more interesting music by Nirvana, who, despite the maelstrom they were in the middle of, mostly impressed me as alright guys in an impossible situation. I'm not gonna apologize for the fact my mind wasn't blown/life wasn't changed by Nevermind. We've all got our favorite records. I don't honestly expect SPIN to do a 30th anniversary feature on how [the Fall's] Hex Enduction Hour changed music, but it's a much, much better album by a far more important band.
Geoff Rickley (Thursday)
Most drummers write beats. Dave Grohl wrote riffs. When you're making a fill that people sing, that's super, super hard to do. He was just a master of it. The rest is dirty and fun; the drums on Nevermind are straight-up pop gold.
Brent Hinds (Mastodon)
I was 16 years old and in a band called Kill Darling. My bandmate Johnny had Nevermind on cassette, and he was like, "I want you to listen to this! It's fucking good!" and we all sat around and listened to the whole thing before practice. Fast-forward 20 years later and I'm standing in Sound City, the place where they recorded the album, talking about music with Dave Grohl. Full circle. It didn't impact me immediately because my playing was so different from Kurt Cobain's. I loved what they were doing; I loved that they were doing it. But I didn't want to be a part of it at all. I never was in any way.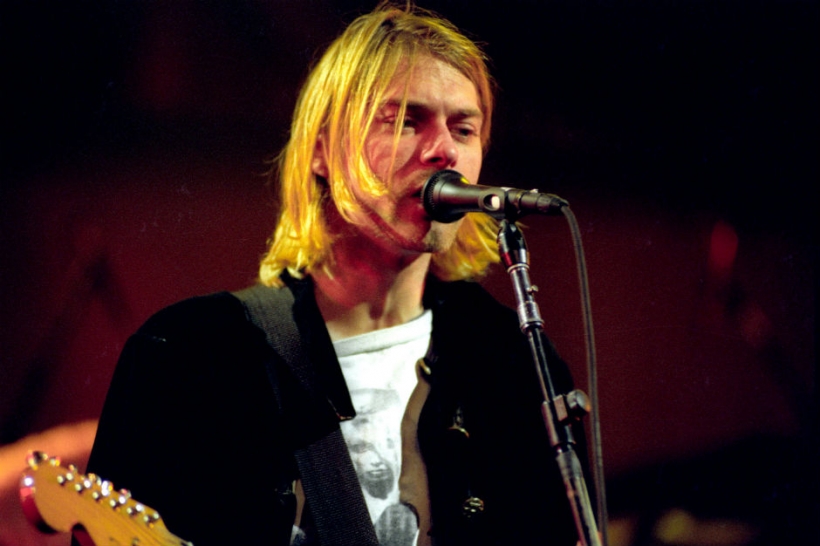 Marc Maron (Comedian)
I was late to the party with Nevermind. I was walking around the East Village one day, and all I heard everywhere was "Smells Like Teen Spirit." It seemed to be coming out of every speaker, and I had that moment when I realized that there was serious magic in the air and everything was new. I hadn't had that feeling since I was in high school on the day Van Halen's first album came out and every set of Jensen Triaxials was blaring "Eruption" out of the back of every car in the parking lot. Those are rare moments manifested by powerful wizards.
Gregg Gillis (Girl Talk)
Nevermind was the pivotal album in my life. It came out right before middle school, which is the perfect time to reject the world and be alienated from your peers. My sister was pushing for me to just get the single of "Smells Like Teen Spirit." She said, "You're not going to like any of the other songs." I went to a party and everyone was supposed to bring a cassette to listen to. Most people were bumping Metallica and Guns N' Roses, and I brought Nevermind. I was actually a little embarrassed at first—was this too weird? I thought people might make fun of me, but they didn't, and it became everyone's favorite thing. I played a show in St. Louis recently, and these kids invited us back to their apartment. Everyone was playing a bunch of new bands, so I got on YouTube and played "Drain You." My friends were, like, "Yes! This is what we needed to hear at five in the morning." The younger people were, like, "Yeah, cool." They were feeling it, but it's different if you lived through it.
Joel McHale (Actor-Comedian)
I went to the University of Washington, and I remember people listening to "Smells Like Teen Spirit" and going, "What the fuck is this?" It's like someone gave you speed for your ears. One of the reasons I loved Kurt Cobain so much is that he had a great sense of humor. "Smells Like Teen Spirit"—just the name of the song is hilarious. I mean, "A mulatto / An albino / A mosquito / My libido / Yeah, hey, yeah"—that's a lyric from one of the biggest songs of all time. And look at the cover of the album: It's a baby swimming after a dollar. That could be the cover of a comedy album.
Lenny Kravitz (Guitarist, Singer/Songwriter)
That's a great record, man. Great style, great songwriting—really great songwriting. It's probably the best record to come out of the Seattle scene. It's one of my favorite records from that whole period. You just knew it was so fresh the first time you heard it. It still sounds fresh. You can think what you want about Kurt or grunge, but the songs are undeniable. That's why people still care.
Owen Pallett (Final Fantasy)
I used to go to the weight room in ninth grade and put on Nevermind and pump iron. Then Kurt died and the music lost its anabolic effects—I lost a lot of weight in '94. Good songs, though. And I never would've gotten into the Melvins, the Meat Puppets, or Shellac were it not for Nirvana.
Marnie Stern (Guitarist, Singer/Songwriter)
Somehow I never listened to Nirvana until last year! Which is even stranger because I grew up when they were popular. But I really, really like that "Smells Like Teen Spirit" song. The chorus makes you want to win, win, WIN!
Billy Ray Cyrus (Guitarist, Singer/Songwriter)
I was living in my Chevy Beretta around the time Nevermind was released. I was 29, my life had fallen apart—I was going through a divorce, losing my home and my cat. It was the background music for the drama unfolding in my world.In '92, my album Some Gave All came out and was the No. 1 album for 17 weeks in a row. There was a lot of attention all of a sudden. One night, my circus pulls into town somewhere out West, I believe Arizona, and Nirvana's trucks were coming out of the place they'd played. Somewhere in the bowels of one of those buildings, a guy walked up to me and said, "Congratulations, you pissed the whole world off." I looked at Kurt and said, "Thank you." We just chitchatted. A few months later, backstage at the Billboard Music Awards, we crossed paths again, and this time it was a really strong handshake, like, "My friend, I didn't know we'd ever cross paths again." I saw Miley's cover of "Teen Spirit" in South America. The crowd just went crazy. And I thought, "How beautiful, man," because I do believe Kurt's spirit is very much still on this earth, through his fans and his music. I did have a very surreal moment watching my little girl do their song, realizing, "Wow, these kids are singing along to this in English, every word. And I'm sure that Kurt loves it."
Amy Finnerty (Former Director of Music Programming, MTV)
I remember getting the "Smells Like Teen Spirit" video and running it around the MTV hallways and showing it to everybody. For some reason, Smashing Pumpkins were visiting us, and I was kind of running around with them, going from office to office, showing it to people. I think it's a great video. But they could have sent me a video of a rock, and I still would have wanted to play it.
John Waters (Filmmaker)
I remember MTV did this huge show about me, and Kurt died the day it was supposed to air, so it was never shown. And my mother kept going, "Who is he? I've never heard of this person!" The grunge thing infuriated people, the purposely-looking-shabby—it was hippie, but with a better style. A little bit of punk, a little bit of trouble. That trend in Hollywood where actors try to look ugly just to prove that they can't really look ugly? That was Kurt.
Tim McIlrath (Rise Against)
Nevermind made being weird sort of cool, and it was commercial. There was a kid from my neighborhood who won American Idol last year and everyone in town was freaking out, and people were asking me what I thought, looking for me to sign off on this. But my type of singer would have never made the audition. That's what I was trying to impress on these people, and on my kids: Embrace what makes you different. This idea that if you don't fit these parameters, that if you don't sing this Michael Jackson song perfectly, hang it up—how would that apply to Bob Dylan and Kurt Cobain and John Fogerty? Kurt sold more records than any of the American Idols combined by sounding fucked up and broken.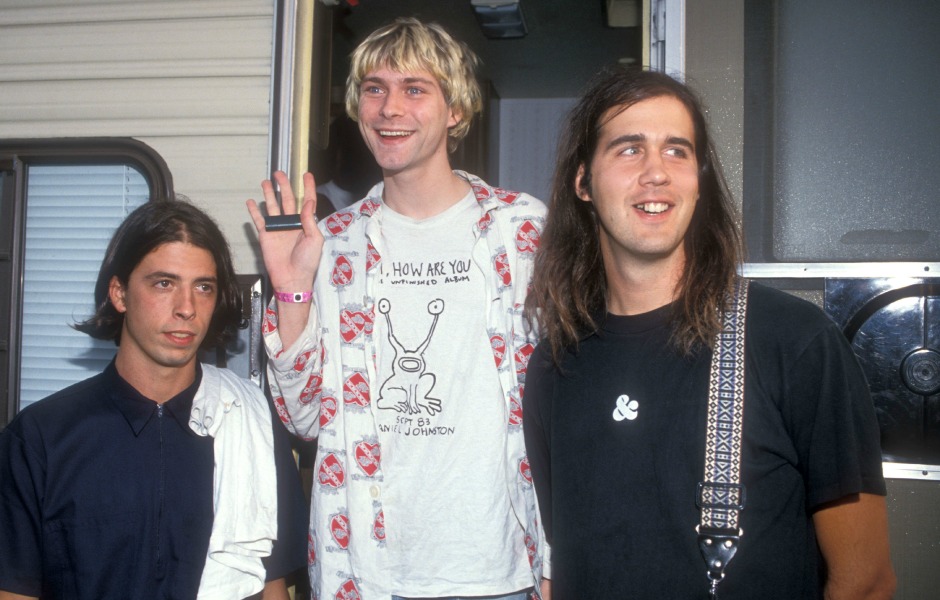 Sam Lipstye (Author of The Ask)
The songs on Nevermind didn't really sound like Guns N' Roses. They were much catchier. The crunchy guitar, the drum attack, the Pixieish arrangements, it was all sonic candy. But the lyrics were the lynchpin. Cobain's acerbic delivery seemed filled with authentic longing and a generational sentimentality disguised as alienation: a perfect pop concoction. The great (unheeded) message was that you didn't need to waste your life moping around and feeling suicidal because Nirvana sold out. They could do it for you and still write astonishing songs. It's too obviously a counter-intuitive, snobbish thing to say In Utero is better, so let's just agree that it is. But Nevermind is still the beautiful, startling moment, carrying the spirit of the (always already failed) revolution. It changed everything and nothing about white guys with electric guitars. It did not invent, but certainly perfected an infinitely accessible sad fury, as opposed to earlier punk's mischievous fury, or rock's plain old furiously partying fury. And then came emo and a lot of lesser bands and the music industry collapsed or something. I do remember where I was when I heard about Cobain's death: I was eating Chinese food with my father. He asked me if I'd ever heard of Nirvana. My first thought was that he'd converted to Buddhism.
Patrick Carney (The Black Keys)
Nevermind was the first modern-rock record that I became obsessed with. I was in sixth grade and my brother had the cassette. I was just getting into Led Zeppelin and Jimi Hendrix at the time. I remember seeing Nirvana on Saturday Night Live and it blowing my mind. By the time In Utero came out, everyone had gotten into Nirvana, and all the kids who had never been exposed to that kind of music were ready for that sound. Basically, it's our generation's equivalent of AC/DC's Back in Black.
John McCauley (Deer Tick, Deervana)
We were obsessive Nirvana fans as teenagers, I knew the entire catalog on guitar when I was 16. We'd hang out, smoke a bowl, put on a Nirvana bootleg. A friend asked us to play a Nirvana tribute set for a birthday party, then our manager asked us to do it for South by Southwest and we thought it would be funny. We got a lot of offers after that, but turned almost everything down. We also did a surprise [Deervana] set at Bonnaroo, but that was just so we could get better passes. It was supposed to be a joke, but it got too much attention and I felt stupid. We're not gonna take people's money so they can hear Nirvana songs. I'll miss jumping into the drum set and people stage-diving—I wish they'd do that during Deer Tick shows. I just think they wish they had the chance to see Nirvana live—I know I do—and their music can make you do crazy shit when you're surrounded by other people listening to it. But we've got our own music careers to worry about. We'll always throw Nirvana covers in our set, but no more full sets; we don't want to become a tribute act or something. Deervana's broken up.
Jeff Tweedy (Wilco)
When Nevermind came out, somebody gave us a cassette and we thought it sounded so slick—like a Whitney Houston record. I think Kurt Cobain was a really great pop songwriter. But you have to understand, Uncle Tupelo [my band at the time] hated everything that wasn't a field recording from Appalachia, anything that wasn't raw and amateur-sounding. I liked a lot of the music that influenced Nevermind: the Replacements, punk rock from the '80s. Whenever I hear it now, I think it sounds great. But it really was produced compared to other records at the time. For a band that had an image of being super punk rock and dangerous, from our perspective, it was like, "That's the opposite!"
Tracii Guns (L.A. Guns)
Pop metal at the time was getting so shallow and watered down. Nirvana just reminded people how ballsy rock is supposed to be. I got a copy of Nevermind from a friend a few months before it came out- it didn't immediately grab me, but after about a week, I was completely sucked in. Kerrang! ran a photo of me wearing a Nirvana T-shirt onstage with a caption saying something like "Uh oh, is this the new trend?" I really don't care what my hair-metal peers thought or think.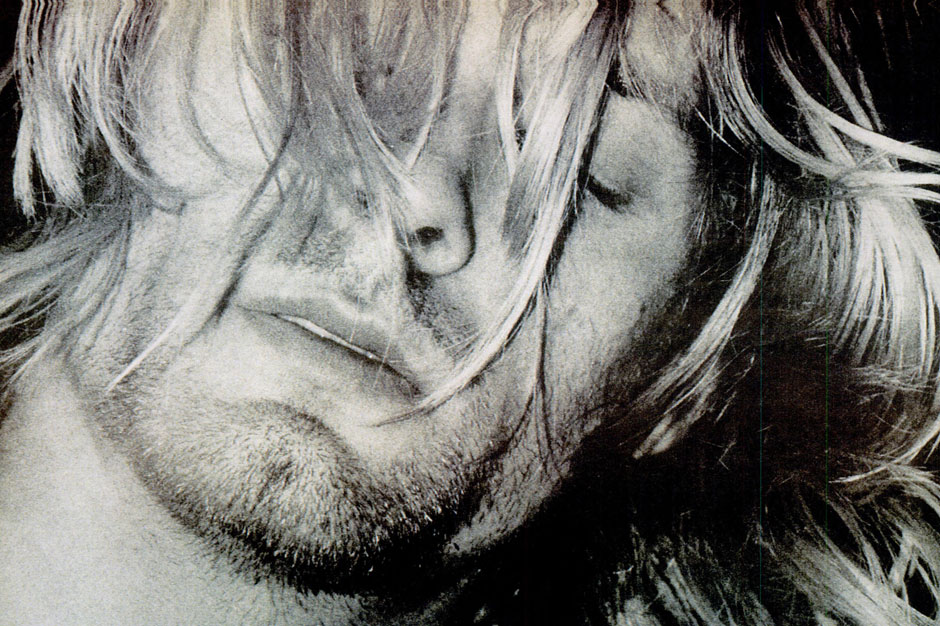 Talib Kweli (Hip-Hop/Rap Artist)
There are certain pieces of work that are damn near perfect: Bob Marley's Talkin' Blues, John Coltrane's A Love Supreme, Miles Davis' Kind of Blue, and Nirvana's Nevermind. The hardcore music scene that Nirvana came out of, when I was in high school, the lyrical sentiment and style of dress and politics all gelled with hip-hop. I know this because the white kids in my school were dressing like me and I was dressing like them. And that whole thing converged when rap kids really embraced Nirvana. You could play that record in any hip-hop club right now.
Yelawolf (Hip-Hop/Rap Artist)
Nirvana were important for me—them, Digable Planets, and Goodie Mob, that's what we listened to every day. They were one of the few bands that crossed over into the hood. I was living in Nashville at the time, skateboarding and shit, and we'd be bused to downtown Nashville to keep the schools integrated. They were raw and real, and they instilled that it was okay to be rock'n'roll again. It wasn't for a while.
Nikki Six (Motley Crue)
I announced the album before its release on [MTV's] Headbangers Ball. I said, "Here is an important rock album." I never understood bands saying Nirvana had anything to do with derailing their career. Maybe those bands just didn't have the goods. You can't pee like a puppy if you wanna run with the big dogs.
Phil Collen (Def Leppard)
At the 1992 MTV Video Music Awards, we were the sacrificial lamb—it was Nirvana, Pearl Jam, Chili Peppers, and Def Leppard. People were quite hostile towards us, which I thought was a joke—a new kind of music comes out that's about you not wanting to be like anyone else and then you're narrow-minded? Unfortunately, we got lumped in with these awful hair bands, which we didn't really think we were part of anyway. So when Nirvana came on, it was like, "Yeah, it's gonna fuck us a bit," but it was also great music.
Ray Toro (My Chemical Romance)
I was a sophomore in high school, maybe a junior, when that came out, and you hadn't seen anything like that. That dude, he shredded his voice when he was singing.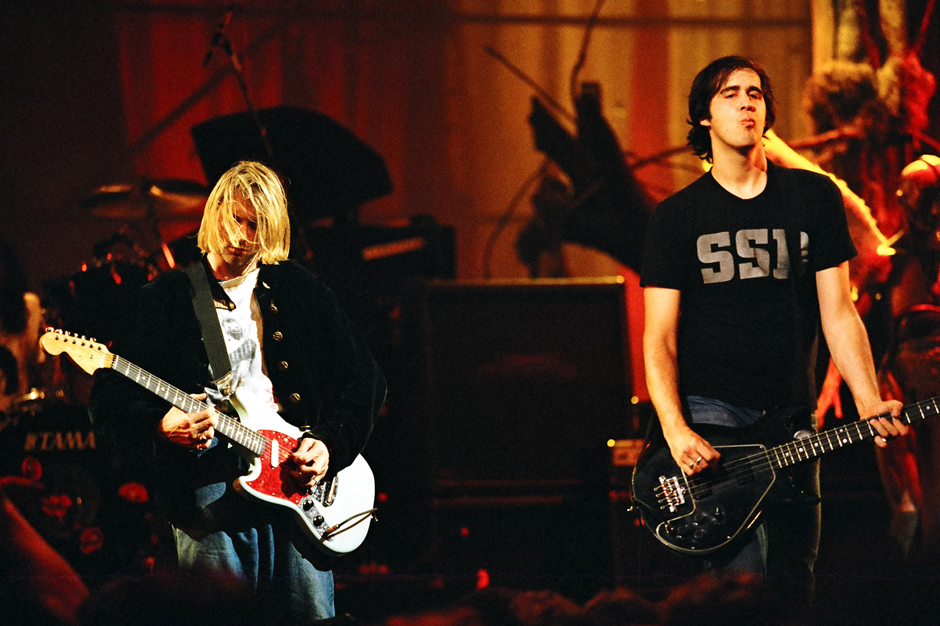 Megan O'Rourke (Author of The Long Goodbye)
The first time I saw the "Smells Like Teen Spirit" video, its sepia tones made it seem already a memory of my own youth—the way I would one day remember what it was like to be 15 in 1991, suffused in a rage and knowingness about sex, hypocrisy, entertainment, cruelty. Even on that first listen, the song carried with it a strange nostalgia. And the strange thing about the 20th anniversary of Nevermind is realizing that the album did capture what it was like to be floating through adolescence in the fading sun of the early '90s. When I think about those years, I often think about the way Cobain embodied damage and longing in "Polly" or "Rape Me," songs I'd never heard the likes of before. The sound was disenchanted yet not exactly ironic; weary yet oddly celebratory. The album aspired almost to the operatic, but in a modern way. During that year, I first listened to Nevermind feeling it was ours, feeling it had captured a moment. I self-consciously wondered if part of me just wanted to have that feeling about a band — the way my parents had had about the Stones or Dylan. We were the belated generation; rock'n'roll wasn't just music, it was the music that was supposed to signify a riotous charge (yet rarely did). Today, I realize that my questioning was shaped by the music itself: What made Nevermind iconic had a lot to do with Cobain's own self-consciousness.By the time I was in college, listening to indie rock, having put away my flannel shirts, it seemed the world had gotten a little more fey and a lot more ironic. But when Cobain killed himself in the spring of 1994, we all left our dorm rooms and went out to the lawn and someone played Nevermind from the window loud enough that it reverberated among the gothic stones as we sang along.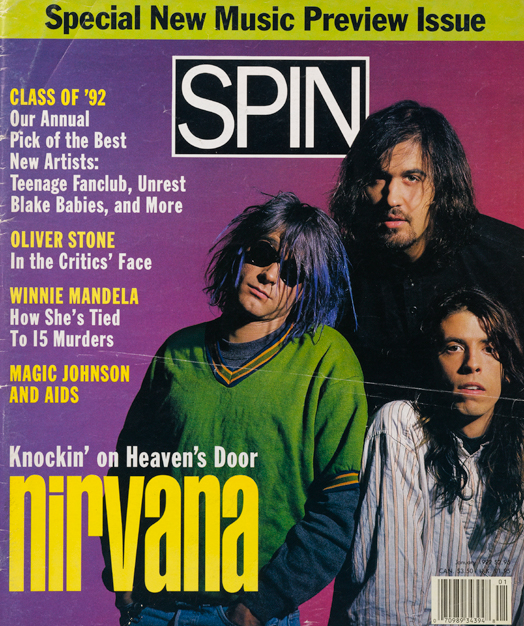 Cole Alexander (Black Lips)
When Slash came out in the '80s, it was like, I can't be a rock star. But when Nirvana came out, it was like, wait, I can do this.
Ben Lee (Noise Addict)
I saw Nirvana play at the Big Day Out in Sydney in 1992, shortly after Nevermind was released. I was a late bloomer, not yet having hit my growth spurt at 13, and easily one of the shortest people among the 5,000 or so. I remember a pretty girl in her 20s offering me a sip of her beer. Nevermind reminds me that it's okay to be different, and that when you least expect it, you can suddenly find that there are others out there that feel the same way. I left feeling inspired in a way I hadn't felt before, and the next day I did the thing that punk rock was always meant to make you do: I started a band.