On the way from New York to Nashville to meet Joyce Manor, I listened to a playlist of the band's entire catalog — three full-length albums and a handful of EPs — as well as their forthcoming fourth album, Cody. The whole thing got me as far as New Jersey.
Since forming in 2008, the Torrance, California quartet have provided the modern-day gold standard for jamming econo. Singer/songwriter Barry Johnson is the musical equivalent of the brilliant comedian on your Twitter timeline who never seems restrained by a 140-character limit: Even the band's self-consciously difficult sophomore album, 2012's Of All Things I Will Soon Grow Tired, runs through nine songs in 13 minutes. Not like single-breath songs are anything new in punk music, but Joyce Manor aren't hardcore or even post-hardcore — just a really great power-pop band who never lets their power bar sag below 100 percent.
The band is in Tennessee to play at Jack White's Third Man Records, the final gig of a late-summer Southeast swing, and their last show before heading out to officially promote Cody with post-emo mystics the Hotelier in October. As I talk to them outside the venue an hour before doors open, fans in Joyce Manor T-shirts are already lining up. The hour-and-change of music that has represented Joyce's recorded discography to date has been more than enough to earn them one of the most fervent followings in underground rock, dating back to their very first gig as an acoustic duo in the late '00s. "We made like ten CDs — sold them all instantly — next show, there were people there who [already] knew the words," remembers Johnson. "We got a fanbase instantly."
Then, the band was just Johnson and fellow guitarist Chase Knobbe, internet friends both really into Blink-182, christened Joyce Manor after the name of an apartment complex the frontman passed regularly. Soon, they added bassist Matt Ebert and drummer Kurt Walcher, and played a couple of shows with the emo band Summer Vacation, an experience that helped Johnson realize his own group's pop-punk musical destiny. "They just blew my mind," he says of the now-defunct Vacation. "Then all the new songs I started writing had these more dissonant chords and a litle more of an emo groove. I ripped their s**t completely."
Through three albums of lightning-quick end-of-summer rock, Joyce Manor grew their fanbase from rough-sketch basement shows to triumphant, sold-out gigs at mid-sized venues like New York's Irving Plaza, where they played two nights on a joint tour with Modern Baseball this past June. Joyce were the nominal openers, but you'd never have known it from the crowd, a raging sea of delirious moshers screaming along to every mini-catchphrase and compact confession. The band's build-up to cult status has been gradual, but ceaseless — their third album, 2014's Never Hungover Again, only has one song with more than two million Spotify plays, but nearly every track has at least one million. "It kind of feels more concrete that way," Ebert says of the slow burn. "I've never had that, 'Holy s**t, we could lose these people at any second' thing that some bands get."
That confidence might explain why the band is able to risk a bigger leap forward with Cody (titled after a name originally proposed for the band itself), due on October 7 via Epitaph. Produced by Rob Schnapf — sonic architect of major LPs by Guided By Voices, Elliott Smith, and Saves the Day, all of whom are part of Joyce's musical DNA — the album is easily the most expansive-sounding, carefully crafted, and lyrically vulnerable work the band has made to date. There are more hooks, less thrashing, different tempos, even an acoustic ballad. What's more — broken-monocle alert — the songs are long. (Okay, not really: It's ten tracks in 24 minutes. But only two songs are under two minutes, and one lasts a whopping four-plus, basically making it a Godspeed! You Black Emperor record by Joyce Manor standards.)
Turns out, Joyce songs have been historically short not out of principle, but necessity, since Johnson simply didn't have any other way to write. "I think it truly [came] from my lack of knowledge of arranging," the singer says of his previous tendency to write timeout-length rock songs. "I don't have some ethos about it. If the song is great for six minutes, then that's great." He credits Schnapf with supplying him the tools to stretch his songs beyond the two-minute mark. "I didn't know that, like, if you do two verses and then a chorus then a verse then a chorus, you can get more choruses out of the song, 'cause you delayed the first chorus. I didn't know that trick."
It's a great album, one big and accessible enough to feel born from the same universe as blockbuster albums by Blink-182 and Jimmy Eat World. In fact, 20 years ago, it might've convinced myopic purists to deem the band sell-outs — just ask Jawbreaker how fans like it when a beloved emo band softens their edges and blows out their songs a little. But Joyce Manor don't see themselves suffering a similar fate in the more commercial-tolerant rock landscape of 2016. "I see fans that are so excited when we get on the radio," Johnson says. "No one cares about that [sell-out stuff] anymore."
[featuredStoryParallax id="207484″ thumb="http://static.spin.com/files/2016/09/160901-joyce-manor-live-1-300×133.jpg"]
At the Blue Room venue within Jack White's Third Man Records complex in Nashville, Joyce Manor is soundchecking for their gig that night. The walls slope up from the floor on two adjoining sides, making the room look like a cut-out corner of a gigantic blue half-pipe. The rest of the building is a surreal mix of rock-history museum and vanity Xanadu, and like most things Jack White, it's intriguingly out-of-time, unnecessarily difficult, and overwhelmingly male.
A Third Man representative asks the band if they want a tour of the premises, and the guys gamely agree, following through winding paths of Music-Great ephemera and counter-intuitive architecture, as Illmatic and a Bob Dylan live album blare from various office stereos. But it's a lot, and our tour guide's nervous enthusiasm is somewhat Brandt-ish. At one point, Johnson, whose white tee and black jeans make a stark juxtaposition with the yellow-and-black costume-coordination of the Third Man staff, lags behind in one of the hallways to quietly inform me: "I regret doing this."
Truth be told, Joyce is sort of out of place here to begin with, a fact hammered home by their show later that night. The gig is sold out, and the venue is largely littered with the kind of aging Professional Music Appreciator types you'd expect to find at a vinyl mecca like Third Man. But the front rows are jam-packed with kids half their age or younger, and there somehow seems to be more teens crowd-surfing at any given point than there are hands supporting them. After the band finishes, several of them hang around to Instagram the set lists left onstage, and when I leave Third Man an hour later, a handful are still milling around the building.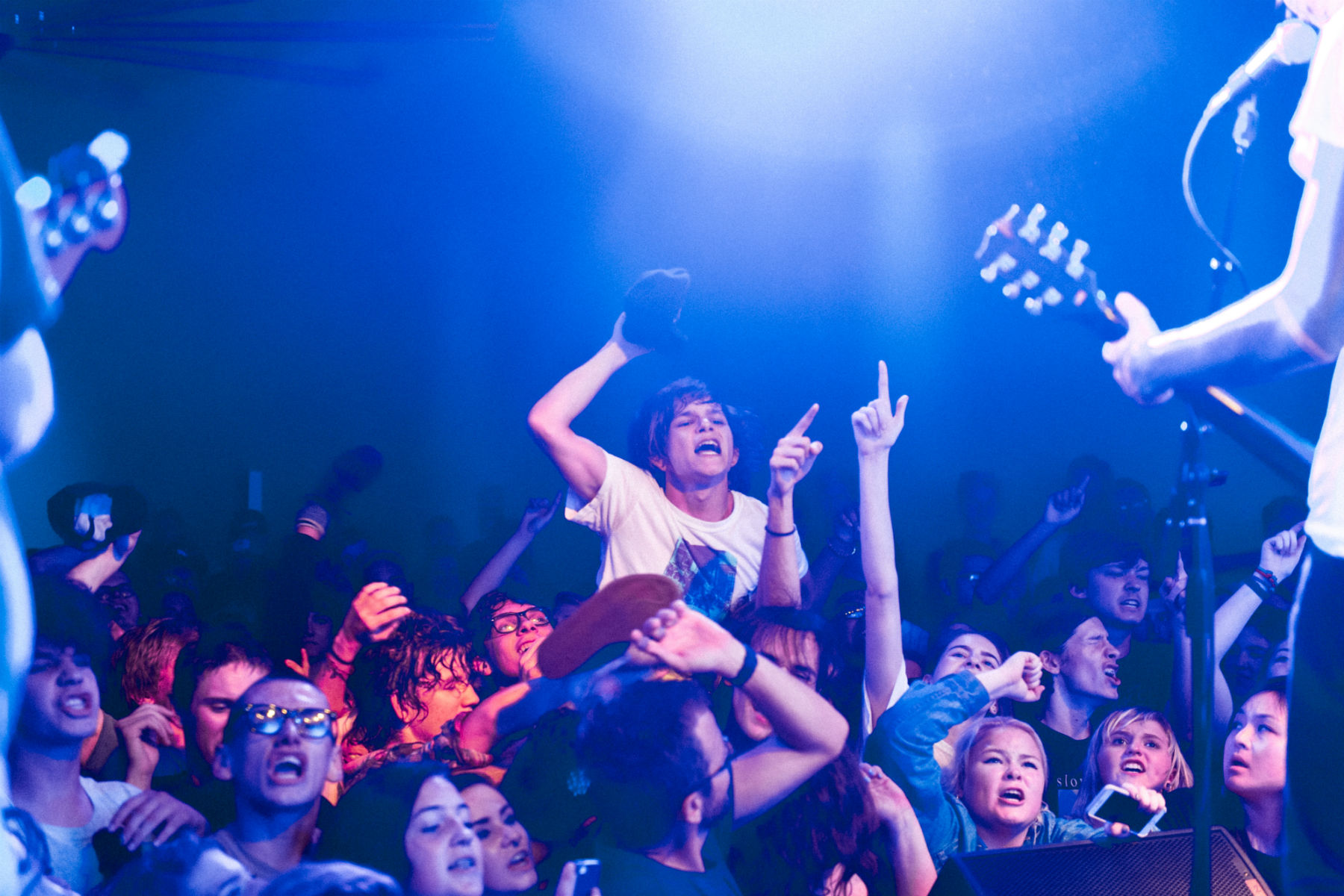 As Joyce Manor approach critical respectability — Never Hungover Again received rave reviews after the band's first two albums were largely ignored by the mainstream media, and even landed them a Nardwuar interview — the majority of the outfit's fans remain under-aged and over-excited. For their part, the band is eminently cool with this. "Our shows are kind of like a party," Johnson says, noting the thin line that separates his band with more acclaimed groups like Cloud Nothings, whose audiences tend to be more of the arms-crossed variety. "I wouldn't trade that for, like, more blog cred."
Though teens make up the largest percentage, the most rabid sector of Joyce Manor fans might actually be dudes in other bands. Joseph D'Agostino of rock true-believers Cymbals Eat Guitars regularly cites Never Hungover Again as a source of inspiration. Pop-punk shooting stars Chumped named themselves after a song on one of the band's first EPs. Modern Baseball, former Joyce road buds and the closest band from their shared solar system to true crossover popularity, remain gushing fanboys. "We spent a lot of time on that tour just talking to our friends in [tourmates] Thin Lips about how much we love Joyce Manor songs," co-frontman Jake Ewald says over email.
It's not just artists from the alt-rock club circuit that big-up Joyce Manor, though — the shoutouts are getting weirder and more high-profile. Vegas millennial-disco phenom Shamir gave the group an unexpected signal boost when he covered Hungover opener "Christmas Card" a couple of times on tour in 2015. Matty Healy, frontman for Top 40 emo Trojan horses the 1975, recently gave Joyce an explosion of new Twitter followers by pledgingg his love for the band on the social-media service. And even Mark Hoppus, one of the band's original North Stars, has tweeted his love for their especially Blink-like rager "Heart Tattoo," which inspired an emergency band karaoke of "Adam's Song" that night. (I inform the group that, for whatever reason, Hoppus has since deleted his tweet. "That's… heartbreaking," responds a semi-legitimately crestfallen Johnson.)
One of these super-famous super-fans even guests on Cody: Nate Ruess, lead singer of theater-rock chart-toppers fun., provides chorus vocals on the sauntering, Strokes-y "Angel in the Snow." "He got my email from somebody and just said he was a fan," Johnson explains. "We met up and went out for a few drinks and had a ton in common."
Joyce Manor make sense as a band's band, because their calling-card skill is the one that's the envy of anyone who's ever put pen to paper, or pick to guitar: the ability to do more with less. And that goes way beyond the band's brief runtimes, to their Alka-Seltzer fizz-and-dissolve melodies, and lyrics like "You were drunker than high school" from regular encore "Constant Headache" — lines that manage to suggest entire narratives in a single turn of phrase. Joyce are such skilled writer/editors that their second album even managed to turn the Buggles' "Video Killed the Radio Star" from a bubbly MTV novelty to a two-minute howl of loss and regret, dusting the entire Punk Goes Pop franchise in the process. What self-respecting band wouldn't at least give up a golf clap for that?
The combination of professional and adolescent affinity is fitting for a band whose frontman has a tattoo of Morrissey's name on his arm, and who says the Smiths "have been the most consistent thing in my life." Like Moz & Co. —  invoked in a great deal of the band's artwork, merch, and titles, as well as in the charming sashay of 2012's "Bride of Usher" — Joyce Manor do a brilliant job of punching the gut while flattering the brain, with mature songwriting (despite its brevity) that never forgets to stick its arm out to the youth. "I think usually a band's band is the kind of band that kids don't get," Johnson says. "But having both of those things is like kinda winning the f**king lottery."
[featuredStoryParallax id="207490″ thumb="http://static.spin.com/files/2016/09/160901-joyce-manor-parallax-2-300×133.jpg"]
Backstage before the Third Man gig, Joyce Manor reveal to me that Cody's release isn't the only thing that they have to look forward to in early October: Johnson, Ebert, and new drummer Jeff Enzor will all be turning 30 that same week. (Knobbe, the lone holdout, still has five years to go.) Amazed by this coincidental timing, I ask about the blowout celebration the band must have planned for this momentous week in their lives. Much to my disbelief, the band has no answer, and appear to have not even contemplated the question yet, shrugging at one another and finally acknowledging the possibility of doing something "low-key." "I don't really like making a big deal about birthdays," Ebert admits.
It's typical debauchery and excess for a band whose most frequently used word to describe themselves is "boring." Despite frequent narcotic allusions on record — LSD and weed are both used on Cody, though Johnson sings he doesn't touch the latter "unless I want to go to sleep" — Joyce Manor insist they're not drug guys, and even a pre-show tequila shot is treated like a minor investment. "I think the wildest I saw Barry was when he walked into the green room in Boston and shouted, 'Let's f**king READ,' and then sat down across from me, and we read in silence for half an hour," Ewald recollects.
Even a discussion of the band's many tattoos — they all have at least one or two, while Johnson and Knobbe are covered — leads mostly to ambivalence and regret. "If I could do it over, I would [only] have three," Knobbe admits. "But if I could really do it over, I'd have zero."
"Low-key" certainly wouldn't be a term you'd use for Joyce Manor's live performance, a gorgeous cacophony punctuated by Johnson bounding around the stage and holding out the microphone to the audience enough that they essentially become the band's fifth member. And it wouldn't be an applicable descriptor for Cody, either — the album definitely feels like a grab at something, the kind of we-gotta-get-out-while-we're-young statement of urgency and ambition that looks to actively better a band's station in life.
But Joyce Manor have never been careerists — even their decision to assemble in the first place was met with incredulity for its poor prospects. "You're gonna a start a pop-punk band?" Johnson remembers being asked in the band's early days. "We all just decided that [genre] sucked." Back then, pop-punk had faded from mainstream relevance following the dissolution of leading lights like My Chemical Romance and Fall Out Boy, and we were still years away from the so-called emo revival being the nationally recognized movement that it is now.
"I remember thinking, '[Our first album's] never going to sell, [our distributor's] going to have a thousand of these sitting in his apartment, nobody is going to like this,' and I was wrong," Johnson says over the phone, a week after the Nashville show. "It seemed like there was this wave of kids who weren't really into hardcore, but they were into us."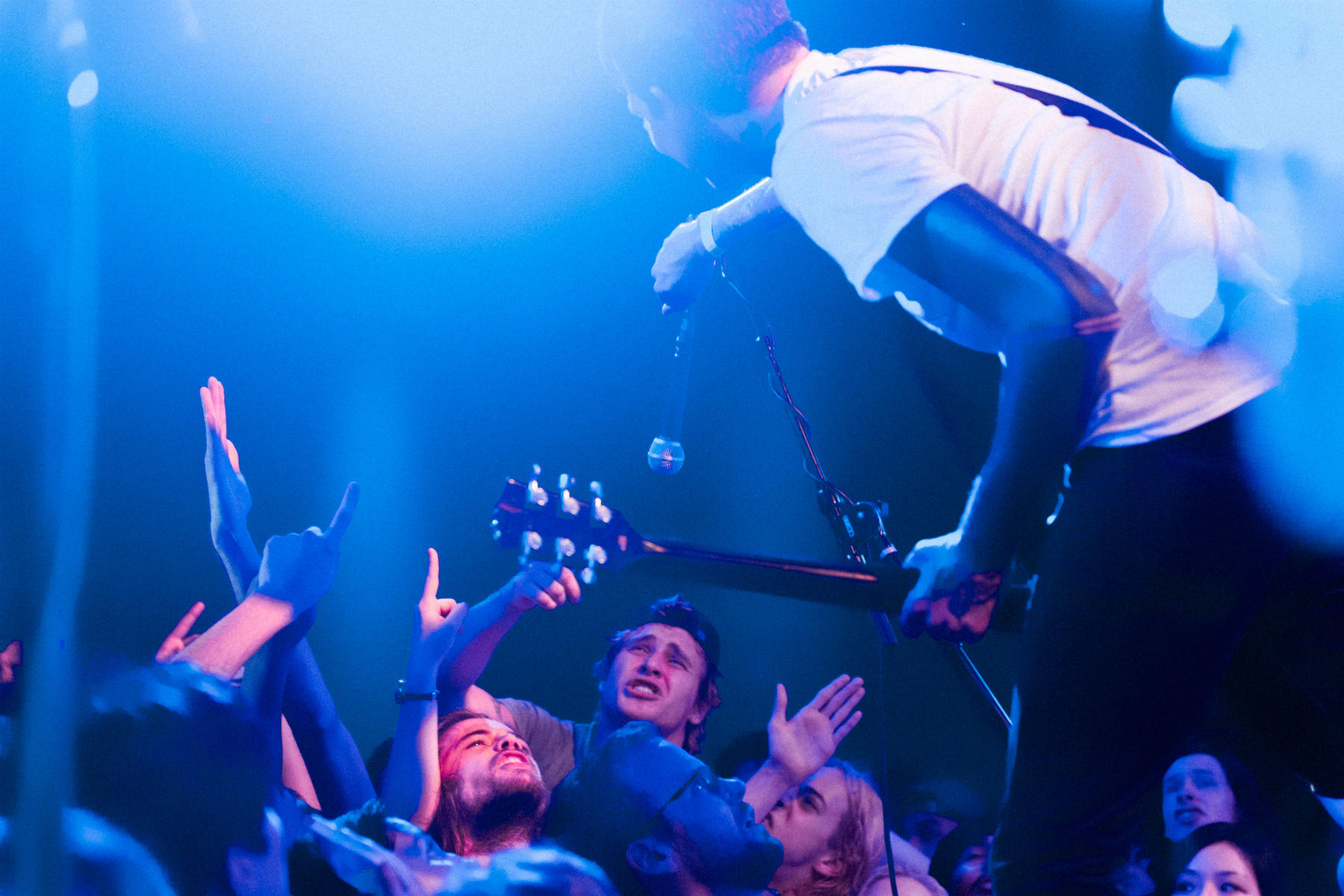 Joyce Manor's sonic palette has widened significantly since those days, and Cody sees the group seamlessly foraying into chugging pop-metal ("Make Me Dumb"), Pinegrove-like heartland indie ("Eighteen"), and swooning Weezer power-balladry ("Over Before It Began"), among other new sounds. Some of the added shading is due to the enlisting of Enzor, who replaced original drummer Walcher after the group became frustrated at the latter's awkward fit in their writing process.
"We started a side band, that didn't work out," Enzor says of his pre-Joyce relationship with Johnson.
"It did work out. It worked out too well," Johnson corrects him. "To where it was like, 'You should just be in the main band.'"
Unlike most supposedly unboxable groups of their caliber, Joyce Manor doesn't shy from terms like "pop-punk" and "emo" when describing themselves. "I love a lot of that stuff," Johnson says. "I saw Promise Ring this weekend, and they were f**king awesome." He admits that he struggled with such designations in the band's early days — and that Of All Things resulted from how he "wanted to do something weird and bum people out" — but made peace with it before Never Hungover Again. "I had a weird complex about it that I got over, and now I'm fully fine being a pop-punk band."
Ask the band about their hopes for Cody to expose them to new audiences, or even to help them leave their day jobs behind — Johnson most recently worked at a Juice Press, and Joyce's other three members have all matriculated in and out of the food-service industry — and they respond with the same enthusiasm as they have for round-number birthdays. "We've already had so much success, that success can kind of start to get boring," Johnson says, not bragging so much as not being overly impressed with himself. "Like, another good review, another sold-out show for 600 people… that's f**king great and everything, but the really rewarding part is just surprising yourself with something you wrote."
And Johnson does manage a couple of real surprises on Cody. The first comes with opener and lead single "Fake ID," where an initially promising encounter with a girl turns on an irritating conversation about Kanye West ("I think he's great, I think he's the best / I think he's better than John Steinbeck, I think he's better than Phil Hartman"). The lyric is an admitted stretch for Joyce Manor, their first engagement with the larger pop conversation. "That line came to me and I was like, 'Oh, this is scary,'" Johnson says. "And when we were shooting the video there was a room full of strangers dancing to that part, and then I was embarrassed. Like, 'F**k, this line.' They're gonna be like, 'Who the f**k is this band?'"
But even though the playful parry at Kanye's cultural pervasiveness will likely end up as the LP's most discussed lyric — with many fans misinterpreting it, to the band's irritation, as a diss — the most interesting moments on Cody stem from much darker places. "Do You Really Want to Not Get Better?" is a 77-second acoustic duet between Johnson and singer/songwriter Phoebe Bridgers, painfully addressing a friend who's accepted addiction. The album's four-minute climax, "Stairs," written when its singer was 19, includes some squirmingly uncomfortable lyrics about how frightening it is to be totally dependent on another person ("I'll lock you in my room / And I'll tie you to the sheets"). Even "Fake ID" ends on another twist, as its narrator ditches the hot-girl narrative to mourn the real-life death of Johnson's friend Brandon — Carlisle, of Wyoming punks Teenage Bottlerocket, who passed away unexpectedly at age 37 in November of 2015 — closing, "I miss him, he was rad."
Johnson's aware of the cringe-worthiness of some of these moments, and no one's shuddering harder than the songwriter himself. But it's the feeling of vulnerability in these songs, the risk of an uneasy lyric being taken out of context or read too personally, that gives Cody a vibrancy lacking even from their stellar first three LPs. "If you don't push yourself or do things that can be scary or humiliating or pulling from your [subconscious] and touching on the ugly parts, it makes for boring art," Johnson says. "The only thing I want to do is get better at writing songs, and find out weird s**t about myself I didn't know, and really get to the f**king core of it."
How will the fans react to it? Joyce Manor have been relieved by the largely positive response to "Fake ID" so far, but they've only played the whole album for one of their impressionable young followers. "I was talking to him after a set," Johnson remembers. "And he was like, 'Do you have anything coming out?' And I said, 'Yeah, we just finished the record,' and he said, 'What does it sound like?' and I [asked], 'Do you wanna just hear it?' So we went in the van and just sat in the van and listened to it."
"I did kind of want to focus-group him — I wanted to see if he was just like, 'IT'S AMAZING!!'" Johnson says, laughing. "But I don't think he was that into it. He was like, 'Maybe it'll grow on me.'"
Give it a few minutes, kid.