Jenny Hval is lost. It's a humid Sunday morning in July, and the Norwegian dream-pop explorer has joined me for a long walk through Brooklyn's Botanic Garden. After winding our way through the arboretum, we appear to have grown sidetracked while talking about, well, everything. But considering the volume of heady thoughts that the 35-year-old singer-songwriter exudes from moment to moment, some regional disorientation appears less important than how lost we've become in conversation.
And given her substantial intellect, it's a relief to see that Hval, who over the past decade has quietly built a reputation for amorphous-yet-accessible arrangements, is both unpretentious and eager to absorb anyone who crosses her path into a long, layered discussion.
Our conversation begins with my pseudo-apology at choosing such an obvious place to meet: a flower garden, to pivot off of Hval's ongoing musical fascination with the female anatomy. She replies without quite addressing that comment, instead trailing off into the first of many soliloquies. "I've enjoyed the changing image of the vagina and power with just the image of blood," she says, before telling me about a music video she tried to make featuring a woman eating chocolate in bed and getting her period. ("It was supposed to be this 'women eat chocolate' thing. A very period thing. Women watch romantic comedy and eat candy.") And with that, we're off and running.

It's easy to feel nervous in Hval's presence: On paper, she is rather intimidating, with five records (two of which are credited to her former moniker, Rockettothesky) of expansive, often experimental art-pop filled with unflinching, poetic lyrics dealing with gender and sexuality; one Norwegian-language novel (2009's Perlebryggeriet); tours with other theatrical, body-as-a-canvas performers like Perfume Genius and St. Vincent; and a tendency to coin new, provocative phrases in her songs. ("What is soft dick rock?" she asks on the sing-spoken "Kingsize," from her metaphysical 2015 record, Apocalypse, girl.) She's studied philosophy, art, theater, and film theory, but not filmmaking. "I wasn't social enough to pursue that," she says.
Hval — who will release her sixth album, Blood Bitch, on September 30 via Sacred Bones — bounces from deep thought to light humor like a frog on a lake of lily pads. One minute, she's questioning her own existence ("What am I doing? What is this world?") and decrying social media ("Algorithms will kill us all"), and the next, she's joking that we should "pour a bucket of blood on a tree."
Lately with the singer, everything comes back to the stuff of life and death. But Blood Bitch isn't so much about the obvious. Yes, it does touch upon menstruation (women's flows synch up on "Female Vampire"), but it's much more focused on the supernatural — vampires and '70s horror films, to be specific.
"I was amazed about how much taboo they could contain without moral compass, how much incest there could be," she says, noting how unconcerned with righteousness those decades-old films are. "Think of all the disaster movies — I just watched 2012. The world ends so that one couple can find their way back together. The entire world. And you're supposed to still feel sympathy because this one man finds this one woman again. What kind of morality is that?"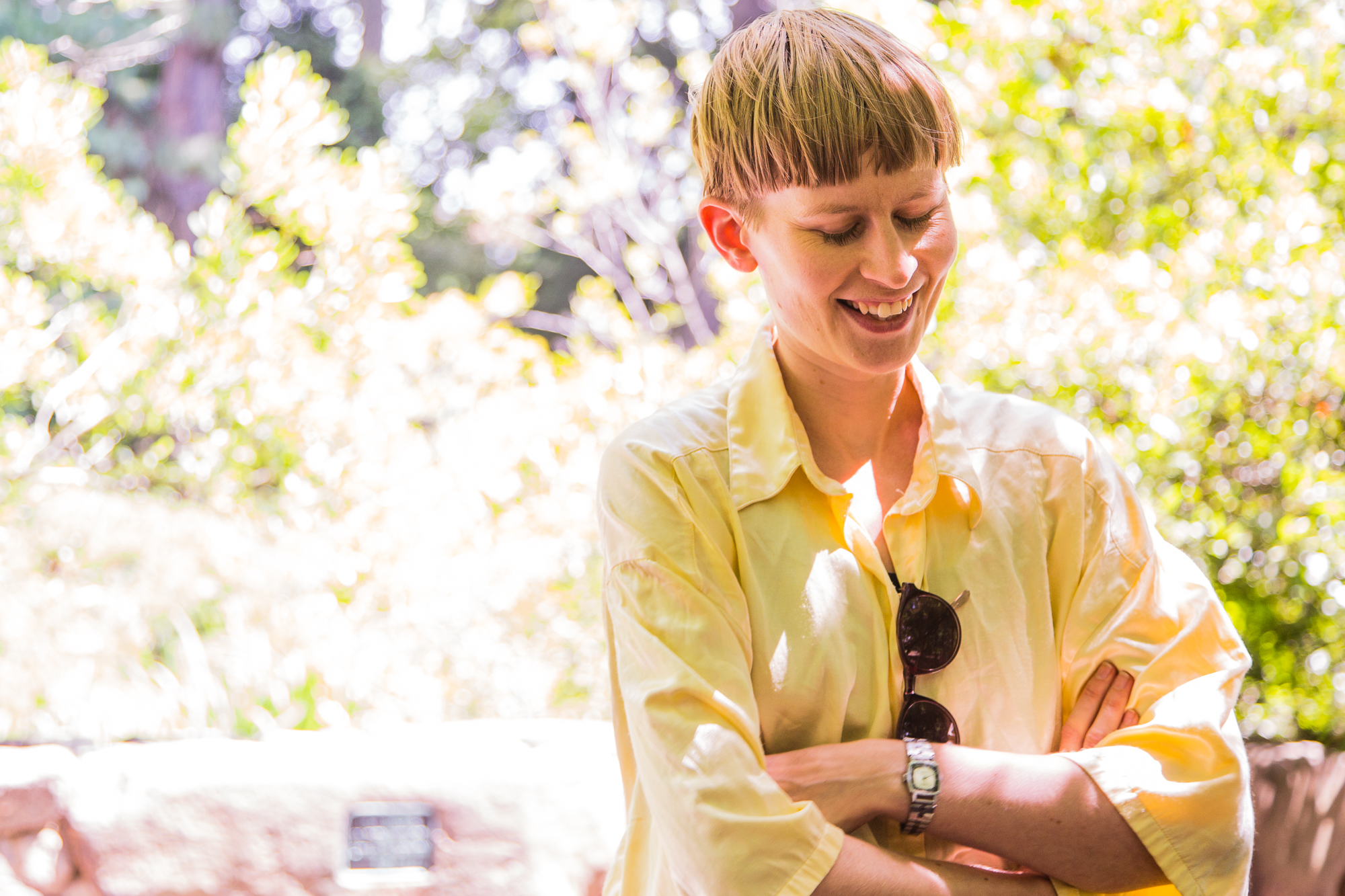 In Hval's mind, every idea she has becomes part of a larger one. She uses the terms "form," "failure," and "abstract" a lot, both in-person and on Blood Bitch. The feedback-laced album track "Conceptual Romance" introduces "abstract romanticism," a term that she defines as "love being trapped in commercialism." Explaining further, she says, "The narrative of what love is is taken completely by capitalism, I find, even more than sex."
Her delivery can sound like an ongoing stream of consciousness (iambic in rhythm, but unusually coherent), a trait she regularly utilized in the spoken-word delivery of earlier songs like "Kingsize" and "Innocence Is Kinky." Yet Hval sounds braver on Blood Bitch, opting to sing — instead of speak — on breathy, heavily enunciated singles like "Female Vampire" and "Conceptual Romance." Though she's always had a penchant for a brainy sort of pop, Blood Bitch is Hval's most buoyant venture to date.
Not that she cares much about commercial viability. Hval is too engrossed in the idea of failure for that. "Even though a lot of people interpret failure as a negative and say, 'No, you're great, you're really good, you're a good singer, don't say that you can't sing,' I'm like, 'But, if I'm not aligning myself with failure, I don't have anything to work with,'" she explains. "I really enjoy the possibility that something is a failure, because you're then a failure within a system that I'm opposing anyway."

Hval's outside-the-box thinking tends to attract an array of likeminded collaborators. One of them is video director Zia Anger, who helped produce Hval's "Innocence Is Kinky," "That Battle Is Over," and "Conceptual Romance" clips. Anger did attend a first-rate art graduate school — the Art Institute of Chicago — but has never seen herself as an intellectual, which is what initially drew her to Hval. "Jenny was one of the first collaborators that never turned her nose up [at me]," Anger says. "I thought, 'Wow, this person has all of these ideas, but she's but she's not saying them to me in an academic way. She's saying them in a way that is totally digestible.'"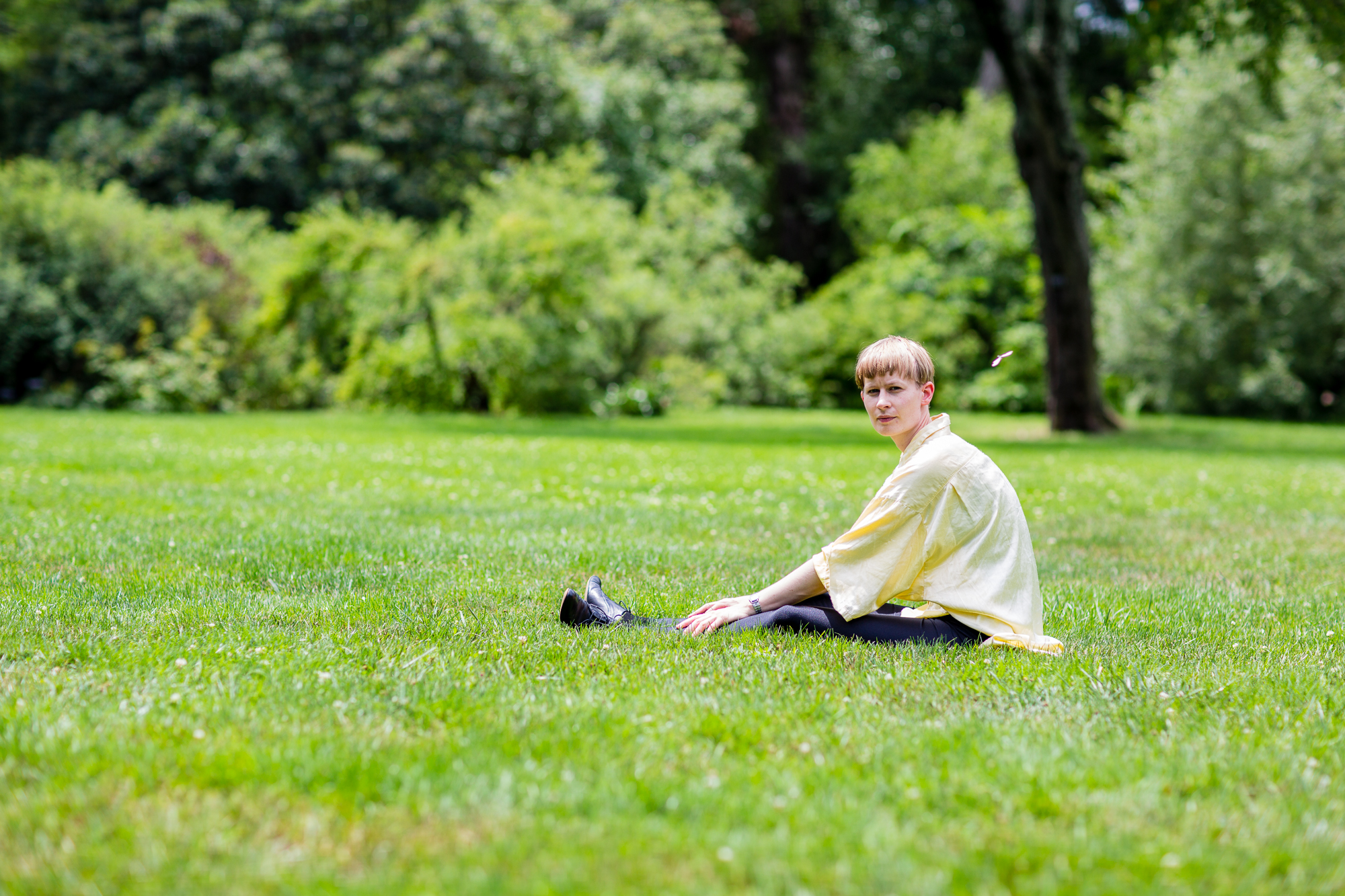 A bookish kid born in Oslo in 1980, Hval spent most of her time as a child reading nonstop and absorbing music (Jimmy Somerville of British synthpop trio Bronski Beat was a favorite). She was secretive about her own music, though; because she had little formal training as a musician, she didn't think much of herself as a singer. "When you're the odd one, the alien in the class, it's easy to think, 'This is beautiful, but why not do the opposite and see where that takes me?" she told The Great Discontent last year. "That was my role: I pushed the limits." In the late '90s, she sang in a goth-metal act called Shellyz Raven. As a college student, she lived abroad in Australia, studying at the University of Melbourne and playing in bands like iPanic and Folding For Air. Upon moving back to Norway in the mid-'00s, Hval pursued solo projects, beginning in 2006 with her debut EP, Cigars.
Ten years later, she's not only made a career out of singing when she doesn't think she can, but she's even drawn the same sort of behavior out of her contemporaries. Norway's noise-music mogul Lasse Marhaug, who co-produced Blood Bitch, felt challenged to break from his day-to-day around Hval, who, despite her predilections for the avant garde, frequently bases her songs in melody. "I come from the noise, underground, contemporary, and improvised music [scenes], and I had no experience making pop music," Marhaug says over Skype. "It didn't make sense to ask me to produce to a pop album. [But Jenny's] a very smart person, and she obviously saw something in me that I didn't realize that I had."

Similarly, Anger says that it's Hval's goal to keep her collaborators and audience from ever feeling totally at ease with her work. "I can listen to Jenny's music and I'm like, 'That is really sexy,'" she explains. "But it's also really unsexy. Or maybe it's so sexy it makes me feel uncomfortable."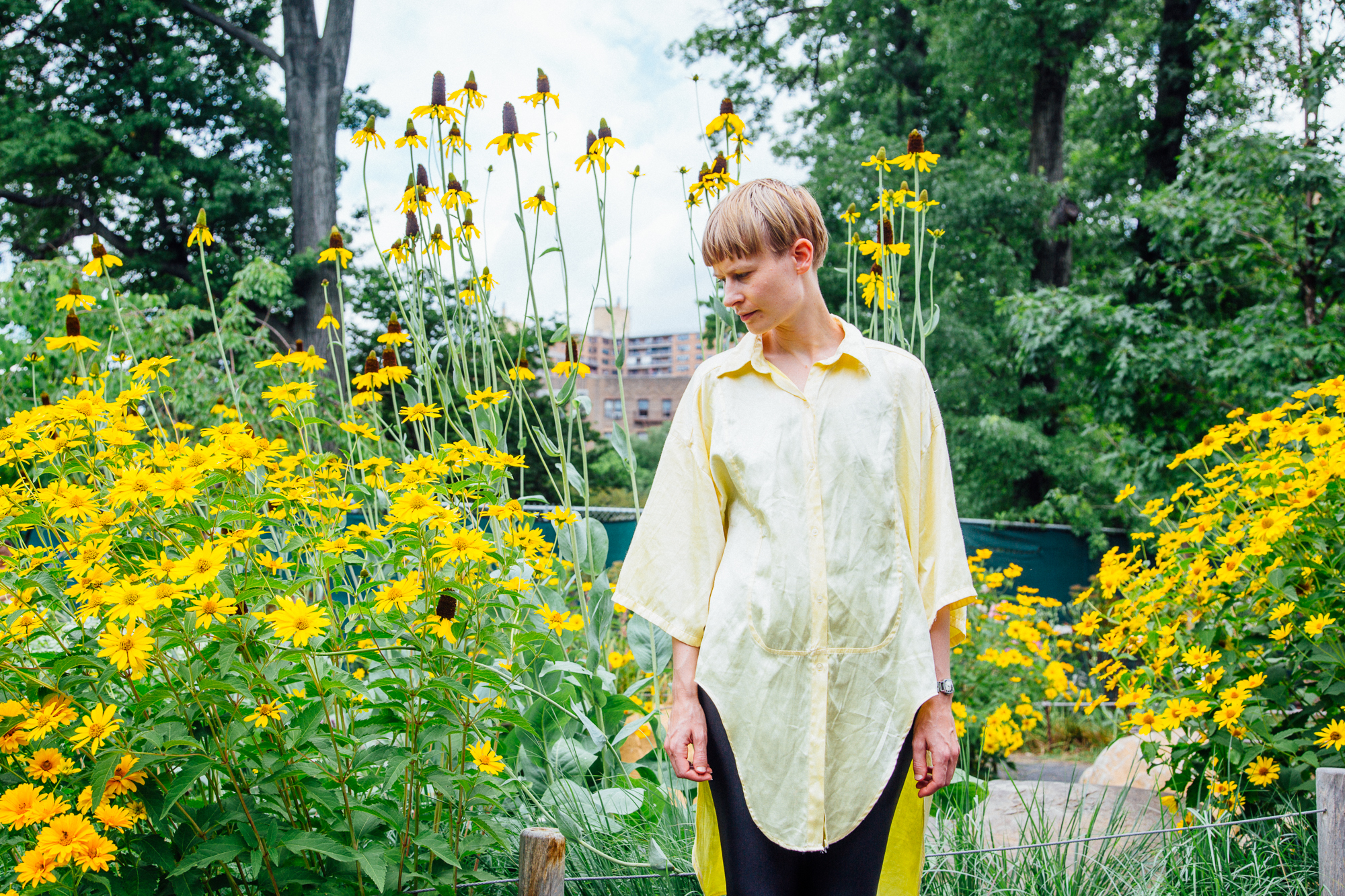 Hval has worked the female body into her art ever since the release of her first two solo albums, as the more pop-folk-friendly Rockettothesky. On 2006's To Sing You Apple Trees, she demands to know, "When you think of me, do you masturbate?… You know it's not pretty, but you make me menstruate." On its droning 2008 follow-up, Medea, Hval imagines that she's both the storied Greek sorceress that gives that record its name, and also, as she told the Quietus two years later, "a grizzly bear that eats a man."
The anatomical imagery has only grown more explicit; on 2011's Viscera, the first record released under her own name, Hval says, "I arrived in town with an electric toothbrush pressed against my clitoris." On 2013's more aggressive Innocence Is Kinky, she opens with, "That night, I watched people f**king on my computer / Nobody can see me looking anyway."
The brazen Innocence Is Kinky is the record that got the attention of Caleb Braaten, founder of Brooklyn's Sacred Bones Records. Watching her perform live in New York during the year of its release, Braaten noted Hval's unusual stage presence and MacGyver-like resourcefulness. "She had another part of a song recorded on a tape recorder, and she would sing a verse and the tape recorder would sing part of it too," he remembers. "It was this musical experiment with these pop hooks underneath, just keeping it together. I don't think that she even has any idea how smart she is. Or at least she gives off the vibe that she doesn't think she's any smarter than anybody else."

She may not consider herself to be very academic, but Hval is not free of that world either, having written her Master's thesis on Kate Bush and the "Singing Voice as Literature." Bush's melodramatic style has arguably informed all of Hval's work; there's the high, airy register, of course, but also sort of storytelling, heavy on outsized concepts and metaphors. Hval spends most of Blood Bitch following the fictional vampire Orlando, simultaneously telling the story of a 35-year-old artist who is stuck on tour.

"I originally wanted [Blood Bitch] to be structured Hounds of Love-style, with a side 'A' [of pop songs] and 'B,' [a side of] overgrown desire that had no parenting," Hval says. "It didn't turn out that way, but I think certain phrases did."

Like Bush's classic 1985 LP, Blood Bitch braids pop hooks with symbolism and extra-musical allusions, and like Hval herself, it grasps for meaning in the routine. On "Untamed Region," she wakes up to her period while on tour in a hotel and feels the urge to "touch everything in the room, like a dog / Marking everything that belongs to no one." The pulsing highlight "Female Vampire" features wafting, crystalline vocals over an anxious, heartbeat-like thump. Describing the arrangement itself, Hval sings the words: "Here it comes, a strange slow rhythm / Not exactly creating a rhythm, in and out of focus / Vulnerable, the original crevasse." But like everything else in her world, there are layers. The mechanized rhythm shifts into her own breath, and her words, too, consider the body. "I hear myself ask / 'Where does it hurt to create curves for the gaze?'"
Speaking of twists and turns, we're still trying to find our way from the far side of the Brooklyn Botanic Garden back to its entrance. Neither of us are in a rush, so we embrace momentary defeat and pause to shoot photos in and around the park. Eventually, we find our way into the Cranford Rose Garden, which is shaped into a neat rectangle with dozens of multicolored blooms scattered throughout. She obediently takes her place among the blossoms and begins to pose.
"You are almost like a flower!" a passerby says, no doubt noticing Hval's bright-yellow top and even lighter hair.
"Almost," she replies with a secretive smile.