Back in January, the late David Bowie released his 25th studio album, the outstanding Blackstar, just days before his death at the age of 69. But we still haven't heard the last from the Starman: Bowie's final studio recordings are set to be released on October 21, as part of a new album featuring the cast of the Lazarus musical.
Simply dubbed the Lazarus Cast Album, the two-disc collection largely consists of exactly what you'd expect—reinterpretations of classic Bowie tunes as done by the Lazarus cast—but will also feature the last three songs that the Thin White Duke recorded: "No Plan," "Killing a Little Time," and "When I Met You." All three of the soon-to-be-released tracks were co-produced by Bowie and his longtime collaborator Tony Visconti, and recorded with the same band that plays on Blackstar.
As Pitchfork points out, so far, these songs have only been heard as performed by the cast of Lazarus. The show first opened in New York last year, and is set to open in the U.K. on November 8, at London's King Cross Theatre.
The Lazarus Cast Album is produced by the show's musical director, Henry Hey, on the way via ISO/Columbia and features vocals from Michael C. Hall, Cristin Milioti, and more. According to a press release, the cast and musicians recorded the tracks on January 11, the day after Bowie died.
Pre-orders of the Lazarus Cast Album will be available starting on September 16 and will come with instant downloads of the cast's versions of "Life on Mars?" and "Lazarus." Scroll down to check out the upcoming album's cover art and track list.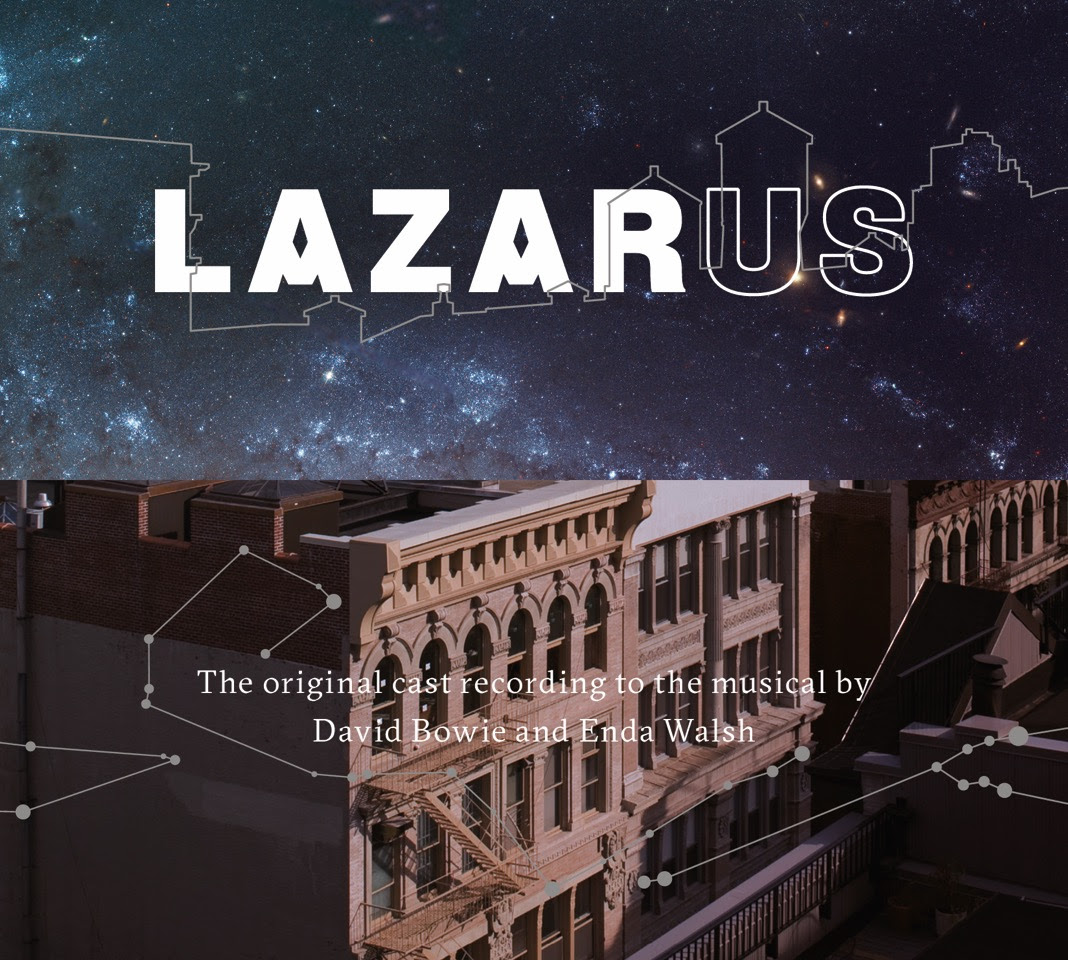 Lazarus Cast Album track list: 
CD 1:
"Hello Mary Lou (Goodbye Heart)" – Ricky Nelson
"Lazarus" – Michael C. Hall & Original New York Cast of Lazarus
"It's No Game" – Michael C. Hall, Lynn Craig & Original New York Cast of Lazarus
"This Is Not America" – Sophia Anne Caruso & Original New York Cast of Lazarus
"The Man Who Sold The World" – Charlie Pollack
"No Plan" – Sophia Anne Caruso
"Love Is Lost" – Michael Esper & Original New York Cast of Lazarus
"Changes" – Cristin Milioti & Original New York Cast of Lazarus
"Where Are We Now" – Michael C. Hall & Original New York Cast of Lazarus
"Absolute Beginners" – Michael C. Hall, Cristin Milioti, Michael Esper, Sophia Anne Caruso, Krystina Alabado & Original New York Cast of Lazarus
"Dirty Boys" – Michael Esper
"Killing A Little Time" – Michael C. Hall
"Life On Mars" – Sophia Anne Caruso
"All The Young Dudes – Nicholas Christopher, Lynn Craig, Michael Esper, Sophia Anne Caruso & Original New York Cast of Lazarus
 "Sound And Vision" – David Bowie
 "Always Crashing in the Same Car" – Cristin Milioti
 "Valentine's Day" – Michael Esper & Original New York Cast of Lazarus
 "When I Met You" – Michael C. Hall & Krystina Alabado
 "Heroes – 

4:43″

 – Michael C. Hall, Sophia Anne Caruso & Original New York Cast of Lazarus
CD 2: 
"Lazarus" – David Bowie
"No Plan" – David Bowie
"Killing A Little Time" – David Bowie
"When I Met You" – David Bowie
Kyle McGovern is a Senior Editor for SPIN. You can reach him at [email protected]