A year after releasing his bleak, critically praised debut LP Summertime '06, Long Beach rapper Vince Staples is getting ready to drop a new EP titled Prima Donna. The six-track project, which features A$AP Rocky and Kilo Kish, will come out August 26 via Def Jam.
The FADER recently revealed that the 23-year-old MC had something in the works, and described the EP as a "a hyper-musical fusillade of sounds that could be described as psychedelic gangsta rap blues." No I.D., the executive producer behind Summertime '06, returned for Pima Donna; other producers include James Blake and DJ Dahi. Staples is also going to share a short film, directed by NABIL, to accompany Prima Donna's release.
Find the track list for Prima Donna — which is undoubtedly one of the most anticipated records of the summer — below.
Prima Donna track list: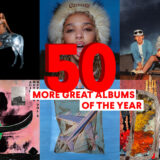 1. "War Ready"
2. "Smile"
3. "Loco" feat. Kilo Kish
4. "Prima Donna" feat. A$AP Rocky
5. "Pimp Hand"
6. "Big Time"