Up until now, the Strokes guitarist Nick Valensi was the only member of the seminal rock group without his own side project. He changed that today with the launch of CRX, a supergroup that includes Guards and Willowz guitarist Richie James Follin, the Dose drummer Ralph Alexander, and the Reflections' Jon Safley and Darian Zahedi. They haven't released new music as a group yet, but they've started a Twitter account featuring the band's logo.
— CRX (@crxmusic) August 1, 2016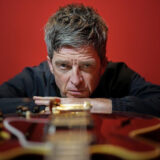 — CRX (@crxmusic) August 1, 2016
Back in 2011 when the Strokes were promoting Angles, Valensi told Pitchfork he wasn't all that cool with his bandmates pursuing solo projects, saying, "If there's leftover material and time, then sure, by all means. But if you're playing material that you haven't even shown to your main band and you're just sort of keeping it for yourself, I'm not a big fan of that." Five years and two Strokes projects later, it appears he's loosened up.