SPIN Rating:
Release Date:
August 26, 2016
Label:
A.O.I.
When D.A.I.S.Y. Age survivors De La Soul announced that they were returning to the studio after a decade's hiatus — and that, instead of pushing the project through a traditional record label, they were looking to fund the album via Kickstarter — fans were understandably excited about the implications for one of hip-hop's most famously creative acts. And true to form, the Long Island rap legends decided to forego heavy sampling and studio synth shortcuts on the resulting LP, and the Anonymous Nobody…, instead putting the money towards session musicians and orchestral production. As a result of that approach and the group's singular vision, De La Soul have delivered one of their most ambitious and consistently rewarding albums.
And the Anonymous Nobody… isn't just an album that proves hip-hop elders are still capable of great work; it's an LP that reaffirms De La Soul as standard-bearers for Gen-X rap artistry. There's a lot to say about hip-hop artists "aging well," but compared to rock and R&B, there isn't the major bias against decades-deep MCs that there used to be. Of the rap game's first wave of legendary album-driven artists that emerged in the late-'80s (up to the late-'90s), quite a few have recorded strong records deep into the 2010s: Ghostface Killah, Big Boi, the Roots, and mainstays like Nas and Jay Z are all still viable album artists in a genre inarguably driven by rhymers a generation younger. These seasoned rappers may not be consistently making hits, but they are delivering well-received LPs as evidence of a still-burning creativity: The album has become the refuge of the veteran rap great.
Which is great news for De La Soul — the trio has always been about making great albums, first and foremost. Over the 15 years between their 1989 debut, 3 Feet High and Rising, and 2004's The Grind Date, Pos, Dave, and Maseo crafted long players that were intended for extended listening. Faux-conceptualism drove all of those albums to varying degrees, while immaculate and inventive production — dating back to Prince Paul's standard-setting, outside-the-box sampling on 3 Feet High — has been a hallmark for every entry in the shape-shifting outfit's discography.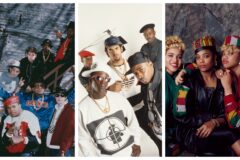 On Nobody, De La prove that even after a 12-year layover between albums, their creativity has only sharpened. The optimistic resilience anthem "Pain" is giddily infectious, with a great hook, sly groove, and a winning guest spot from fellow rap pillar Snoop Dogg. The group beautifully balances the somber and the sentimental on the Pete Rock-produced, Estelle-assisted "In Memory Of…," a bittersweet look at the rose-colored glasses through which we oftentimes view past relationships.
The next troika of tracks dabble in a variety of rock styles: The garage-rock thump of "CBGBS" gives way to the "hardest rock s**t you gon' hear" on "Lord Intended," a hard-rock opus that features Justin Hawkins and begins as a riff-driven stomp à la Funkadelic, and suddenly morphs into an operatic guitar orgy worthy of Queen. David Byrne makes an appearance on the quirky and inspired "Snoopies," dropping references to Pan-Am trips in '76 and the long-lost sitcom Gimme A Break!, over ghostly production that seamlessly segues from Talking Heads to Soulquarians.
"Greyhounds" boasts another inspired guest spot in the form of Usher's melancholy hook, as De La rhymes in a  "Plug Tunin'" style, but with abstract instrumentation giving way to sober reality — the group offering anecdotes about wide-eyed hopefuls coming to New York City on buses, not knowing how much the city can and will change who they are. It's one of the album's best tracks, but there's an embarrassment of riches here: the finger-wagging of the laidback "Trainwreck" is another wholly infectious, classic De La moment that, along with the dreamy Damon Albarn collaboration "Here In After," should whet fans' appetite for the trio's work on the next Gorillaz album.
The album's guest list is indeed a long one, with occasionally unnecessary plus-ones, and sometimes the group's commitment to eclecticism — Little Dragon shows up on the stellar "Drawn," and 2 Chainz guests on "Whoodeeni," the very next track — feels a bit too calculated. But the results are never rote: Every note of Nobody feels driven by the ingenuity of three artists for whom creative spirit is the highest currency.  Even with all of the highlights mentioned (many of which deserve all-time catalog consideration), the strength of and the Anonymous Nobody… remains how it holds together as a complete, cohesive listen. De La is still De La, only now they're working more in the vein of a subtle and intricate '70s ensemble film, and less like they're anchoring a comfort-food '80s sitcom.