"We were pretty bad at breaking up," Pylon vocalist Vanessa Briscoe Hay, 60, says over the phone from her Athens, Georgia home.
Four years after the locally revered dance-punk progenitors first hung it up in 1983, their friends in R.E.M. were anointed "America's Best Band" by Rolling Stone, and Bill Berry insisted in print that the honor should go to the barely known and then-defunct quartet instead. Pylon did go on to reunite two more times, though, before guitarist Randy Bewley died tragically of a heart attack in 2009 at the age of 53. Last week, they released Pylon Live on what would've been Bewley's 60th birthday — their first concert document, which captures that then-final 1983 show; the tensile strength of its performances certainly gives weight to Berry's claim.
"That quote was basically R.E.M. being very gracious and throwing cred back to Athens when they were first getting in the limelight," says bassist Michael Lachowski, 59, shrugging off the famous endorsement via phone while camping on Cumberland Island off the coast of Georgia "for the 12th or 13th time." Drummer Curtis Crowe, 60, is even more reluctant: "Even the fact that you and I are talking right now seems so out of sync with who I imagined this band was," he tells SPIN. "We just kind of blasted through this thing. We weren't really paying that much attention so I almost feel guilty for it all."
"Blasting through" is about right: Pylon formed in 1978 and lasted for just two kinetic, unforgettable albums (the colorfully named Gyrate and Chomp, in 1980 and 1983, respectively). A brief reunion resulted in 1990's little-noticed Chain and an even longer hiatus, until the post-punk boom of 2004 inspired them to start gigging again. But back at the onset of the '80s, they were given a leg up by their friends in the B-52s, who passed the band's rehearsal tape onto bookers and had them opening for Gang of Four by their sixth show.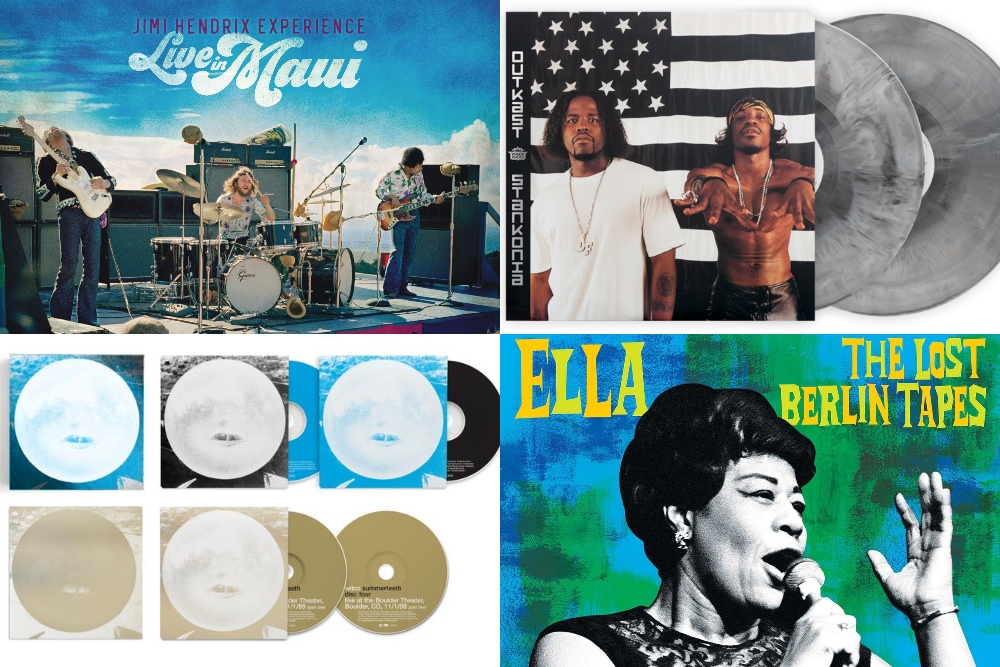 Historically, R.E.M. and their hometown heroes are as intertwined as the kudzu gracing the cover of their beloved 1983 debut, Murmur. The former opened their 1987 Dead Letter Office B-sides comp with a cover of Pylon's glassy signature song, "Crazy," while guitarist Peter Buck's ex-wife Barrie retains current ownership of Athens' famed 40 Watt Club venue, which originated in Crowe's loft.
But Pylon's modest legend reaches past the peers they grew up with and onto a new generation of alt-rock gamechangers. Briscoe Hay struck up a kinship with Deerhunter's Bradford Cox after spotting him "dancing hard" upfront at one of their 2004 reunion shows; his band went on to cover the group's oddly anthemic debut single "Cool." (Cox also contributed guitar to Waves, an album by Supercluster, the Briscoe Hay-centered project featuring a who's-who of Athens backing musicians.) And a chance meeting with Sleater-Kinney turned the revered power trio into gushing fans.
"I was taking my older daughter — a teenager at the time — and her friend to see them in Athens," Briscoe Hay recalls. "So I went to the record store next door and kind of browsed around, and one of the [Sleater-Kinney] members came in and said, 'You're Vanessa from Pylon.' She went and got the other two members, and they told me about how one of them had actually driven to the 40 Watt back when she was underage and couldn't get into the club, so they listened to it from outside."
It's not hard to imagine Pylon inspiring any of these acts: Deerhunter's moody jangle, Sleater-Kinney's off-kilter growl, and R.E.M.'s punkish answer to the Byrds all have roots in the quartet's sparse, jaunty whomp. Still, there's never quite been anyone like them; their own Gang of Four obsession may have explained the dub-like focus on thick bass lines and steel-cut breakbeats. But that doesn't account for the earthen sensuality of Briscoe Hay's unusual delivery, or the playful approach to songwriting that reflected their art-school background at the University of Georgia.
According to Crowe, the band originally didn't think about having a frontperson at all. "We were toying with the idea of just having sounds and voices playing over the top of us playing, like this record that Michael found called Teach Your Parrot to Talk," he says. "As you can imagine, this got boring really fast." The other two bandmates met Briscoe Hay in class, and thought she was perfect.
"She was terminally shy, couldn't carry a tune in a bucket, just had the weirdest phraseology," says Crowe. "Michael had these lyrics and she would just do the weirdest s**t: Who would take this word and cut it in half like that? When we finally got into the studio and did our first single, I was completely convinced that she was the exact person for that job, just fell in love with her right then. She doesn't put songs together like other people do."
But Pylon's songwriting process was atypical all around. Gyrate's "Feast on My Heart" tried to translate an act from Shakespeare's Titus Andronicus into modern slang, and "K," the majestically tough opener from Chomp, was strung together from words Briscoe Hay and Lachowski played in a game of Scrabble. When they struggled through a prematurely performed version of the latter that ended up with everyone lost, a soundboard tape revealed it actually went pretty well. "We spent weeks learning our mistakes," Briscoe Hay recounts.
"Every time we ever got back together, that was the benchmark: We're practiced enough to go out in public when we could do 'K' again," adds Crowe.
"Randy and I had our own codes that we would write down to remember our parts," Lachowski explains. "They didn't have anything to do with regular musical notation, they were just squiggles or dashes or dots. Little terms for different sections. He and I each had these charts that we had put together and we pretty much never got to where we could play 'K' without the charts, ever." He's not kidding; they even used them for reunion tours.
"We pulled out pieces of paper from 1983," he says, laughing. "It was just me and Randy, so each of us had apparently kept that stuff from a long time ago. When we got back together in 2004, I sat there and wrote them all in this one spiral notebook for if I needed them onstage. Almost always, somebody takes the set list during the encore as a memento, and it occurred to me at one point, 'What if somebody were to take that notebook?' It's laying there right by my pedals. I basically freaked out and had the whole thing photocopied in color."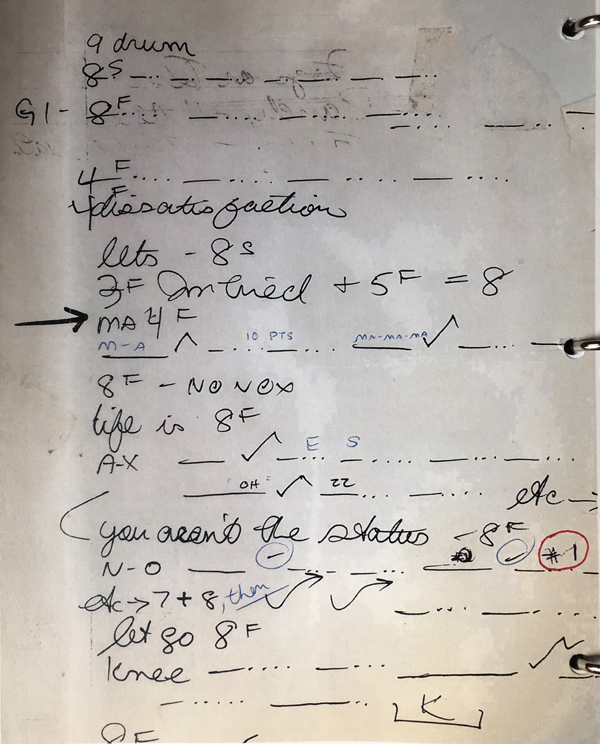 If "K" found the band at such a zenith of their onstage power that they completely lost control, "Yo-Yo," the track that follows it on Chomp, is the virtual opposite, an elaborately treated studio construction they could barely sit still for.
"Chris Stamey [of the dB's, and Chomp's producer] said, 'Have you ever considered recording a song that you cannot play live?'" remembers Crowe. "We didn't even know that was a possibility. We had one beat in ["Yo-Yo"] that was wrong and [Stamey] cut it out with an actual razor, then stuck it on the wall with scotch tape and said, 'That's a drum beat if you ever need one in the future.'"
Not everyone in the band was on board with something so diametrically opposed to their spontaneous, stage-minded value system. "The band wanted to keep trying more and more stuff, and it was just becoming additive instead of simple and direct, the way most Pylon stuff was. I just couldn't tolerate that much thinking about it, so I fell asleep at some point," says Lachowski. "When I heard it the next day, I was like, 'Oh God! This is not exactly what I had in mind.' But by not staying awake, I lost some of my editing say-so. A bunch of ideas were cooked up with great effort, so I couldn't come in and get rid of them."
Lachowski and Bewley didn't care much for recording, which explains why Pylon only made three studio albums over its three incarnations (in just as many decades), and why local fanzine Chunklet's release of their initial finale gig, on December 1, 1983, at Athens' the Mad Hatter, is such a boon to their modest canon. A band that lived for real-time performance, so much that even an art-school pedigree and reverence for early MTV innovators Talking Heads couldn't get them to embrace the artifice of "gross" music videos, they slam through just about everything they know on Pylon Live.
The "hits" — also the supremely ironic name of the only CD where you could find their '80s material before indie-dance monarchs DFA rescued them — like "Cool" and "Crazy" make early appearances, and you can tell by the end that Pylon are trying to think of something, anything else to give their fans for last call. They opt for the unreleased riffer "Party Zone," (a "fun, stupid attempt to pretend that we're a southern rock band with some big, crowd-pleasing, ridiculous jam," Crowe describes accurately) and a deconstruction of the Batman theme.
"I was thinking this recording might have an air of disassembly," says Lachowski. "But I listened to it, and the band was really tight, put on a good show, and hardly flubbed anything. It's still a little mysterious to me because this was, as far as we knew, the last time we were ever going to do that act, ever. It's hard to tap back into the person you were in 1983. I was saying stuff to the press like, 'It's time for us to get back to just doing art.' But none of us really had any serious art career or pathways in mind either."
Their mutually agreed-upon peace over never making Pylon a day job or routine is admittedly refreshing. If they hadn't disbanded after turning down an opening slot for U2 that one dumbfounded promoter scored them, Crowe explains, "We would've been a different band and it wouldn't have been as good."
There's merit to that fear: If U2 are rock's ultimate careerists, Pylon are its ultimate dilettantes. "We still actively maintained, amongst ourselves, that we were tourists in the rock world," Lachowski insists. "We were just there to hang out. That was overlaid with this idea that we were tourists anyway: 'We might as well go to the Grand Canyon. When else are we going to come out this way?'"
"Like any good and true love affair, you can try to break it off, but you keep flirting with each other," the drummer says. "We never fully married the idea [of Pylon], so it was always a flirtation for us to get together and play again. We were never trying to make recordings and then live up to them. We just wanted to play live, and have recordings be snapshots of that."
Pylon Live is truer to that vision than any other item they've ever had for sale. But their studio jobs remain essential: Pick up DFA's 2007 Gyrate Plus reissue for its pulse and 2009's Chomp More for the surprising swirl of ideas, even feelings ("You're in love and you don't know why"). The slightly forced Chain also has its charms. As their punk-inverting debut single put it, everything is cool. But Briscoe Hay's gleeful, sole interjections on Live's "Party Zone" are even more succinct in epitomizing these sound-lovers: "Yeeeeeeeeeeeeeeeeeeeeeeeee-haaaaaaaaaaaaaaaaaaaaaaaaaaaaaaaaw!"