This isn't the ideal scenario to see someone DJ for the first time. On a rainy night in May, Nicole and Natalie Albino — collectively known as Puerto Rican pan-pop sister act Nina Sky — are spinning on the second level of the swanky Hornblower Infinity yacht, docked at Pier 40 in New York's West Village. It's AdWeek's Women in Media event, and the guests are slow to trickle in as the 32-year-old twins mix classic hits from different eras — Fleetwood Mac into the Cardigans, SWV into the Michael Jackson song the group samples — while wordlessly communicating with one another about the set list, and occasionally adding scratch and delay effects to make the productions their own.
Aside from one or two of the waitstaff singing along while serving hors d'oeuvres, their efforts are largely going underappreciated by the few listening, who are more interested in networking and grabbing free drinks and veggie rolls than enjoying the Top 40 seminar the sisters are casually conducting. But as the attendance picks up, so does the energy, and after a mini-set of Prince songs, the party is officially underway. That's when a group of women in their 30s and 40s decides it's time to make their way over to the duo, and they start singing and clapping in unison: "Ooh, move ya body, girl! Make the fellas go…"
The night is a fairly typical one for Nina Sky, who currently make much of their living playing one-off gigs like this, all around the world. "We do spot days, like, every week," Nicole, wearing a black leather jacket and bright red lipstick, explains to me before the boat show starts, while Natalie sits next to her in a midriff-baring white button-down. "This week we're in California. We have a residency in Atlantic City. DJ'ing in Paris. And then the week after that we're in Miami." Sometimes it's a DJ set — the sisters' stepfather also DJ'd, and Nicole has worked the 1's and 2's since she was 12 — sometimes it's a live performance, and sometimes it's a combination of the two.
Regardless, the ladies stay moving, a conclusion they reached back when they started out in the music business more than a decade ago: Even when you're signed, hustle like you're not. "That stayed in my head, even today," Nicole says. "If you're not hustling from the ground up, you're hustling from the top."
The Albino sisters should know, because they've subsided on both levels, although maybe not in the order you'd expect. Their story isn't really a rise and fall, because they didn't rise so much as start out on top — the first two singles they appeared on were both crossover smashes — and they didn't fall so much as start over from scratch, reinventing themselves as underground artists playing only to their own expectations. But they've always managed to stay relevant and visible, and 12 years after their biggest hits, they're still in demand, both as featured guests (they've collaborated with Diplo and Azealia Banks in recent months) and as live attractions.
"A lot of people have a big hit," Cipha Sounds, the New York radio personality who helped give the sisters their break, says over the phone. "I know a guy who had a big hit house record, and he manages a restaurant now. And when I go to that restaurant, I love seeing him, but it's like, Damn man, you had a f**king hit. [But Nicole and Natalie] never had to get, like, jobs."
"Nothing's easy, it's hard," says Natalie. "But we live for it."
[featuredStoryParallax id="203952″ thumb="http://static.spin.com/files/2016/07/160728-nina-sky-1-300×133.jpg"]
Nicole and Natalie have been Nina Sky professionally for about 15 years, but their musical roots go back twice as long. "They were about a year-and-a-half [old] and they were singing to commercials," remembers Carmen, the twins' mother, of their youth growing up in the Queens neighborhood of Astoria. "They pretty much sang to every single commercial. They were just little kids, singing to everything."
On the boat, I ask the sisters about those ad-parroting days, and within seconds, they're belting out the Doublemint jingle, snapping and bobbing their heads in unison. This is hardly a rare occurrence — Nicole and Natalie lock into musical step at a moment's notice, whether recalling the first song they wrote together as teens, or just being reminded of the hook to their favorite Jennifer Lopez track. It's like they're accessing a shared musical consciousness, built up over a lifetime of mutual memories.
"We definitely started singing commercials," Nicole remembers. "Then every holiday, we'd ask our mom for a karaoke machine and we'd record our own songs. Natalie would write the songs — she's been writing our songs since we were seven years old — and we'd record them. That's all we knew how to do, all day, that's what we did for fun."
The sisters' vocal talent was nurtured by an environment where music was a constant. "We grew up in a household where [our stepfather] was a DJ. So he's playing all this music and that definitely inspired us, even as musicians now," Nicole explains. As the girls grew up, they started getting more serious with their singing and they signed to the Jettsonz, a production company, when they were in their early teens, leading to more regular auditions and semi-professional gigs. "We did a mini tour with the D.A.R.E. program, and that was just going to different schools and telling kids to stay away from drugs and doing a little show," Natalie says. "That was our first real taste of performing."
"We're two girls from Queens," Nicole says, explaining their connection to New York's lineage of dance-pop. "It's in our blood."
It didn't take long for Nicole and Natalie — by then christened Nina Sky, taken from the first two letters in each of their names, and the idea that "the sky's the limit" — to catch their big break. In 2004, shortly after the twins finished high school, then-manager Elijah Wells introduced them to Cipha Sounds, who was both a DJ at powerhouse New York hip-hop station Hot 97, and an A&R rep at the Neptunes' Star Trak label. "They came to a rehearsal studio where I was at, and Nicole played guitar," Cipha remembers. "I loved their voices, and I loved that they would play instruments, and that Nicole was a DJ. So they were the perfect group for me, and the stuff I like to do."
Impressed, Cipha gave the girls a task: Write a song over the "Coolie Dance" riddim, a favorite of dancehall artists at the time. "My goal was to get their name out," Cipha says. "A good way for me to shout them out was if I played something on the radio. So I would just get [artists] to sing or rhyme over a popular record at the time, and create a little freestyle version that I could play on the radio. But the whole purpose was just to say their name, like, 'Oh, some new girls, y'know, Nina Sky…'"
https://youtube.com/watch?v=nIYk5vQNkLw
The Albinos went to the studio to write and record "Move Ya Body," an alluring jam of dance-floor seduction built around the sisters' intoxicating coos, intertwined with one another like a double helix. Laid over the propulsive, thudding riddim, the record was immediate club magic. Cipha, now the group's co-manager, suggested the finishing touch: an homage to Lisa Lisa and Cult Jam's 1985 freestyle classic "Can You Feel the Beat," sung by the sisters on the song's bridge — a move that subtly linked "Move Ya Body" to the Big Apple's lineage of enthralling dance-pop. "We're two girls from Queens," Nicole says of the connection. "It's in our blood."
The song's impact was instant. "[Cipha] played the song on the radio, and it got a really great response," Nicole remembers. "He was like, 'Why don't we press some vinyl and just give them out to all the DJs and see what happens?' We pressed the vinyl, gave them out to all the DJs, everyone started playing it on the radio… that's what led to us getting signed to [Universal subsidiary] Next Plateau." As the song started climbing the charts, Nicole made the decision to drop out of Long Island's Five Towns College business school, where she was a year into undergrad studies as a music-business major. "Cipha came with me to the college to withdraw," Nicole says. "We knew at that point, 'This is what we're doing.'"
"Move Ya Body" peaked at No. 4 on Billboard's Hot 100, making it one of the biggest hits of dancehall's mid-'00s resurgence. The song's unexpected success resulted in the rush-ordering of the duo's first LP. "[The song] took off so fast that we had to catch up to the album," Natalie recalls. "It's like, 'Okay, now you need an album in a month.'" Their ensuing self-titled debut record — a modest collection of intimate R&B ballads and slithering pop-funk groovers, taken largely from songs the sisters had written before they were signed — arrived that June. "We had the freedom to just create what we wanted to do, because we were coming off such a big song at the time," Nicole says. "That album is a very honest album, very true to [us] at that time."
But before a follow-up single to "Move Ya Body" was planned, Nina Sky would find similar success as guest performers in another burgeoning crossover moment. "In New York at the time, that Latin sound was really exploding," Cipha explains. "We knew that we didn't want [Nina Sky] to be pigeonholed as a Latin group, two Puerto Rican girls. So instead of making a reggaeton record for them, I would be like, 'Hey, let's just jump on other reggaeton records…' [Rapper] N.O.R.E. is a friend of mine for years. Even he knew how that reggaeton stuff was exploding, so he started making some songs. [I said,] 'Yeah, let's get on this.'"
The result was "Oye Mi Canto," the first-ever reggaeton song to hit the U.S. Top 40, and a huge step for the sound's breakthrough into the mainstream. Though credited to veteran New York spitter N.O.R.E., and featuring a verse from genre star Tego Calderòn (replaced by Daddy Yankee for the song's hit video), the part from the song everyone remembers is Nicole and Natalie's layered "Woah-ohhh"s and harmonized "Boricua, morena" chant from the chorus. "We look back at it, and it's incredible to have been a part of that movement," Nicole says. "The first reggaeton song to crossover to mainstream radio. And also to have done it with N.O.R.E., who was another artist, from Queens, that we grew up listening to."
After "Oye Mi Canto" gave the sisters their second chartbuster in as many tries, their manager tried to repeat the formula. "The same time we did 'Oye Mi Canto' we also did the Alchemist record, 'Hold You Down,'" Cipha says. "That was the same exact theory, but with underground-ish hip-hop — not a big hit record, but like a street record." That was followed by further collaborations with New York bachata group Aventura and Jamaican dancehall superstar Sean Paul. "It was just me always trying to cover different bases," Cipha explains. "That's the type of groups I like, especially if you're from New York. There could be three clubs right next door to each other playing completely different music, and I wanted to be able to go to each one of those clubs [and hear Nina Sky]."
Cipha's gambit largely worked — by the end of 2004, the duo's voices were omnipresent in pop — but the guest appearances started producing diminishing commercial returns, and it further delayed the development of Nina Sky as a leading act. "Turnin' Me On," a second attempt at dancehall-pop success with less-bewitching results, was eventually tabbed as the next single from Nina Sky. But with "Oye Mi Canto" still burning up the charts, radio and label support was minimal, and the song failed to even crack the Hot 100.
"The success of a song like 'Oye Mi Canto' and us being Puerto Rican girls from New York City, it [created] that pressure to recreate something like [that song]," Nicole says. "But at the end of the day, Natalie and I, we do what feels natural… I think that was the hardest part, trying to create a song that had the same impact as ['Canto'] without recreating the same song."
Squabbles over the sisters' musical direction consumed their relationship with Next Plateau, and they ended up parting ways with the label in 2007. Three years after becoming stars essentially overnight, Nina Sky were without a contract or obvious direction for the future. "Everything happened so fast for us, we didn't even get a second to think about, 'Okay, let's plan,'" Nicole says. "It was just go, go, go, go, everything exploding, don't stop."
It was a familiar story for the girls' manager. "Nothing crazy, nothing that I haven't seen a million times," Cipha says. "It just sucked that it was happening to us."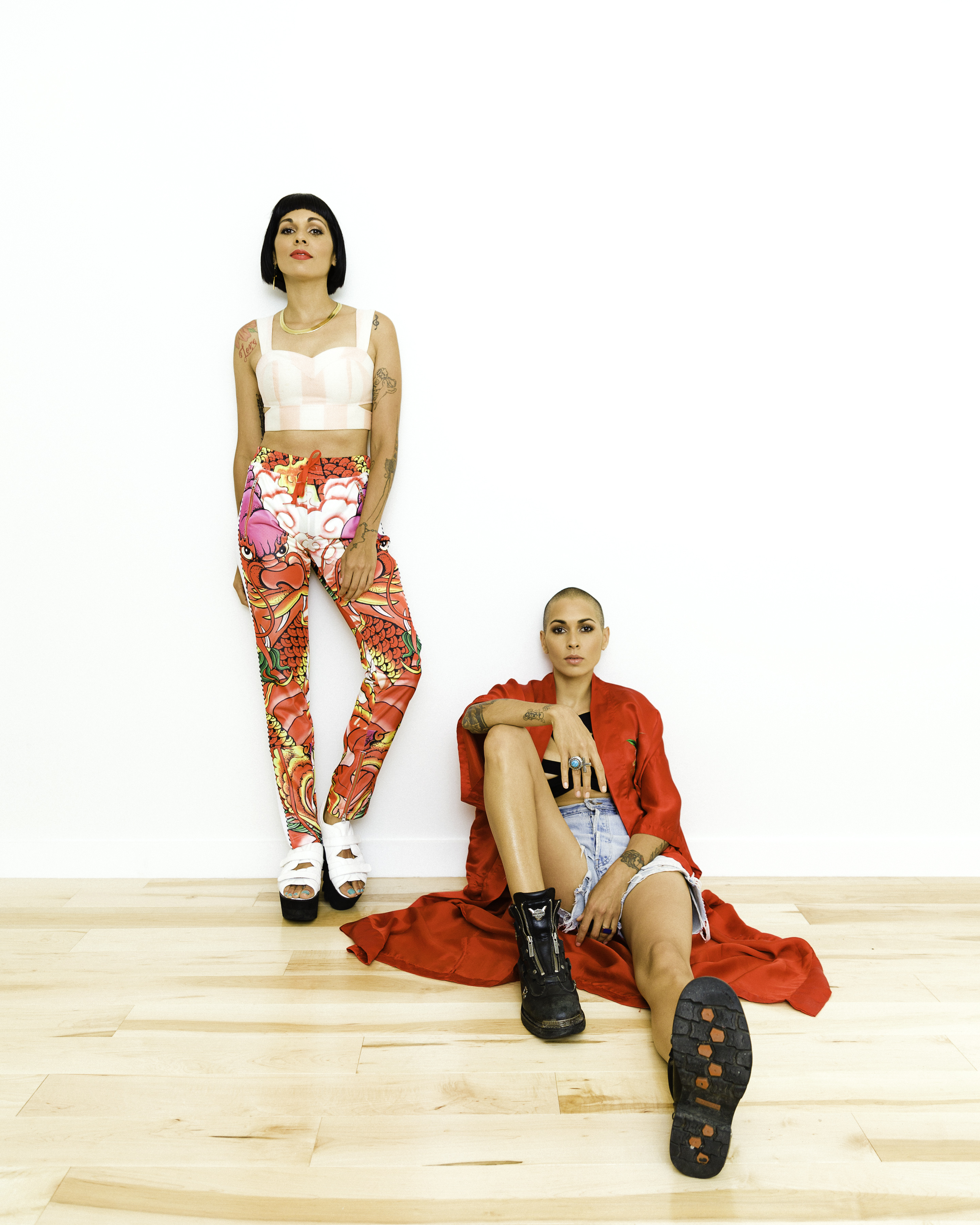 For a little while, Nina Sky existed in limbo. After exiting Next Plateau, they signed to Sony imprint Polo Grounds, but once again found themselves unable to get on the same page with their label. "We recorded a bunch of songs, and we decided we wanted to go with 'On Some Bulls**t,' produced by Salaam Remi [for the next single], and [the label] told us they would support the record," Natalie explains. "We shot a video on our own, we did a lot of stuff on our own… We just didn't feel like they really were supporting us as much as they should be."
Frustrations boiled over, with the duo taking to Twitter in 2010 to call their fans to action against Polo Grounds. "For MONTHS we've had a complete album, ready for release," they wrote in a series of tweets. "After months of no movement we asked to be released + still nothing. No [acknowledgment] from the President of our label Bryan Leach… Bottom Line, we want to be released." The sisters regret the Twitter rant today, Natalie acknowledging, "We shouldn't have put our business out there publicly." But the surge of protest Leach and Polo Grounds received showed there was still a great deal of support for Nina Sky. "We've been really lucky to have pretty awesome fans," Natalie raves.
At odds with their label, the sisters took distribution into their own hands, releasing the Other Side EP in 2010 as a free digital download — their first official release since the self-titled album six years earlier. Two years later, the Albinos finally gave that LP its proper follow-up with Nicole and Natalie, also an independent release. The two collections showcased the duo's musical identity apart from label pressures and outside influences: effervescent club-ready jams and silky ballads that reflected a still-boundless excitement for popular music.
That enthusiasm can be heard through how the sisters lean on pop history for hooks and inspiration. In the past decade, Nina Sky have saluted synth-pop heroes New Order ("Everytime" swipes the chorus from "Bizarre Love Triangle") and borrowed a song from goth muppets the Cure ("Love Song" is a cover of the band's biggest pop hit). Simultaneously, they've glanced at '80s funk trio ESG ("Never Kissed You" samples their signature instrumental "UFO") and even revitalized '90s dance one-hit wonder Sagat ("You Ain't Got It" imports the beat to "Funk Dat"). Listening to one of their albums is similar to catching one of their DJ sets — like tuning into all of a city's best radio stations at once. "I think the Nicole and Natalie project represents us the best, only because there are so many different vibes on it," Nicole says. "[That's] who Natalie and I are. We listen to everything."
Over the years, the pop world has returned the favor to the Albino sisters. Even at their most label-restricted, Nicole and Natalie have been regular guests on singles with stars like Pitbull, Action Bronson, and Major Lazer (the latter on "Keep It Going Louder," which become an underground club hit in 2009). "It's so crazy because every time I bring them up, every artist is genuinely so happy to hear about them," says Hot 97 DJ Laura Stylez, who goes so far back with the sisters that she's been jokingly referred to as the group's third member. "But I think they were so tired of everything that they were dealing with that they stopped caring about being accepted in the mainstream. They were making music for themselves, and they found new fanbases working with Diplo, and all these other amazing producers."
Most importantly, throughout all their label drama — the sisters finally had an amicable split with Polo Grounds in 2012 —  Nicole and Natalie never let the music world pass them by. "We were still able to perform, and we were still able to tour," Natalie explains. "We had really great relationships with a lot of the writers and producers we were working with, so we were constantly just being creative and working on music."
And unsurprisingly, Nicole says the sisters have grown a lot since they were 19-year-olds unexpectedly thrust into the heart of Top 40. "When we started doing music, we had no idea it would explode as fast as it did and we weren't prepared for that," Nicole admits. "I think now — well, I know now — at 32 years old, we're smarter than we were then, and we've learned everything as we went."
[featuredStoryParallax id="204141″ thumb="http://static.spin.com/files/2016/07/160729-nina-sky-300×133.jpg"]
A month after their AdWeek show, I'm at a recording studio tucked away on the sixth floor of a midtown Manhattan office building, where Nina Sky are playing me songs from an as-yet-untitled upcoming project. "Champion Lover," a sparkling pop confection that sounds custom-designed to be New York radio's summer-love soundtrack, will drop in June on Tommy Boy Records as the group's comeback single. "Breaking the Habit" is a booming mid-tempo ballad with an a capella breakdown featuring the sisters' vocals stacked on each other. "We were like, 'Let's just [make the choir] ourselves,'" Natalie says.
In the studio, the individual personalities of Nicole and Natalie become clearer. Nicole, leaning on her chair by the mixing board in a button-down T-shirt and loafers, bops aggressively to each song, swinging her head and acting out the lyrics with her hands. Natalie, lounging on the couch in white overalls and an elephant T-shirt, is less assertive but just as engaged, quietly lost in the music.
"People wanted them to be these stereotypical sexy twins, and they are beautiful women," Stylez says, "but Nina Sky is Nina Sky, who they are today. This is the real Nina Sky."
The last song they let me hear is an impromptu-recorded cover of Usher's '90s R&B smash "Nice and Slow" that's half trap ballad and half Baltimore club banger. One of the many interesting things about this new rendition is how they treat the gender of the song's subject: The Nicole-sung first verse keeps the original's "Girl, you know what I mean," but Natalie's second verse flips to "Boy, you got me saying, my, my, my." Nicole explains: "We need to both be able to relate to the song."
When Nina Sky were blowing up in 2004, they were coached by the people around them to fudge certain details about their personal lives. "'You're not in a relationship, you're single,'" Nicole remembers being instructed. "'You're not 19, you're 18. You're not lesbian, you're straight.'" So Nicole, who identifies as gay, kept her sexuality under wraps.
"I probably did [advise her to hide her sexuality]," Cipha remembers of those days. "I mean, it was scary back then… the Caribbean community is not as accepting of gay people, and we had a big reggae sample. So it was just like, 'Let's just try to get through this hump, and once you're stars you can do whatever you want.'"
It didn't take the sisters long to realize the foolishness of that approach. "As Natalie and I got older, we got smarter and we were just like, 'This makes no sense,'" Nicole says. "The best way to do anything is just to be honest about it, and we felt like we could make better music if we were honest about it." With those days in the rearview, Nicole started being more publicly open about her sexuality in the late-'00s. "I think the point where I made the conscious decision to be like, 'Hey guys, I'm a lesbian, this is it,' was when I met my wife," referring to her spouse of nearly eight years, Erin Magee. "She was so confident in who she was, and she really pushed me to keep it 100 and be honest in that respect."
But the sisters are both unequivocal when they say that Nicole never actually had to "come out." "My family was so supportive of me my whole life that there wasn't a moment where I had to say, 'Hey, I'm a lesbian. I love women,'" Nicole explains. "It just was. My mom embraced it, my family embraced it." The sisters are both just more comfortable now — with their own haircuts (Nicole with a buzzcut, Natalie with more of a bowl cut) and their own identities — than when they were packaged as the seductive identical twins from the "Move Ya Body" video.
"I remember hearing people snicker and make comments when Nicole cut her hair," Stylez says. "People saying, like, 'Aw, she used to be such a great girl,' and 'What happened?' Almost as if it was a phase that she was going through. And in my head, I'm like, 'This is who she really is.' People wanted them to be these stereotypical sexy twins, and they are beautiful women… but you know, Nina Sky is Nina Sky, who they are today. This is the real Nina Sky."
The real constant of Nina Sky across the sisters' careers has been their relationship with one another. "We respect each other very much, so we do have a great working relationship and a great relationship as best friends, as sisters," Nicole says. "Natalie has my favorite voice ever. When I write a song, I want Natalie to sing it." And though Nicole occasionally DJ's solo, the twins have never given a thought to recording separately. "We write separately. We've recorded other things with friends. We've done other little things on the side, but solo careers… probably not." The twins have had rough patches — most notably a 2008 argument in which Natalie says she "betrayed [Nicole's] trust" — but they've never lasted long. "We respect each other enough to be like, 'This is not even worth ruining our relationship [over],'" Natalie explains. "There's no way to get away from each other, so it's like, 'Okay, you're mad at me today, but tomorrow, come on, dinner at Mom's.'"
Today, both sisters are married — Natalie has been with husband Michael for five years, and they have a two-year-old son together, Max, who she sometimes brings to gigs across the country. They're still trying to make music that they and their fans will love, but scoring another crossover hit like their first two isn't the goal. "When they were working on 'Champion Lover' I told Nicole, 'This is a radio song, you know that, right?'" Stylez says. "She says, smiling, 'Yeah, I guess.' But I always feel like they don't necessarily make music for the radio. They're not in the studio, like, 'This is gonna be the next No. 1 hit!'"
Cipha wouldn't rule out the possibility, though. "People would probably count out Fat Joe — now he just had the hottest record in the club [with 'All the Way Up']," he points out. "I've seen people come back from the dead, and they're not even close to dead. And they're around the right people, like Diplo and all these other producers, and they do a lot of stuff in Europe. Just keep working." Indeed, the sisters are already seeing the fruits of that labor with "Champion Lover," which by time of publishing, has well over half a million plays on Spotify. "You just can't give up," Cipha says.
Even if they never cameo on the Hot 100 again, Nicole and Natalie can rest assured that they've written one song that, for future pop fans, can be what New York radio classics like "Can You Feel the Beat" were for them decades ago. "I was driving in Toronto a few weeks ago and ['Move Ya Body'] came on the radio and I just pumped it up," Nicole says. "We hear it everywhere all over the world. And we still get excited about it, because I still remember being young, and writing songs with Natalie."
Natalie, as usual, agrees. "When you see a mom and her daughter [enjoying the song], and you're like, 'It's gone through a generation! The mom knows it, the daughter knows it, maybe her daughter knows it! My son will know it!' That's really cool."