The only thing that's known about the Pepsi Super Bowl LI Halftime Show is that it will take place in Houston and it won't feature Adele. Last week, a rumor circulated about the NFL offering Adele a chance to perform at the annual spectacle. The NFL has since denied making such an offer, but the famously frank Brit told her audience at a sold out Los Angeles concert that she turned down the opportunity. "That show is not about music," she said. "And I don't really — I can't dance or anything like that." This is true. So, regardless of whether an official offer was made, we won't be watching Adele sing "Hello" after witnessing grown men concuss themselves during an event that's helped keep Budweiser relevant for decades.
After the back-and-forth about Adele's non-performance made the rounds, the fan site TeamKanyeDaily started the hashtag #KanyeWestForSuperBowl51 — a campaign to get Kanye West a gig at the Pepsi-sponsored extravaganza. By early 2017, he'll have completed his Saint Pablo tour and might have at least one new project to promote. If the NFL were to actually listen, he'd be the first hip-hop artist to officially headline a Super Bowl Halftime Show. And he's got the songs to support the set: From "Gold Digger" to "All of the Lights," from the Dropout Bear to Pablo, his catalog is peerless. But the fan campaign is still an opportunistic long shot: He's one of the 21st century's biggest icons, but he's also an apparent Bill Cosby supporter who put America's sweetheart in a NSFW video.
Still, it's a long shot — a Hail Mary pass thrown from the intersection of wishful thinking and common sense, if you will. Yes, West's days of Hot 100 dominance are behind him (his last Top 5 appearance was an adult-contemporary collaboration with Paul McCartney), but respected outlets are still ready to pull hairpin turns to churn out contents about his tweets — like ESPN on Tim Tebow. If the NFL is looking for a performer with an expansive pop-culture cache, West isn't just a better choice than Adele — he's one of the best choices the league could make, period.
https://youtube.com/watch?v=ScA2FqJn9ic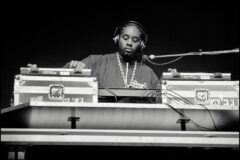 It's been 12 years since the culture unjustly shamed Janet Jackson, and it's time the NFL realizes it no longer needs to regress toward safe-and-sugary alt-rock arena acts to appease a conservative audience. I don't recall anything about Anthony Kiedis' yaba-daba-dooing or the Who trudging through "Baba O'Riley," and I don't think many from the prized 18-49 demographic do either. Is it really worth side-stepping imaginary FCC bear traps only to fall off a ratings cliff?
Let's revisit the past two halftime shows. Putting Coldplay beside Beyoncé and Bruno Mars was the rough equivalent of, say, letting your toddler brother "play" your Playstation 2 with a disconnected controller because your mother forced you to (cold, I know, but it had to be done). The combination of sharp choreography and unapologetic Black Panther imagery were the saving graces of what was ultimately a boring Super Bowl. Beyoncé became one of the Super Bowl's biggest talking points; she raked in 1.3 million Twitter mentions, more than each brand who spent millions of dollars on a Super Bowl commercial. Just a year before, Katy Perry made her bid for sainthood by allowing Missy Elliott to take up a good portion of her intermission show. Bruno Mars and Red Hot Chili Peppers' 2014 show channeled a fraction of the excitement Misdemeanor's return elicited.
https://youtube.com/watch?v=c9cUytejf1k
Adele's comment also elucidates why West would be a top-notch halftime pick. Of course the Super Bowl isn't about football or music; it's a yearly event that manifests the American ethos — capitalism, masculinity, bad beer — into a spectacle. West is also obsessed with blowing his art into miniature supernovas, whether he's toppling an entire hip-hop subgenre with a stadium-status opus or turning the Garden into his worshipping grounds. The NFL and West's interests intersect because a spectacle is only a spectacle in how it relates to the cultural zeitgeist. Because hip-hop and urban culture have been at the mainstream's center for a while, it'd make sense for the league to stop eschewing the culture and embrace it. Giving West, one of hip-hop's biggest names and kingmakers, a stage that monumental would be a huge step toward doing so.
And what wrong has West done, really, besides the occasional Twitter screed, award show outbursts, and sometimes bizarre proselytizing? In comparison to co-signing a flag of racial hate and making a song satirizing slavery and black women like past headliners Tom Petty and the Rolling Stones have, West's indiscretions are a blip. He's controversial, but let's not be hypocritical. The kids are right. #KanyeWestForSuperBowl51