Welcome to our weekly roundup of the SPIN staff's favorite new songs. Below, sample the best from TDE rappers, pop-punk standard-bearers, and more.

Eric Slick, "No" (Self-released)
Some might recognize Philly's Eric Slick from his work behind the kit with time-traveling indie-rock crew Dr. Dog or his fuzzy pop-punk duo, Lithuania. But now Slick is performing behind his own name on a gentle solo single called "No" — a droopy-eyed jam that sounds as lazy and hazy as a late-August afternoon feels. — RACHEL BRODSKY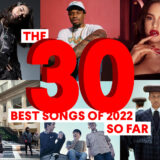 et aliae feat. Cuushe, "Feel Me" (Cascine)
Chipmunked piano candy with house-y flourishes — ingratiatingly catchy if you let it — this sub-arctic post-Grimes ballad is a warm, comfy blanket doused with ice water. Or the xx meets Minnie Mouse. — DAN WEISS

Isaiah Rashad, "Free Lunch" (Top Dawg Entertainment)
Isaiah Rashad, a Chattanooga, Tennessee alumnus, has been West Coast-by-affiliation ever since Top Dawg Entertainment signed him. He's far from uprooted, though: In the excellent "Free Lunch," he floats over production that weaves between wistfulness and pained soul like early Goodie Mob. Rashad's flow follows suit, bouncing over the hook before sliding along to convey bits of Andre 3000's experiential nostalgia ("Cool as me out front the Kanku's store, kinfolk you know it's love"). There's a lot of history — and potential — packed here into less than three minutes. — BRIAN JOSEPHS

Jess Williamson, "Say It" (Brutal Honest)
In 2014, Jess Williamson returned home to Texas, where the desert landscape would provide inspiration for the sparse, earthy folk songs on her 2014 debut, Native State. The comforts of home proved fruitful; "Say It," the lead single from sophomore effort Heart Song (out November 4) finds her at the helm of a full band for the first time. Inspired by a drive on a West Texas highway, the track builds slowly on a drum groove and laid-back bass, eventually giving way to a thunderous chorus that showcases Williamson's formidable range. Her bluesy delivery draws you in as she sings, "My body is buzzing from the weight of the road." — JEFFREY SILVERSTEIN

Joyce Manor, "Fake I.D." (Epitaph)
Emo-punk Californians Joyce Manor appear to have found their Yoda in production guru Rob Schnapf, who also shaped genre stalwarts Saves the Day's 2001 classic Stay What You Are, and not one but two Elliott Smith records (XO, Either/Or). Cody — which drops October 7 — leads with album opener "Fake I.D.," a song that finds the quartet in tight and clean form. As the tune heaps on the hooks, they sing of an underage girl who asks such timely questions as, "What do you think about Kanye West?" and answers for you ("I think he's great; I think he's the best"). As Yeezy himself says: Listen to the kids, bro. — R.B.
https://youtube.com/watch?v=Z0Jc6b4Qnk4

Kyle Dixon & Michael Stein, "She'll Kill You" (Lakeshore/Netflix)
One of the lasting joys of Netflix's surprise summer phenomenon Stranger Things is its dynamic score, with Kyle Dixon and Michael Stein's ominous, '80s-inspired synth score continuing to reap rewards with each episode. "She'll Kill You" is a perfect example of what Dixon and Stein are up to: a pulsing, hypnotic track that is a dead-on, loving tribute to classic John Carpenter and Tangerine Dream. The duo nail every narrative shift that come their way, and the eerie calm of follow-up track "A Kiss" will give goosebumps to any kid who grew up with sun-bleached VHS boxes. — DREW FORTUNE

Psychic TV, "Alienist" (Angry Love Productions/Dais)
Genesis Breyer P-Orridge's surprisingly abrasion-free vamp collective recalls nothing so much as that last PiL album, where John Lydon accidentally did poppy things with Edge-style guitar and more-hippie-than-punk '70s revisionism. The sounds that zoom in and out and around all hypnotize softly, and the words… well, the words are a sound, too. — D.W.