This past weekend marked the second annual edition of Eaux Claires, the festival Bon Iver's Justin Vernon organizes in partnership with the National's Aaron Dessner and the cooperation of seemingly half his hometown. Eaux Claires is an outsize presence in Eau Claire, Wisconsin (population somewhere north of 65,000), where the weekend's other events included the farmer's market, a craft festival, and a gay-pride volleyball tournament. Its main attractions: the live debut of Bon Iver's third album, 22, A Million (out September 30), and a headlining set by Erykah Badu.
A two-day showcase, Eaux Claires is centered on modern folk music, but Vernon is pushing the fest toward its own woodsy vision of experimentalism and interdisciplinary art. The result is a lineup that feels curated, even as it expands to feature electronic, hip-hop, metal, punk, R&B, and dad jams. At the core are Vernon's friends and collaborators, a circle that includes Aaron and Bryce Dessner, S. Carey, Sam Amidon, Phil Cook, Colin Stetson, Har Mar Superstar, and Joe Westerlund. Some acts, like Lucius or Vince Staples, could be found at multiple festivals this summer. Others were far more unusual: a rare opportunity to see the experimental metal duo Senyawa, who flew in from Indonesia; a mesmerizing set by avant percussionist Jon Mueller, who's from Waukesha, Wisconsin.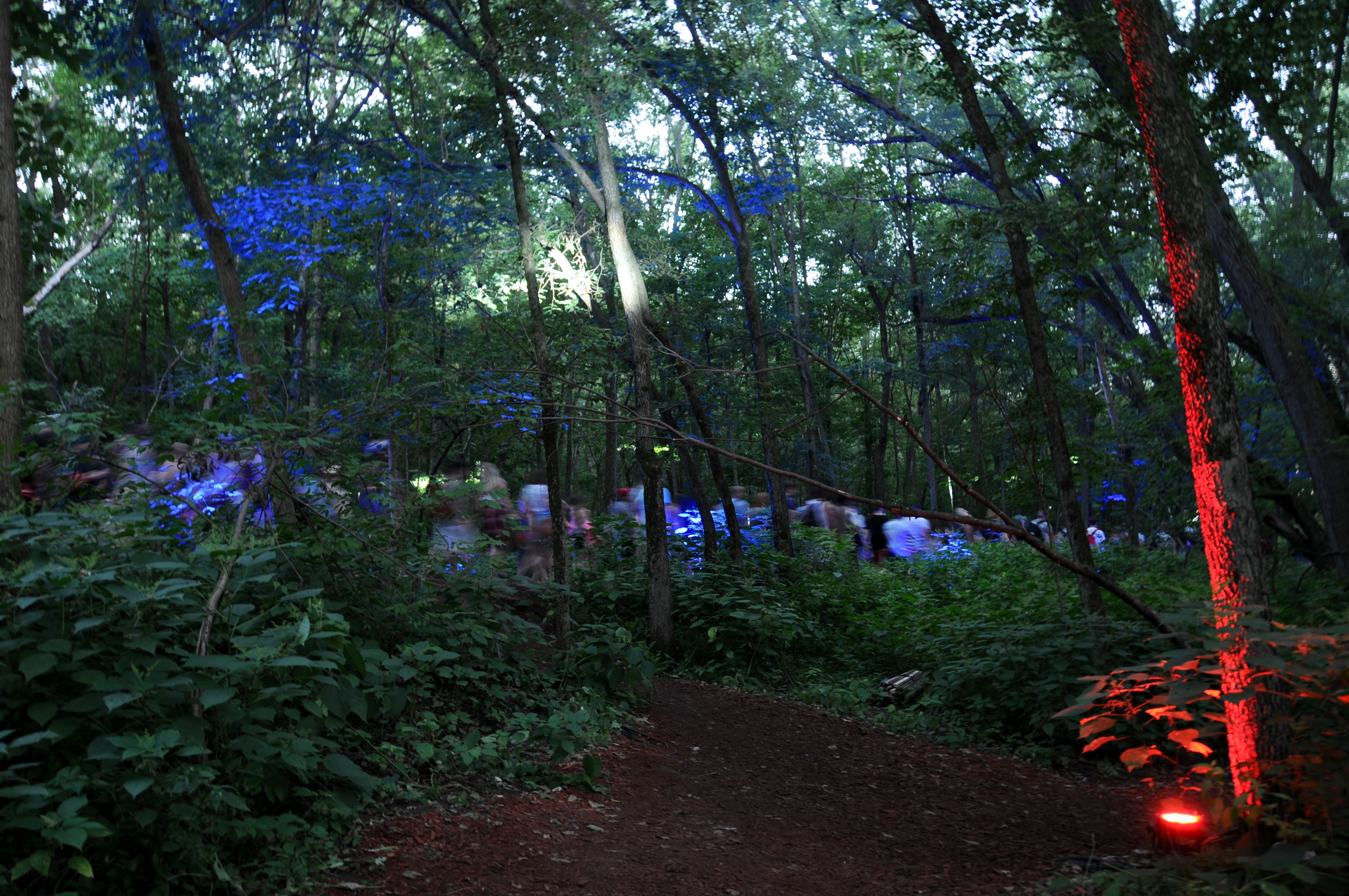 Even if Vernon was capable of pulling off such an event elsewhere, Eaux Claires belongs in Eau Claire. Its home, Foster Farm, is a rustic venue just outside of town that also hosts the Wisconsin Country Jam. Two main stages anchored the event's central grounds; through some woods, at the top of a steep hill, lay three secondary venues beneath futuristic white tarps. The isolated location allowed post-headliner sets to run long after dark, when the forest path was lit by color-changing footlights and domed spotlights searched the tree canopy.
Stylistically, Eaux Claires falls somewhere between a homey Midwestern state fair and hipster-approved camping à la Moonrise Kingdom. The official festival guide, a bright orange pocket almanac, describes each band with delightfully weird short poems (Deafheaven: "Roarscorching picketsnapping leafstripper"; James Blake: "Fell creek boy singer, lemonaded"). A chatty mobile app issued frequent notifications, urging recipients to check out a set, explore the grounds, or attend micro-capacity literary readings. "I wanna say sorry for cursing and moving rapidly on this stage, it's not that kind of festival," joked Vince Staples. By the time he finished, it was.
Away from the main stages, the lucky encountered a number of semi-improvised acts: an impromptu Native American drum and dance performance, a tiny flash mob of people wearing earbuds and vocalizing softly, a troupe of sinuous contemporary dancers. Many summer concerts call themselves "music and arts festivals," but Eaux Claires was more successful than most in blending its interests convincingly. The most intriguing art installations were similarly connected to the creation and experience of music, like a row of tuned pipes that could be whacked with sticks. The centerpiece of the grounds, an electric organ enclosed by a large wire sculpture, played between sets as if on a beautiful, bizarro baseball field.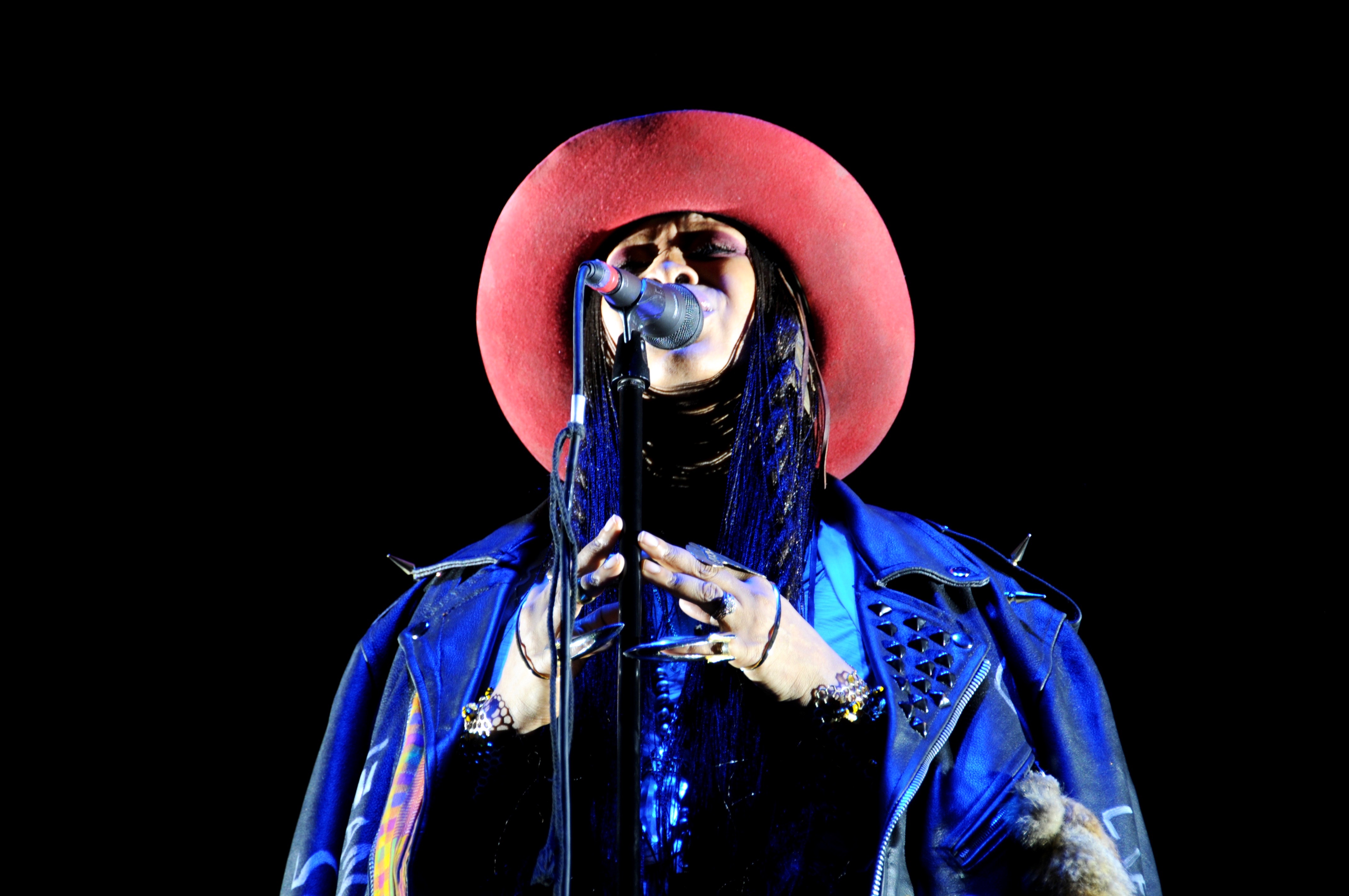 It's somewhat hard to imagine that Vernon wants to commit to headlining a festival, even his own, every year for the foreseeable future. There can't be a new Bon Iver record every August, and establishing Vernon's band as the biggest constant risks casting a vast collection of talent as supporting players. Scheduling Million's unveiling on the first night helped to alleviate any sense of upstaging, as did pairing it with a bonafide superstar in Badu, who's capable of keeping a crowd hanging on her every syllable. As Eaux Claires matures as an event, its celebrity creator must continue to be careful in how he positions himself.
Those, however, are concerns for next year. On the ground, Eaux Claires part deux was well-run by exceptionally nice people. There was plentiful free water, minimal line time, and lots of cheese (sample menu items: "Cheddar Munchers," "The Big Stink"). At the exit, confiscated blankets and umbrellas waited on picnic tables for their owners to reclaim them. Stars twinkled over a packed house at Beach House's late-night performance on Saturday. At the final hour came another album debut, Francis and the Lights' Farewell, Starlite! (release date as yet unannounced), and a much-rumored guest appearance by Chance the Rapper. It may well have been the weekend's only encore, and it was much deserved.