Last night, VH1 Hip Hop Honors returned for the first time since 2010. Paying homage to "the female pioneers, trailblazers and trend-setters" in hip-hop in an event called "All Hail the Queens," the broadcast celebrated the achievements of Lil' Kim, Missy Elliott, Queen Latifah, and Salt-n-Pepa.
While all of the honorees got tribute performances done by their peers, some took the stage themselves. Lil' Kim knocked out a performance with Dej Loaf and Rich Homie Quan, while French Montana, Teyana Taylor, Lil Mama, the LOX, and more performed in her honor. Diddy even made a surprise appearance, presenting her with a birthday cake and leading the crowd in a round of "Happy Birthday."
While Missy Elliott did not herself perform, a handful of artists jumped onstage to pay tribute: Remy Ma, Trina, Nelly Furtado, Eve, Monica, Fantasia, and Tweet. Pharrell, Timbaland, and Busta Rhymes also spoke in her honor. Salt-n-Pepa were also honored with a medley of their hits featuring Eve, Ashanti, Amber Rose, and more.
Queen Latifah, on the other hand, did perform. After an introduction from Common, the Queen played a medley of her songs with Da Brat and Monie Love. During her acceptance speech, she addressed the current racial tensions in the U.S., saying, "I don't care how much or things I have, or Puff has, or Missy has, or the ladies have — if I go outside and try to hail a cab and he passes me for the white woman standing right there, that racism is still alive and kicking. And we have to change that."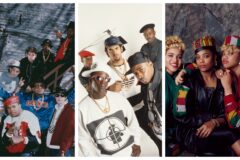 Watch some highlights below.
https://players.brightcove.net/1125911414/VJ949r8Fg_default/index.html?videoId=5031478292001