Like the changing of the seasons, Lollapalooza hits Chicago like a force of nature. Day one lines snaked six blocks deep down S. Michigan, as the morning dawned bright but rain threatened early. This year is especially celebratory, as the music and arts festival founded by Jane's Addiction frontman Perry Farrell celebrates its 25th Anniversary. For what started as a traveling roadshow featuring edgy and cult alternative bands supported by performance artists and bizarre "oddity" acts, Lollapalooza has long since embraced the mainstream. To mark the 25th Anniversary, Lolla added a fourth day to the traditional three days of music. "It's our 25th Anniversary and we wanted to do something really special and different for our fans," Farrell said in a statement. That's a lot of music, but fans appeared eager and ready, sprinting into the early afternoon Grant Park grounds like school kids onto a recess field. Many made a bee-line directly for the Toyota Music Den, presented by SPIN along with our friends at VIBE, Stereogum, and BrooklynVegan, as anthemic alt-rockers PVRIS stepped on stage at 1 p.m..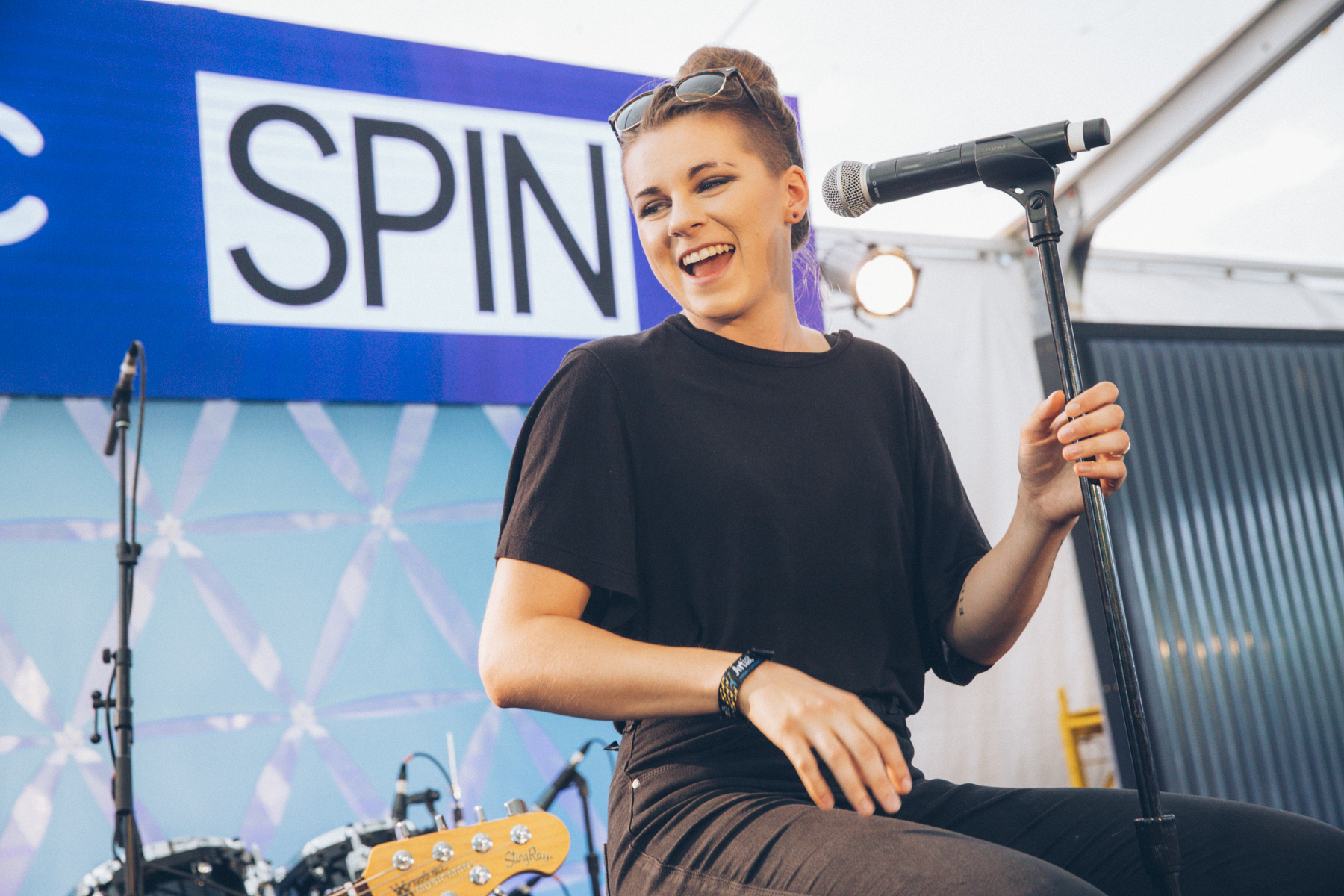 PVRIS
Having seen PVRIS, led by magnetic vocalist Lyndsey Gunn, completely own the crowd at their Firefly Music Festival sets, we were anxious to see if their devoted legion had grown in the past month. Sure enough, their fans did not disappoint, filling the Den tent early, adoring eyes fixed on Gunn's every move and vocal (some just finishing verses for her). Gunn, along with guitarist Alex Babinski, delivered a rapturous set of choice cuts from their 2016 full-length debut White Noise, including a group sing-along of breakout single "You and I." For such a young band, it'll be amazing to see how the fan base only continues to grow. In 2017, it'll likely be nearly impossible to see PVRIS in such intimate confines.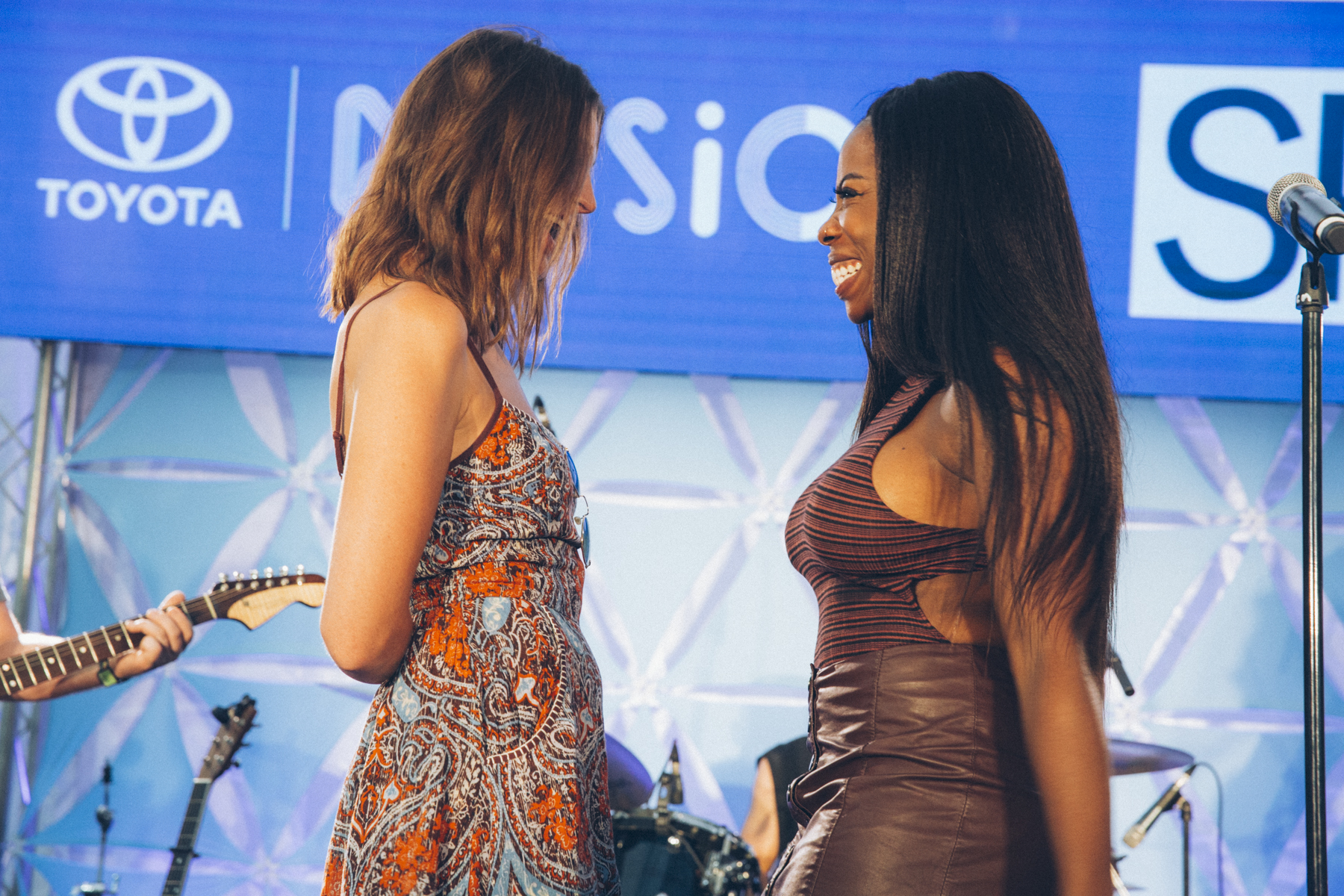 MUDDY MAGNOLIAS
In a rapid gear shift, Nashville R&B sextet Muddy Magnolias suddenly turned the Den into a country soul revue. Led by dual vocalists Jessy Wilson and Kallie North, rounded out by a backing band that sounds like a cross between Widespread Panic and the Dap-Kings, Muddy Magnolias are a funky hybrid of traditional soul and countrified rock. Jessy Wilson has the soul of Mavis Staples and the range of Nina Simone, while Kallie North brings her Mississippi roots to the forefront with a sweet, honeyed texture. While the delivery may go down smooth, North has the verve and passion of Joplin, with a bit of her mischievousness, playfully darting her tongue out to the crowd before rocking her head to the beat. Bravo ladies!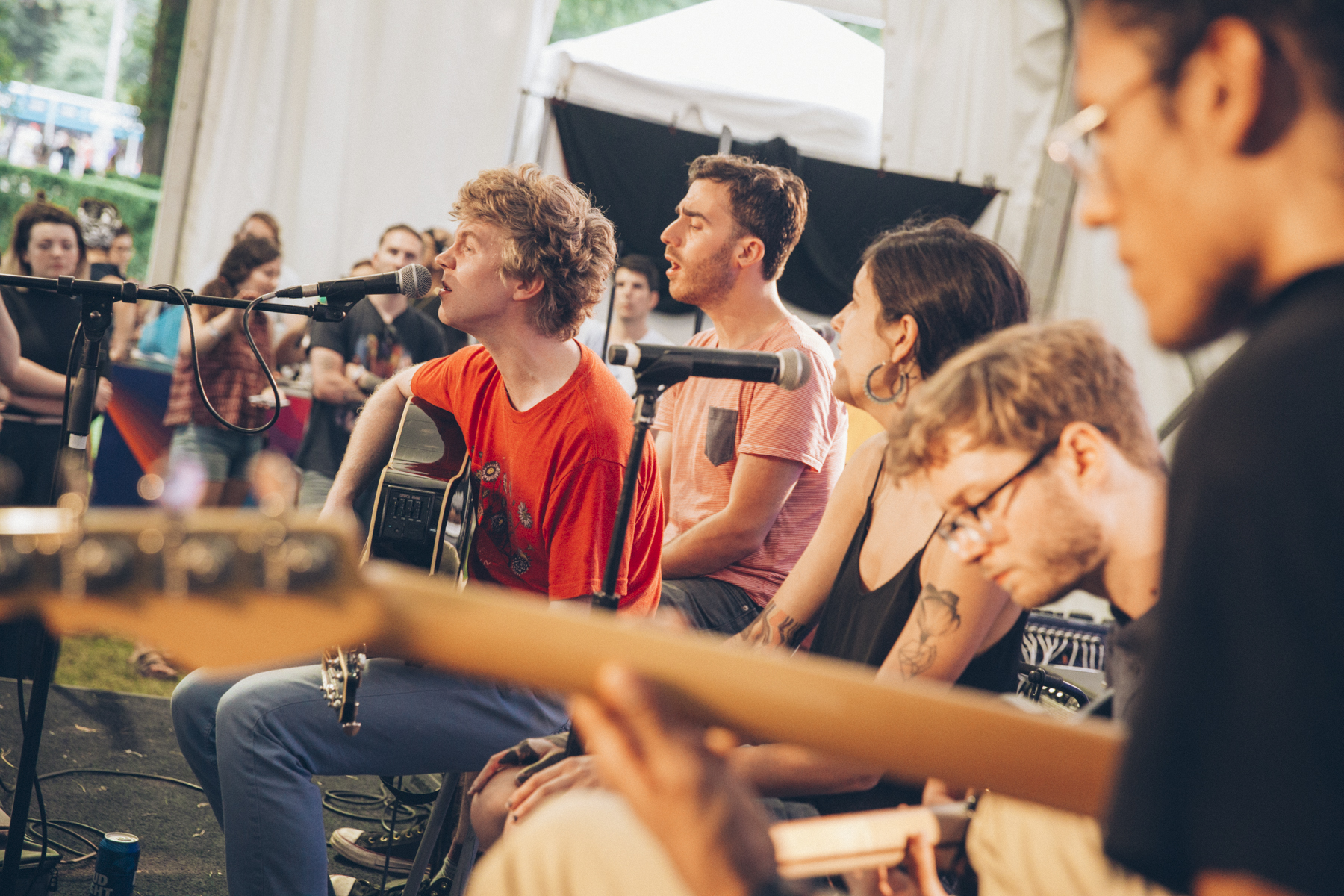 PINEGROVE 
Like a pop punk band sitting around a campfire, Pinegrove seamlessly blends energetic guitar rock with dusky Americana. Chief songwriter and vocalist Evan Stephens Hall writes of old friends, new friends, and the ambition to make himself a better friend and better man. His voice teeters on the precipice of throaty collapse, like a young, basement-bound Conor Oberst. Yet, there's a world weary wisdom in his vocals, as if he's already been hard-bitten by life but not about to surrender to apathy. The six-piece delivered a quiet, delicate acoustic set to the Den, a perfect soundtrack as a gentle afternoon rain began to fall.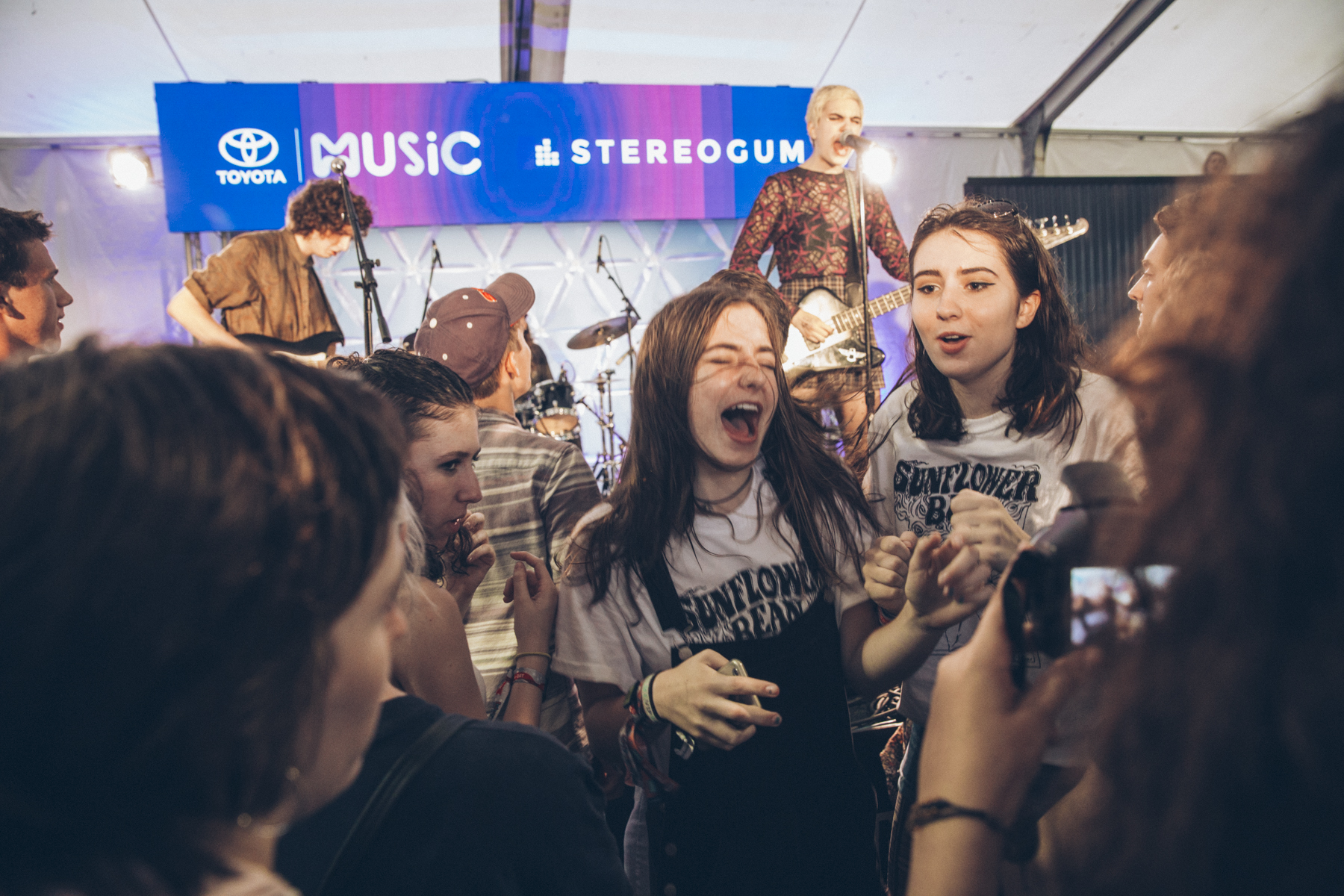 SUNFLOWER BEAN
Like a shot of pure adrenaline, NYC trio Sunflower Bean ripped through their 20 minute set with punk ferocity and a Velvet Underground sense of sonic exploration. Raised on Metallica, Minor Threat and a healthy dose of classic rock, Long Island's Nick Kivlen (guitar), Jacob Faber (drums) and bassist/vocalist Julia Cumming don't hide behind any gimmicks or laptop trickery. They celebrate rock in its most unadulterated and pristine sense, yelping, bouncing and jumping into the crowd with the joy of a band unburdened by any sense of ironic detachment or millennial cool. Cumming, with her close-cropped, platinum blonde hair, owns the stage like Joan Jett with riot grrrl intensity. Kivlen got spacey on solos, recalling Thurston Moore in his dexterity and feedback attack. Faber pounded away on his kit, making a tight, terrific racket. The crowd responded by pogo-ing, playfully moshing and shouting lyrics, solidifying the most energetic set of the day.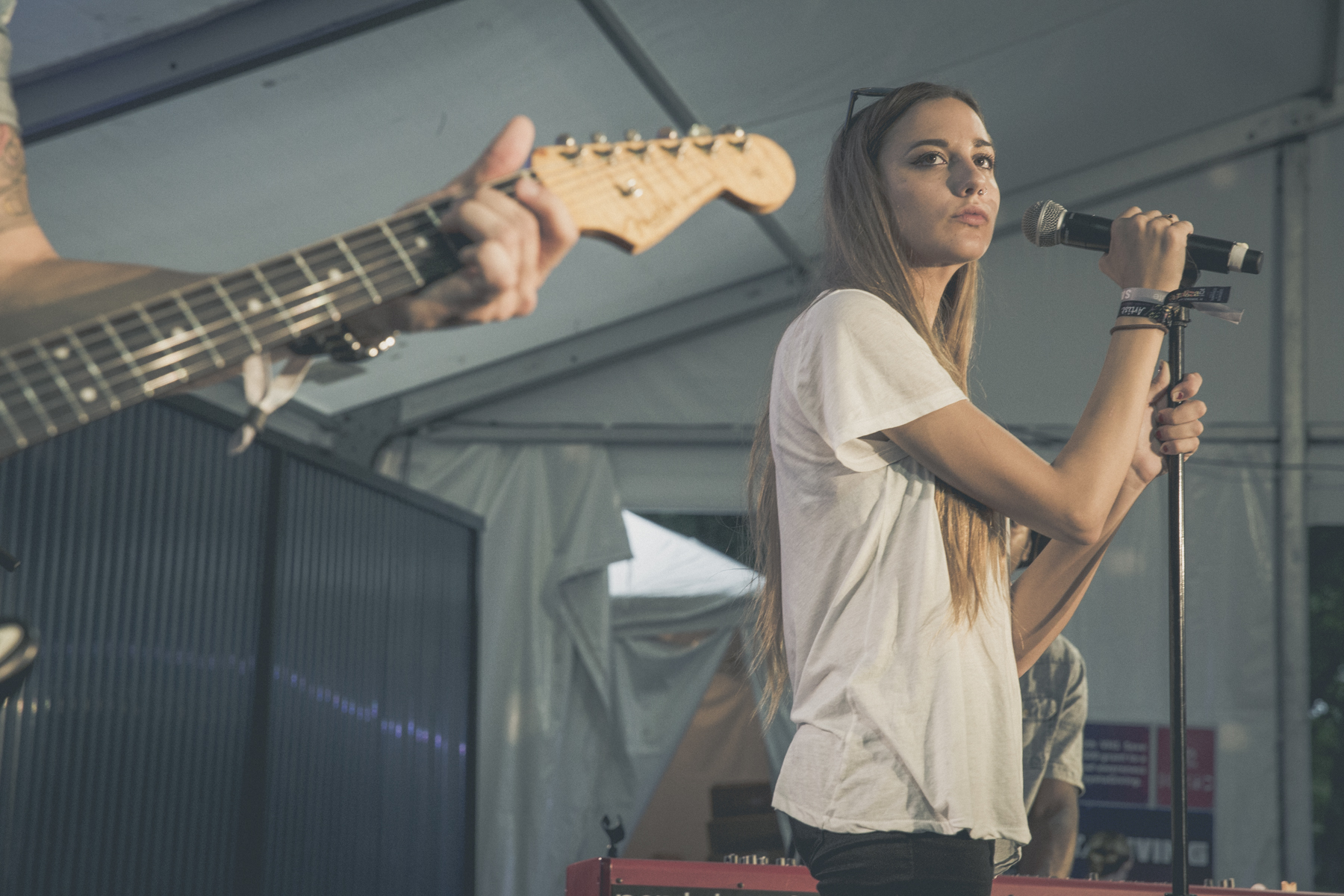 CLOVES
Like the calm after the storm, Australia-bred Cloves — a.k.a. Kaity Dunstan — was the perfect chill-out set. The stripped-to-the-bone tracks on the Melbourne native's debut EP Xiii (produced by hitmaker Justin Parker of Rihanna and Lana Del Rey fame) make the 20-year-old singer-songwriter sound like an old soul. The single "Frail Love" has only a mournful piano to accompany Dunstan's delicately powerful range, her voice simultaneously breaking and healing hearts in her late afternoon set. There's a confidence and maturity to Dunstan's songs of forgiveness and young love, wisdom won through years of playing some of Melbourne's toughest dives (where Dunstan has been sneaking in to play since the age of 13). The delicate, acoustic set cast a somber yet optimistic tone, just as the sun broke through the clouds outside the tent.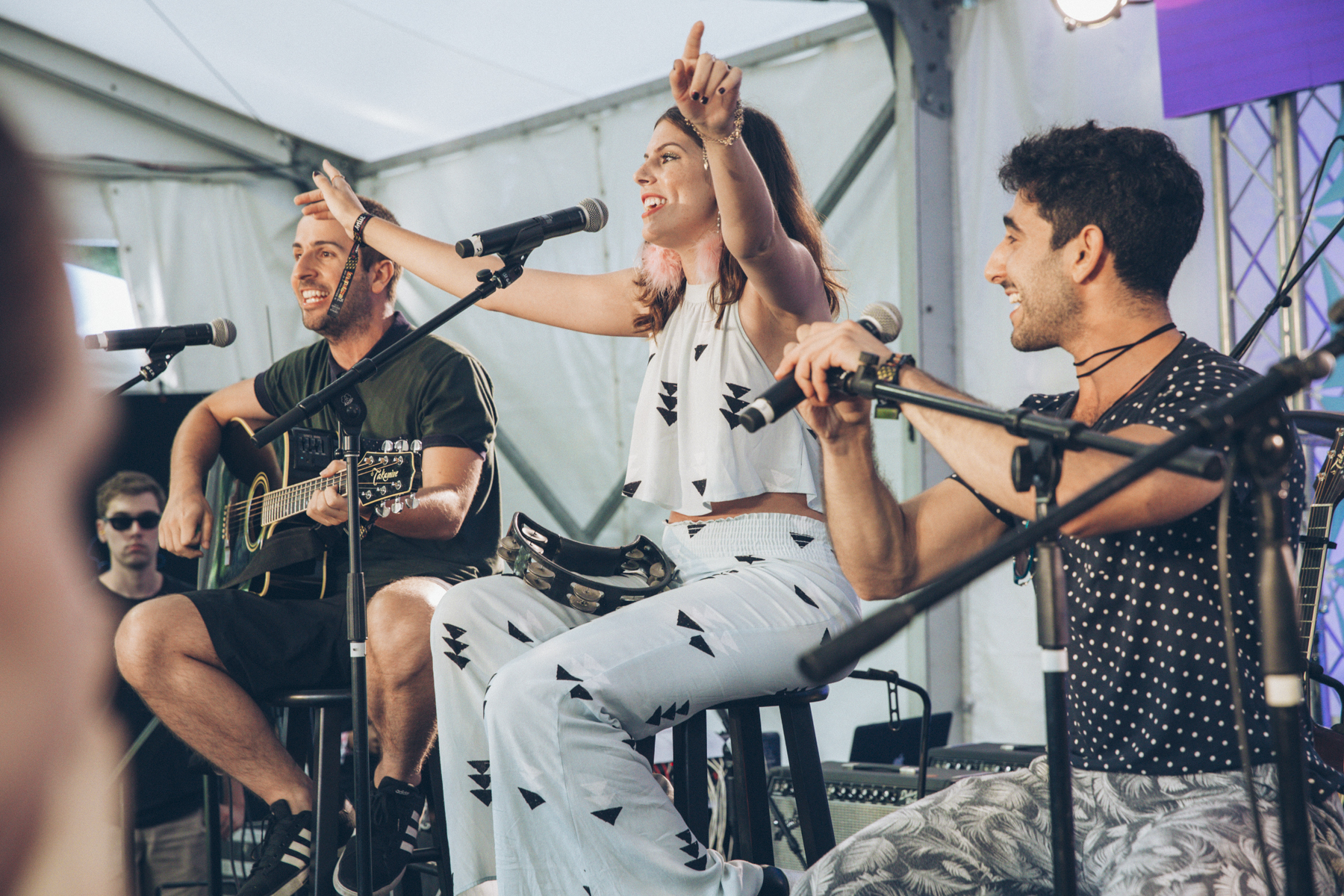 FRANKIE 
Closing out the Music Den with a blast of melodic, candy-colored pop from Oakland singer Frankie. With her band taking the stage with shakers, tambourine and acoustic guitar, Frankie won over the crowd with infectious positivity and a throwback, bubblegum vibe. She has a playful fashion vibe and a strong, unapologetic love for the '80s mall jams of Tiffany and Debbie Gibson, but raised on Britney Spears. "New Obsession," off Frankie's 2015 debut EP Dreamstate, got Tweet-love from Taylor Swift, and the track has a hook and girl power momentum that's impossible not to fall in love with immediately. Pausing mid-set, she announced that they were going to try out a cover that they'd never performed live. Nervously, but with smiles, the foursome launched into Hanson's "MMMBop." It was the perfect note to close out a jam-packed first day.