Perhaps you missed the news if you weren't at this month's Adult Novelty Manufacturers Expo, but Mötley Crüe have announced a new line of sex toys. They're manufactured by British adult brand Lovehoney (NSFW), and they look like this (via Forbes):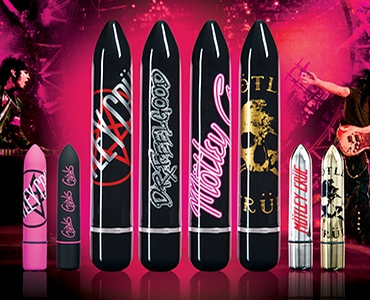 "The eight eye-catching vibes capture the style and sex appeal of the band perfectly and deliver the power and pleasure you'd expect from 'The World's Most Notorious Rock Band,'" Lovehoney sales manager Sabrina Earnshaw said in a press release.
Unfortunately there isn't nearly as much here to get excited about as one would hope:
The Mötley Crüe range has too many options and too little variety. There are eight designs, but only two actual products (the larger 7 Function Vibrator or the smaller 10 Function Bullet Vibrator). Is the true fan supposed to buy more than one for the sake of collecting different colors?
These designs are lackluster. If you didn't know they're vibrators, you might think you were looking at off-brand lip crayons from Hot Topic. Slapping a Motley Crüe sticker on a vibe you already have wouldn't be very sanitary, but the overall effect would be about the same.
The Mötley Crüe line is far too similar to Lovehoney's existing range of Motörhead toys, which offers the very same two toys in four slightly more aesthetically pleasing designs.
The Mötley Crüe toys will arrive at adult retailers in September, presumably for about the same price as the Motörhead items ($25 or $45 apiece). If you simply must have one of these on your Christmas list, the "Girls Girls Girls" design is probably the best of the bunch.