Update: Radiohead's Friday-night set has been added to Sunday evening's streaming schedule. It begins at 7:10 p.m. ET/6:10 p.m. CT. Watch below.
Lollapalooza 2016 kicks off today and runs through the weekend in Chicago's Grant Park. Twenty-five years after it first launched, the alt-rock showcase is headlined by Radiohead, LCD Soundsystem, and Red Hot Chili Peppers.
If you're not able to catch all the action in person, though, don't worry: You can watch plenty of sets across all four days via Red Bull TV's live stream, including performances by the Chili Peppers and LCD, plus Future, Major Lazer, Jane's Addiction, Flume, G-Eazy, M83, Two Door Cinema Club, Leon Bridges, Local Natives, and more.
The live broadcast starts Thursday, July 28 (today) at 7 p.m. ET/6 p.m. CT. Head to redbull.tv/lollapalooza for additional lineup announcements all weekend. Check out the full schedule below — all times listed in CT.
https://www.redbull.tv/embed/live/AP-1KNHCDJM51W11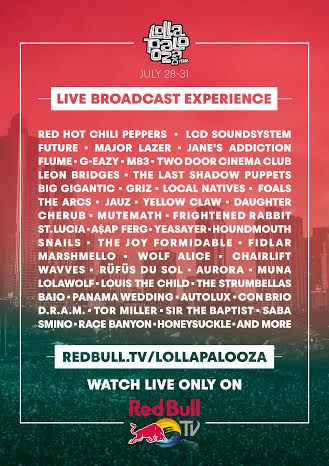 Thursday, July 28
Channel 1
6:00 p.m. – Live Show Begins
6:10 p.m. – Yeasayer
7:15 p.m. – Daughter
8:30 p.m. – Flosstradamus
9:45 p.m. – J. Cole (partial set)
Friday, July 29
Channel 1
2:00 p.m. – Live Show Begins
2:10 p.m. – Saint Motel
3:05 p.m. – Autolux
4:00 p.m. – Foals
5:10 p.m. – Frightened Rabbit
6:15 p.m. – G-Eazy
7:25 p.m. – Future
8:30 p.m. – Major Lazer
Channel 2
2:00 p.m. – Live Show Begins
2:15 p.m. – The Struts
3:00 p.m. – Con Brio
3:45 p.m. – TBA
4:45 p.m. – Rüfüs du Sol
5:30 p.m. – Cherub
6:30 p.m. – The Arcs
7:30 p.m. – Wolf Alice
8:15 p.m. – A$AP Ferg
9:00 p.m. – Miike Snow
Channel 3
2:00 p.m. – Live Show Begins
2:10 p.m. – Saba
2:50 p.m. – Kilara
3:30 p.m. – Audien
4:30 p.m. – Race Banyon
5:00 p.m. – Bro Safari
6:00 p.m. – Duke Dumont
7:00 p.m. – Day Wave
7:45 p.m. – GRiZ
8:45 p.m. – Martin Garrix
Saturday, July 30
Channel 1
2:00 p.m. – Live Show Begins
2:10 p.m. – The Strumbellas
3:00 p.m. – Lolawolf
4:15 p.m. – Big Grams
5:15 p.m. – Joy Formidable
6:15 p.m. – Jane's Addiction
7:30 p.m. – Two Door Cinema Club
8:30 p.m. – Red Hot Chili Peppers
Channel 2
2:00 p.m. – Live Show Begins
2:15 p.m. – X Ambassadors
3:15 p.m. – Chairlift
3:45 p.m. – The Front Bottoms
4:45 p.m. – Waaves
5:30 p.m. – Leon Bridges
6:30 p.m. – Mutemath
7:30 p.m. – The Last Shadow Puppets
8:30 p.m. – Disclosure
Channel 3
2:00 p.m. – Live Show Begins
2:10 p.m. – Honeysuckle
2:40 p.m. – Tor Miller
3:20 p.m. – Baio
4:00 p.m. – Houndmouth
4:45 p.m. – Marshmello
5:30 p.m. – Jauz
6:30 p.m. – TBA
7:30 p.m. – Big Gigantic
8:45 p.m. – TBA
Sunday, July 31 
Channel 1
2:00 p.m. – Live Show Begins
2:10 p.m. – Panama Wedding
3:05 p.m. – FIDLAR
3:55 p.m. – TBA
5:00 p.m. – Local Natives
6:10 p.m. – M83
7:20 p.m. – Flume
8:30 p.m. – LCD Soundsystem
Channel 2
2:00 p.m. – Live Show Begins
2:10 p.m. – Smino
2:40 p.m. – D.R.A.M.
3:20 p.m. – Muna
4:00 p.m. – TBA
4:30 p.m. – Halsey
5:30 p.m. – Aurora
6:15 p.m. – TBA
7:00 p.m. – St. Lucia
8:00 p.m. – Silversun Pickups
9:00 p.m. – Bloc Party
Channel 3
2:00 p.m. – Live Show Begins
2:10 p.m. – Sir the Baptist
2:50 p.m. – TBA
3:35 p.m. – TBA
4:35 p.m. – TBA
5:30 p.m. – Louis the Child
6:15 p.m. – Snails
6:45 p.m. – Yellow Claw
7:45 p.m. – Adventure Club
9:00 p.m. – ZHU