Brownsville poet Ka has been mostly quiet since dropping the underrated Days With Dr. Yen Lo last year. It's looking like the MC's silence will end next month. Today, Ka sent out a tweet that appears to be the credits for an upcoming album. The tweet simply says, "HKTS 8/13," which very likely references the project's title and release date.
HKTS 8/13 pic.twitter.com/ocqHWHv0cl

— Ka (@BrownsvilleKa) July 19, 2016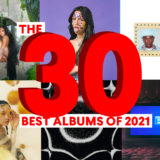 The tweet isn't the first allusion he's made to the project. In a pinned tweet sent last week, Ka mentioned that he was keeping promotion minimal in response "everything going on" — a likely reference to the tension with law enforcement that's enveloped the country this month. But he did end his tweet saying, "'Honor Killed The Samurai 8/2016'." The acronym in today's tweet matches the title.
With everything going on I feel somewhat ashamed to be attempting album promotion…so I'll keep it light.
"Honor Killed The Samurai"
8/2016

— Ka (@BrownsvilleKa) July 13, 2016