It's a sunny Wednesday evening and I'm with sitting BADBADNOTGOOD in Williamsburg's Loosie Rouge bar, locked in a conversation about hip-hop. The members of the Toronto-based, rap-influenced jazz quartet are in town to perform a gig at the House of Vans the next night, but they've just wrapped a shopping spree at Supreme and Uniqlo. Common's "The Light," produced by the late J Dilla, is blaring through the bar's speakers and drummer Alexander Sowinski instinctively bobs his head along with the Bobby Caldwell-sampling beat; our talk touches upon Future (they're all in agreement that the ATLien will be considered an all-time great in ten or 20 years), and then eventually ambles over to a basic but important question: What are some of the albums that got you into hip-hop?
Matthew Tavares, the group's newly blond keyboardist, cites A Tribe Called Quest's 1991 jazz-rap clinic, The Low End Theory, as a starting point — a respectable-if-obvious answer — and recalls getting put on to Queens duo Organized Konfusion's 1994 underground classic, Stress: the Extinction Agenda, while scouring music forums as a young teenager. Twenty-four-year-old Sowinski, the calmer Steph Curry to Tavares' outspoken Draymond Green, names the Roots' 1996 landmark third album, Illadelph Halflife — a drummer, he describes himself as a "?uestlove fanatic," naturally. Chester Hansen, BBNG's phlegmatic, curly haired bassist, leapt directly from the Beatles and the Who (his parents' favorites) to the 21st century — thanks, in part, to 50 Cent's 2003 blockbuster debut, Get Rich or Die Tryin', a gift from his older brother.
Saxophonist Leland Whitty, the group's distant introvert, nervously responds in his sleepy cadence, saying he "listened to a lot of really bad hip-hop" in his formative years, back in the early '00s. Tavares squints his eyes and Sowinski tilts his head slightly, asking, "What do you mean by 'bad hip-hop?'"

"I heard The Low End Theory, but I was in grade seven when I heard that, and Nelly was big."
The group responds with affirmative chuckles. "Don't hate on Nelly, man," Hansen says.
BBNG's own music is enlivened with that same sort of open-minded reverence. Originally a trio that was founded in 2010, the group first became known for their hip-hop covers, reworking songs like the immediately recognizable "Mass Appeal" and "Flashing Lights" into dynamic odysseys.

"We used hip-hop covers as a way to explore the music that we were into at the time, as a departure from jazz standards," Hansen says, thinking back to BBNG's origins in Toronto's Humber College music program. "Right away, we stopped playing jazz standards and anything else and starting focusing on covers. That really taught us about how music works."
After stuffing their first two albums with a mixture of remakes and new jams, they switched their focus to original compositions on 2014's amorphous III, and 2015's restrained Sour Soul, their full-length collaboration with Shaolin griot Ghostface Killah. In doing so, BBNG proved that for them, hip-hop isn't a gimmick, but a stimulus; jazz isn't just a genre, but a worldview.
Tavares demonstrates the many different paths you can take underneath the jazz umbrella: "Thelonious Monk versus a band like Snarky Puppy: They're both using the same approach intrinsically, but from the complete opposite ends of the spectrum. I think we bonded over having similar approaches. I think that makes it easy to make music."

And now, BBNG have made their finest suite so far. Their recently released fourth album, the plainly titled IV, marks the first time that their free-flowing energy feels uniformly crystalline. It's also their first LP featuring Whitty — formerly a frequent collaborator and touring partner — as an official member. Aided by his hovering saxophone melodies, their songs have gotten leaner, and the various freewheeling moods they channel have become more potent: Sowinski's stuttering, muted drum patterns underscore the crooning of Future Islands frontman Samuel T. Herring (he supplies guest vocals to the melancholic "Time Moves Slow") and Tavares' keys induce an addictive psychedelia ("Speaking Gently").
Like their jazz-referencing contemporaries, BBNG pulled together a community of collaborators — Montreal producer Kaytranada contributes his synths to the astral tension of "Lavender" and Chicago rapper Mick Jenkins provides "Hyssop of Love" with slick prose — to help assemble what feels like their most vital work yet. 
Doesn't hurt either that IV has come at a time when jazz has once again assumed a prime spot in the critical conversation, and reasserted itself as a viable commercial force. The scene's ascent has been percolating for the past few years — Grammy-winning pianist Robert Glasper and Flying Lotus' Brainfeeder label have had success blending traditional influences (Miles Davis, John Coltrane) with contemporary innovations — but it wasn't until last year that it began to truly flourish once again. Kendrick Lamar's critically adored and platinum-selling To Pimp a Butterfly — which threads jazz as one of many inextricable facets of black culture, with help from Brainfeeder jazz cat Thundercat, FlyLo, and Glasper — reminded listeners of (and enlightened some to) the boundless potential of jazz, a form that, to novices, felt trapped in amber. Then, a few weeks after TPAB's March unveiling, way-out saxophonist Kamasi Washington revealed The Epic, a three-hour composition rightly recognized by many as one of 2015's most majestic and immersive releases.
For their part, BBNG have been lauded as one of the decade's most promising bands, yet they find themselves at the fringe of the jazz movement. For one, they're Toronto musicians untouched by the golden glow of the West Coast, which is in the midst of a modern renaissance, musically. Jazz's new wave is also explicitly pro-black, with Lamar and Washington infusing civil rights themes and black culture's richness into the very DNA of their songs. Sowinski, Tavares, Whitty, and Hansen, all white, are gaining cache in a culture that's weighted with decades of racial and experimental history — a bit of a rigmarole for a crew who initially connected over their shared love of hip-hop. To many music enthusiasts they're young prodigies — and to a few, they're pariahs.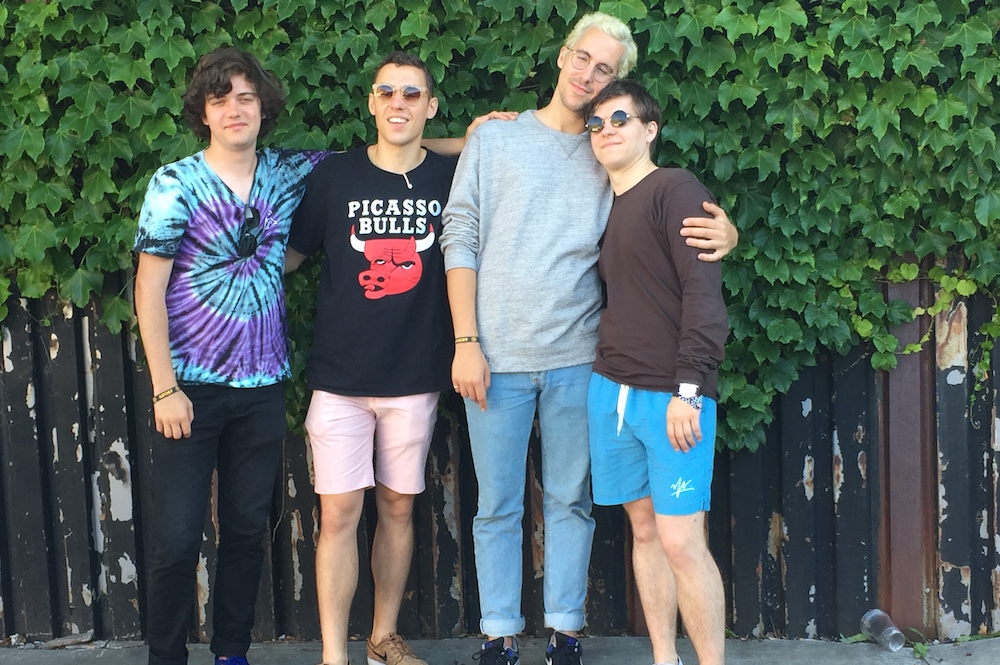 As talented as they are, BADBADNOTGOOD don't bother with a front of effortless cool when they're performing. Typically, Hansen adopts an enigmatic air onstage — his hair covers his shoe-gazing eyes, and his fingers methodically stretch and contort along the frets as if conjuring sorcery. Alex hammers the drums with enough fire to burn Shadrach, Meshach, and Abednego. Tavares plays with the showmanship of Thelonious Monk, grinning with Tex Avery-like exaggeration and maniacally jerking his head as the notes swirl from the stage. Whitty's stoic presence juxtaposes his mellifluous saxophone playing.
The visceral nature of BBNG's live show and the audience's thrashing encapsulate the group's ethos: Perfectionism doesn't come from studious deference to a music sheet, but from the maximization of a fleeting thrill.
"A lot of people, you hear them play and you kind of know that they're not in the moment," Tavares says. "People are focused on being perfect and impressing people, which is one thing we try not to do."
It's my second day with the band, and the ruckus will come later this evening, in between an opening set by Brooklyn psych-rock trio Sunflower Bean and a headlining performance by DIIV. Right now, it's a little after 3 p.m and time for soundcheck. Tavares' keyboard emits loud thuds instead of swelling notes; Sowinski's drum, which normally howls, simply whimpers. These are the gusts before the maelstrom, the tune-up before lunch. 
Hansen helps himself to the dressing room's snack buffet — an assortment of open bags of chips, an uncovered bowl of hummus, and a half-empty bottle of Naked juice — and Tavares fits in a brief rendition of Red Hot Chili Peppers' "Californication" on a Fender acoustic before they finally agree on grabbing food at a Chinese restaurant near Williamsburg's hub, McCarren Park. To the young crowd already lined up by the House of Vans' garage-door entrance, they're civilians; Sowinski's Picasso Bulls shirt and Hansen's tie-dye tee fit right into the fussily manicured neighborhood's thrift-store aesthetic.
BADBADNOTGOOD — named after a comedy TV show Tavares worked on that never made it past the development stage — grew from a failed school assignment in 2010. After the core trio met at Humber College, Sowinski enlisted Hansen and Tavares' help for a required final recital to be performed in front of a panel of adjudicators. They took a chance and did a medley that included renditions of Gucci Mane's "Lemonade" and Tyler, the Creator's "Bastard." The judges panned it. Sowinski considered the possibility that they just didn't play well enough or that the teachers simply hadn't heard of Tyler, who was just breaking into the mainstream at the time. But he knew he wasn't the problem when he read the comments from the panelists: "It was something like, 'No musical value.' What do you mean no musical value? It's chords, it's melodies. You can't just f**king say that."
The band still believed in that composition and reincorporated elements from it into "Odd Future Sessions Part 1," a shakily filmed, eight-and-a-half-minute medley uploaded to YouTube in April 2011. Tyler himself tweeted the video a day after it surfaced and exposed BBNG to an audience south of the Canadian border. Their self-titled debut album — made after Tavares had a friend hook them up with studio time — dropped later that fall, and fans latched onto the "musical value" that Humber dismissed. It didn't win the professors over, though; Sowinski says that the group received "seething hate mail from a few faculty members" because of their musical style. (Humber College faculty members weren't available for comment, although one professor conceded that Hansen was a "good guy" and another called Whitty a "good tenor sax player" through email). Still, the co-sign was a welcome confidence boost.
"There's, like, seven billion people in the world," Tavares says, "so there's someone who's going to like something and there's going to be someone who hates it with a passion. It just so happened to be that Tyler liked it."
By 2012, BBNG were rubbing elbows with some of music's most notorious recluses, and they still sound starstruck when recalling their encounters. Frank Ocean invited BBNG to be his backing band for his '12 Coachella performance, an invitation they believe came about after Earl Sweatshirt passed along their cover of Sweatshirt's "EARL." They remember traveling to Los Angeles to rehearse and Ocean taking them on a nighttime drive in his Porsche while playing an extended version of his sumptuous breakthrough, channel ORANGE, before its release. They also met villainous hip-hop linguist MF Doom — "no mask, with glasses" — before eventually nabbing a verse from him for Sour Soul.
Eventually, though, BBNG started to stand out on their own, after they began crafting original compositions. If switching up their approach was difficult, it doesn't show on record: 2014's III was filled with thrilling exhibitionism, and on IV, they've managed to chiseled their talents into precise songs. 
But even before IV, plenty of present-day luminaries were already cross-pollinating jazz with R&B, soul, and hip-hop. Those genres are all spiritual cousins, yet many conservatives still their fusion as an act of rebellion against jazz's traditionalist sect — as was the case with Sowinski's professor.
"It annoys me when people say that these new groups are so unique for blending hip hop and jazz — they've never been that far apart," says Robin Kelley, an African-American history professor at UCLA. "Think about someone like Guru with Jazzmatazz and all these different artists who have been operating in this space forever, at least the last 30 years. They end up being dismissed and everything always looks new."
History says that black music is unworthy until it reaches white hands — then it becomes the standard. Miles Davis made 1959's jazz cornerstone, Kind of Blue, he took the genre into the rock age with Bitches Brew, and he outlived New York's once-bustling jazz scene. But he ended his career-spanning 1989 autobiography ruminating about how white musicians often got praised for innovations that he and his peers pioneered: "[They'd] rather push a white person like Elvis Presley, who is just a copy of a black person, than to push the real thing. They give all this money to white rock groups, to promote and publicize them, give them a lot of awards for trying to be like black artists."

BBNG don't explicitly address the fraught cultural history of jazz in their mostly instrumental music, but they at least believe in carrying a high regard for its heritage. To them, jazz is less a musical construct and more an expressionistic tool, an important catharsis for historically marginalized people.

"When we listen to anything, there's no pretense on any social presence," Tavares says. "If it's dope and there's something that you find that reaches you — that's kind of what we're trying to do. All people deserve a complete lane to be expressive in what they do."
Thirty minutes before BBNG's set time, Hansen is sipping a cup of beer at the House of Vans' backstage area amid clusters of people — mostly white, mainly male, largely scruffy. Out of nowhere, he asks, "Uh, who's this performing now?" There's a glint in his blue eyes that hints at a simple memory lapse. Then, without an answer, he leaves the room and joins Tavares near the back of the general audience.
Sunflower Bean is playing, and the BBNG duo bob their heads (Hansen more hesitantly, as if pressured by Tavares' spastic motions). Before the opening act finishes, they move backstage and meet Whitty and Sowinski to hurriedly put their equipment together; they do so in a brisk and methodical way, a stark contrast to the spontaneity that fuels their live show. As they take their positions onstage, the intermission music that's playing through the venue's speakers fades out — then, almost on cue, Sowinski's calves flex beneath his shorts as the snares swell.

The set list veers wildly between virtuosity and madness. Sowinski introduces Whitty as the band's newest official member before his sax notes float over the surrounding chaos on the dazzling "Confessions." Hansen's fingers cavort over his bass when the band moves through a cover of Flying Lotus' Until the Quiet Comes highlight "Pretty Boy Strut," a glitchy exercise that's a free-falling beast in the quartet's hands. IV's "In Your Eyes," sung serenely by Toronto vocalist Charlotte Day Wilson, is the blitzkrieg's sole respite.
The audience steadily gives in: As the show's penultimate number — IV's fast-grooving title track — swings through, a man whose long, curly hair thrashed like an epileptic snake pops up near the front row, embedded within the throng of bodies moving to the rhythm. At least one mosh pit forms when the bloodletting "CS60," a concert staple from III, closes out the night. Stageside, DIIV's Zachary Cole Smith throws his head back on multiple occasions as if to say, Damn, we really have to go after that?
But they do. DIIV take the stage and BBNG again transition from prodigious musicians to civilians. Tavares' perpetual turn-up is over and he's smoking out back, beneath the night sky. Sowinski chats with friends in the same space, and Whitty disappears. Hansen is hanging out by the FDA violation that's masking as a snack bar when a well-meaning blonde woman tells him he "looks like the guy from Clockwork Orange."
"Is that a good thing?" he asks incredulously. (Not really.) 
BBNG will wake up early tomorrow for another interview and a road trip back to Toronto. Even after making the leap from a Gucci Mane-covering trio to an adventurous four-piece in six short years, the work continues for a band of twentysomethings who've been discovering potential in a medium endless with it. What's next for BBNG is still undetermined — Tavares half-jokingly mentions an EDM album might be on the horizon if they develop a hankering for one — but they've willed themselves into getting props during a crucial couple of years for jazz and black art. Take running into Kendrick Lamar at this year's Coachella, for instance. 
"We got to talk to him a little bit," Hansen said to me at one point, recounting the joyful moment with awe. "The first thing Kendrick said was, 'Oh cut the crap, when are we gonna get in the studio?'"