There's been plenty of notable records released this year, but seemingly no amount of great music can fix the industry's declining album sales. Billboard and Nielsen Music (formerly Nielsen SoundScan) released some midyear 2016 sales data today, and so far, 2016 is the worst year for overall album sales since Nielsen started keeping track in 1991. Consumers bought 100.3 million album units — a number that accounts for digital downloads, CDs, and vinyl — in the first half of 2016, down 13.6 percent compared to the same time period in 2015.
Over the same six months, listeners streamed 208.9 billion songs (or 139.2 million album units, according to RIAA and Billboard rules), a 58.7 percent increase. Hidden in that number is a boom in music-only streaming: 113.6 billion audio streams, compared to 58.6 billion in 2015. Video streaming like YouTube and Vevo saw more modest growth: 95.3 billion streams, compared to 2015's 76.6 billion.
Among other unsurprising news in today's report is word that the CD continues to decline, moving just 40 million units in the first six months of 2016 (a decline of 11.6 percent compared to the same time period last year). Meanwhile, the vinyl collector's market is still growing, up 11.4 percent by the same metric, but remains far smaller in terms of actual records: 6.2 million copies sold in the first half of the year.
Percentage-wise, digital album sales are slipping even faster than CDs — they're down 18.4 percent to 43.8 million. The digital download, revolutionary when Apple introduced the iTunes Store in 2003, seems poised to join the CD in the format graveyard.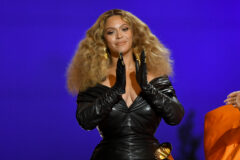 Only three albums have sold more than one million copies this year: Drake's Views, Beyoncé's Lemonade, and Adele's 25. Of course, 25 was released in November 2015, but Adele has been savvier than most artists about encouraging fans to actually purchase her records: The album only became available on Spotify in June. Meanwhile, the late David Bowie's ? is the best-selling vinyl record of the year, moving just under 57,000 copies.