In honor of the recent 20th anniversary of Jay Z's debut album, Reasonable Doubt, we're publishing a series of pieces looking at the rapper's singular career and achievements. Welcome to Jay Z Week.
Jay Z's apartment is messy.
After pushing open the graffiti'd door, your eye is immediately drawn to a staticky TV sitting on a crate and surrounded by a bunch of Sports Illustrated "The Year in Sports" issues and movies in fraying VHS boxes — Boyz in the Hood, Belly, Friday. Bookending an ugly couch is a record player and a boombox, with its dual tape players open and ready to receive the cassettes (and cassingles) of Michael Jackson and Shanice, Bone Thugs-N-Harmony and the Coup, all stacked on a coffee table. Prayer candles are everywhere, but so are dollar bills, fanning out across glass tables. A couple of cockroaches scuttle across a dirty stove and a box of baking soda sits on top of the fridge. The blinds are pulled closed.
Of course, this is a time-warp back to the Marcy Houses apartment where Shawn Carter lived before becoming Jay Z, the most successful rapper of all time. Back at Apt. 4B in the Marcy Projects, Carter was a hustler who was trying unsuccessfully to sell his best product — himself — to a major label. No one was buying, so Jay Z, Damon Dash, and Kareem "Biggs" Burke created Roc-a-Fella Records, negotiated a distribution deal with Priority Records, and a year later, released one of the greatest rap debuts of all time with 1996's Reasonable Doubt.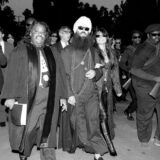 Twenty years later, Biggs has recreated Jay Z's Marcy apartment in Los Angeles as a celebration of that seminal album — and to remind us where they came from. After visiting Apt. 4B this past weekend, SPIN talked to Biggs over the phone about the inspiration for the pop-up, what's still so special about Reasonable Doubt, and the one enduring regret he has to live with.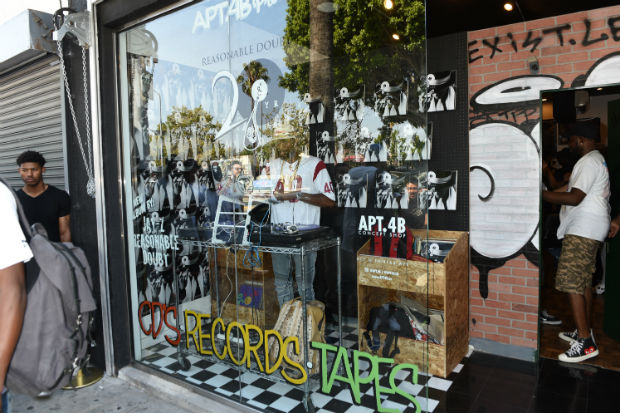 What was the inspiration to do an apartment recreation? That hasn't been done before, has it?
No, it hasn't. Apt 4B is a concept shop, and a friend of mine, my partner with [clothing line] Fourth of November reached out to one of his friends. He said, "Look, if you guys are looking to do something in L.A., I have a great spot, it's called Apt 4B." I was like, "What!? That's Jay's old apartment number!" I talked to the owner and they said, "Yeah, when we're not doing pop-up shops for other brands, it looks like an old New York City apartment that was modeled after Jay Z's old apartment." We just added a few things that we knew was in the apartment at the time to give it that better aesthetic.
How many times had you been to Jay's old apartment?
Probably five times.
How did you remember those details? It was pretty thorough, down to the dirty stove and fake cockroaches!
[Laughs.] Well, I don't think we needed to look at Jay's apartment for that. Every apartment in the projects looks like that! Once you've been to one, you've been to all. Only difference would be the bed — one might have a blow-up, one might be a spring.
Did Jay contribute in any way? Or was it all your brainchild?
It was all mine. As far as support, he's always been there and been behind what I wanted to do even if it's aside from business we have together. But this is obviously commemorating the 20 years, and celebrating our first album. He was all on board. I told him, "Don't worry about it, it's turnkey, I'll take care of everything. Just show up." And that's exactly what happened.
What was his response?
Oh, man. He went crazy. He was like, "Man, the detail in here is crazy." I've seen Jay several times over the past year, but that Saturday, having a toast, telling the jokes, laughing … we laughed for over an hour. There have been a lot of changes, but all the pictures that came out, it's just laughing. Fifty pictures and we're just smiling and enjoying the moment. You wanna be able to share that moment with people who've been there for the whole ride.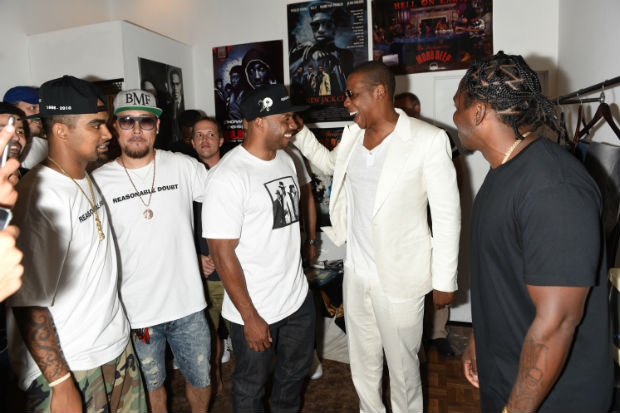 What was the energy around the album back in '96?
I think it was a lot of excitement because we knew the project we were sitting on. We knew the producers, how it was sounding lyrically and sonically. And we knew from the response [to] the sampler tapes that it was something highly anticipated. All the groundwork put in over the [previous] two years with Jay Z performing on the chitlin circuit, to really taking over Esso's and Sweetwater's, and the country club that Maria Davis hosted Mad Wednesdays at — people could not wait for this album to come out. The excitement was through the roof.
Did you ever have any moments of doubt?
No. Not at all. That's why it was [called] Reasonable Doubt — we were letting the people be the jury. But for us, there was no doubt. None at all. In making that album, we knew Jay Z was the best artist at that time.
Do you have an regrets about how you handled Roc-a-Fella or Reasonable Doubt?
"Regrets" might be a strong word — but there's definitely things I wished I had done different. Especially early on, the way the business was done. The deal we signed for Reasonable Doubt, even though it was independent, wasn't as lucrative as we thought it would be. And moving forward, a regret would be not bringing Kanye back to Def Jam and keeping him under the same deal along with Young Guns, to sign him somewhere else where we would've done a co-venture.
Looking back on Reasonable Doubt today, what was it that made it so special?
I think that independent spirit. The three guys that were the driving point for the success of the album. But not only that — I think it's really the unsung heroes as well: Emory Jones, Tata, Bee-High, who's Jay's cousin and who was real instrumental in putting things together. And I think that, along with my friend Terrell Mackie from Harlem, the guys that supported the lifestyle and were with us the whole way made Reasonable Doubt [what it is].
When Jay would make these songs and verses, in his mind, he knew who he was impressing at that time. He might make a song and be like, "Oh, I know Emory is gonna go crazy when he hears this, or Tata when he hears this line. Or Bee-High is gonna go down memory lane when I talk about the situation in 'D'evils' or 'Regrets.' Or Rell, being form Harlem, is gonna be really impressed with this hustling story and talking 'bout money, this and that." That album was really made for his friends, to impress us. And without those guys' support, I don't think us three would have been at the level we were at.