Icelandic music legend Björk has already released a limited-edition live version of her 2015 album Vulnicura, but she's gearing up to release yet another special live packaging of the record according to her online store. There are, of course, the requisite CD and vinyl versions of the LP, but most intriguing of the three items available for pre-order is the "Luxury Boxset," described as follows:
the vulnicura live luxury edition boxset will contain a double lp in gatefold sleeve, a cd version of the live album, a 320kbps mp3 download card, a set of 6 photo prints housed in a glassine sleeve, together with an exclusive 3d low polygon bjork moth paper mask in pieces to build with its own set of instructions included.
The mask, per Björk, was "developed in collaboration with wintercroft and based on a james merry original design. boxset designed at m/m (paris). specifications subject to change during manufacturing."
As for what music will appear on this iteration of Vulnicura, "the album is made up of Björk's favourite performances from her 2015 tour, including all songs on Vulnicura plus some of favourites from previous works."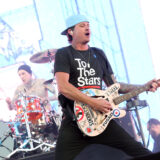 The bundle will ship in September, and retails for £59.99, or roughly $85 in U.S. currency.