Welcome to our weekly roundup of the SPIN staff's favorite new songs. Below, sample the best from pop-punk forbearers, Canadian rap dieties, and more.
ABRA, "CRYBABY" (True Panther Sounds / Awful Records)
Ghost Town DJ's "My Boo," which is still charting two decades after its release, blended high-BPM Miami rhythms with shimmering R&B vocals — an odd-on-paper combination that has somehow translated into a commercial hit. That sort of blend doesn't always soundtrack good times, though. ABRA's "Crybaby" arrives in time for the summer but plays out like the gloomy obverse of Neneh Cherry's hip-pop banger "Buffalo Stance." Its lineage is far from the only noteworthy detail about "Crybaby," though. ABRA sounds slick expressing intimacies with poetic specificity: "I am not Poseidon but I ride him in riptide love" The Princess EP, which arrives July 15, should be a summer standout. — BRIAN JOSEPHS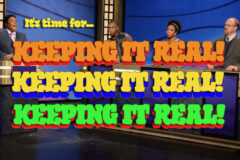 D?WN, "Serpentine Fire" (Adult Swim)
Quiet as kept, D?WN (a.k.a. Dawn Richard a.k.a. former Danity Kane member) has been on a mission to take over the electronic-dance scene — and between this and the fiery "Not Above That," she's succeeding. "Serpentine Fire" is the third track off of the latest Adult Swim Singles Mixtape, not to mention the perfect tease as we wait for the forthcoming RedemptionHeart. It's a bouncy, quick-paced dance number that doesn't drown out D?WN's echoing requests to "light the fire." If you plan on throwing any raves this summer, add this one to the playlist. — MAYA LEWIS

Descendents, "Victim of Me" (Epitaph)
It's been 12 years since these California punk gods released a record, but that's all changing now that they've confirmed a seventh studio album, Hypercaffium Spazzinate, and dropped its lead single, the minute-and-a-half charger "Victim of Me." Such a prolonged absence has, of course, led to a stockpile of complaints to air, and frontman/longtime Descendents avatar Milo Aukerman has indeed had it — this time, with himself: "I'm not gonna fight with me / Just turn away / And stop wandering aimlessly." — RACHEL BRODSKY

Drake, "4PM in Calabasas" (OVO Sound)
The Views from the Six got you down? Stop by Calabasas, where Kris Jenner's always a honk-and-a-hello away, swipes at Puff Daddy are welcome, and the rosé flows as freely as Brolic Drake at his best. If this joint had made it onto Aubrey's latest sad-sack epic, it would've been top five, no debating. (Top five, top five, top five.) — KYLE MCGOVERN

Haux, "Seaside" (Akira Records)
Berkshires-born electro-folk singer Woodson Black — a.k.a. Haux — knows what it is to constantly deconstruct the past, a habit he hopes to break on the intimate, ominous "Seaside." Appearing on his debut EP, All We've Known (out July 8), Black's oceanic reverie meshes a minimal beat with a looping keyboard melody. "Tell all our worst lies / Wait till they sink or swim," Black muses. Sounds like he'd prefer the former. — R.B.

Merchandise, "Flower of Sex" (4AD)
If you can get past the slightly squick-y title, Merchandise's new one-off track, "Flower of Sex," is a gloriously dark and sensuous plunge into shoegaze angst. The biting guitar solos are almost smothered in the song's densely atmospheric feedback — almost, but not quite. Lead singer Carson Cox directed the track's lush, color-splashed video, and it might be a minute before we look at a flower garden the same way again. — ANNA GACA

Two Fresh, "TWOsDay IV" (Self-Released)
Nashville-via-Los Angeles twin-brother duo Two Fresh chop up Chance the Rapper's "Blessings" reprise into even smaller miracles, chipmunking the song's rapturous "Are you ready for your blessings?" outro over a heavenly cloud of puffy low-end, silver-lined synths, and claps that sound like the prayer-hands emoji repeatedly coming together. You know what they say: When the treble goes up, the bass drops come down. — ANDREW UNTERBERGER