It's a sweaty mid-April afternoon in Beverly Hills, and Uffie's pacing around a pebble-strewn pathway, lit cigarette in hand. We're in the backyard of producer Benny Blanco's private Los Angeles home and the singer/rapper — born Anna-Catherine Hartley — is psyching herself up for her first photoshoot in half a decade.
"It's been a while," she says, letting out a bit of nervous laughter.
Yes, it certainly has: A precursor to the radio-friendly hip-pop of the early 2010s, Uffie burst onto cool kids' radars in 2005 with a self-assertive attitude and a keen understanding of how to captivate a crowd, racking up festival appearances at Coachella, London's Lovebox, and Barcelona's Sónar. She followed her occasionally confounding but undeniably vital debut album (2010's brash and urgent Sex Dreams and Denim Jeans) with several years of breakneck touring, and then… nothing — professionally, anyway. After nearly a decade of hustling, the singer, now 28, receded from the spotlight entirely.
Two months ago, though, Uffie reactivated her social media accounts. A Facebook message in early April: "Two more days until I am back in studio… cannot wait to continue this magical record for you all!" At the moment, she's just shy of 200,000 Facebook fans. The wheels are turning.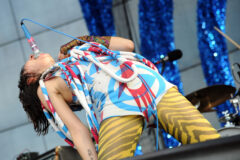 Now living in Seattle, Uffie decided she was ready to record again after her recent divorce from the father of her second child. During a quick trip to Los Angeles in early February, she went to a showcase thrown by Blanco's record label, Friends Keep Secrets. Outside Blanco's house at the show's afterparty, she met pop producer Ammar Malik, the man responsible for Maroon 5's hugely successful "Moves Like Jagger" and Nick Jonas' gnashing 2014 single "Chains." They shared stories — she of her two children, he of his nieces and nephews — and realized there was a friendship there.
After connecting, Malik and Uffie booked sessions together just for fun. That was two months ago. Since then, the pair have recorded seven promising demos, and Uffie's now planning her proper sophomore album. "I [used to take] a stance that I was cool and underground and didn't like pop," she says. "But he's introduced pop to me in a way that I really understand and respect now."
The pop world has changed drastically since Uffie last stormed her way through the strobing synths of yesteryear, a fact she's mindful of. Fans pay more attention to what's happening behind the scenes; producers and songwriters are often as revered as the artists they're paid to enhance. It also, of course, bears mentioning that white women who rap haven't exactly curried public favor.
But the culture's not the only thing that's evolved. Uffie herself is a different woman — and mother — than she was when 2006's shimmering "Pop the Glock" ruled the web. With two very private divorces, several changes of scenery, and a quiet but onerous flameout all behind her, she's ready to move forward. But the question lingers for her fans: Where the f**k has Uffie been?
[featuredStoryParallax id="192315″ thumb="http://static.spin.com/files/2016/04/UFFIE-LA-resize-2500px-38-300×138.jpg"]
Born in Florida in 1987 to a Japanese mother and a British father, Uffie had an international upbringing, moving to Hong Kong at the age of four (she can still count to ten in Cantonese). She jumped back to Fort Lauderdale as a teenager with her mom after her parents split up before quickly jetting off to France to live with her father, studying at the International School of Paris.
She wasn't musical whatsoever as a child. "I was a dancer," she says. "I would sing stuff, but my parents never gave me music lessons. Everything I know is self-taught. That innocence makes me who I am as an artist."
In 2005, Uffie picked up a mic for the first time at the behest of a DJ, then-boyfriend Fabien Pianta (whose stage name is Feadz). She wrote and rapped her first-ever song, "Pop the Glock," that year, which quickly found its way to Pierre "Busy P" Winter, Daft Punk's longtime manager and owner of the French electronic record label Ed Banger. Winter heard something special in Uffie's voice — a bright burst of youthfulness matched with hard-scrabbled lyricism and off-measure rapping — and signed the teenager.
"She did not know how to rap or sing," Winter tells SPIN via email. "Feadz was a real musical conductor for her. He used her voice as an instrument. It makes it unique. I immediately wanted to sign it on the label."
Several EPs and singles followed, including 2007's two-track Suited and Looted and standout jams like "Robot Oeuf" and the chest-thumping "Dismissed." Uffie became an in-demand voice for other artists hoping to capture a piece of her disaffection. Crystal Castles chopped up her vocals on their (leaked) 2008 banger "Make It Hott"; Justice scooped her up for their † single, "TThhEe PPaARRtTYY."
As Uffie's popularity grew, Ed Banger's founder felt her career slipping out of his purview. "Uffie was an amazing project when it was about a little girl having fun with Feadz and [house DJ] Mr. Oizo," Winter wrote in a 2014 Reddit Q&A thread. "It was fresh and new in 2008. Then, it became bigger and with more people involved… I lost control and lost the vibe."
"At the beginning she was the DJ's girlfriend," Winter adds in an email to SPIN. "Feadz and Uffie were real party animals… Her music was made of blood, sweat and tears. Feadz was a hard worker, he was pushing her to give her best in the studio. They were a couple in love, but sometimes it [sounded] like Tina and Ike."
Though Uffie racked up adulation and a strong fanbase early in her career, her music elicited gendered critiques and brutal takedowns. "The production is lovely, but the vocals and lyrics – in other words, her own contributions – are just stone-cold awful," one of many commenters wrote in a PopJustice forum thread in 2010.
"Let's face it," an iTunes reviewer agreed. "Uffie can't rap."
To say Uffie can't do those things overlooks her central appeal; born of the blogs and formed in the eye of the late-'00s Euro-pop that dominated New York City — interchangeable trance staples like Nadia Oh, Sébastien Tellier, and Space Cowboy — Uffie's fundamental allure is how brashly her music colors outside the lines. She knows she's not a traditional pop star, and not only does she wear that, she throws it in your face. "I'm an entertainer, not a lyricist," she disaffectedly raps on "MCs Can Kiss." It's music as confrontational performance art.
Her voice itself exists somewhere between straight-faced spoken word and sharp, faux-accented rhymes, cycled through a tinny processor. Lyrically unafraid to check a bitch, Uffie's early songs quote Diddy (cribbing "Don't worry if I write rhymes / I write checks" from "Bad Boys For Life") and rep for partying, gossiping, and boasting. "Deadly when I start to shoot / My load is pretty heavy / But you swallow 'cause you think I'm cute," she sneers on Mr. Oizo's "Steroids." At a time when Katy Perry's kitschy, PG-13 "I Kissed a Girl" was topping the charts, Uffie was rhyming freely in French about sex, drugs, and never-ending nights.
[featuredStoryParallax id="192877″ thumb="http://static.spin.com/files/2016/05/UFFIE-LA-resize-2500px-55-300×139.jpg"]
Within a few years, Uffie graduated from the blogs to Balenciaga, joining stars like Peaches Geldolf in the front row at Paris Fashion Week and designing a line with Diesel for their spring collection. "Pop the Glock" played during an episode of Gossip Girl, the zeitgeist-strangling CW show that briefly dictated what was in or not for the city kids. In 2010, there was no question that Uffie was very much in.
That same year, she dropped Sex Dreams and Denim Jeans on Ed Banger, a bold, frenzied album that highlighted Uffie's uncanny ability to spit, half-sing, and sneer in the same breath. It's music that predated and inspired the white-girl pop-rap that would go on to dominate Top 40 a few years later (Charli XCX has cited her as an influence), but none of those Uffie-ripping acolytes sampled the Velvet Underground's "Rock & Roll."
Uffie can look objectively at Sex Dreams now — "I think a childish voice from a teenager mixed with these sick beats really did create a new sound," she says — but her face crumples when discussing it.
"I had no confidence as an artist because I got thrust in as a teenager," she says, looking back, our feet dipped into Blanco's heated pool. "I had this guilt complex [about its success] because the people who were opening for me had worked so hard for so many years to get there, and I felt like I hadn't earned it."
She was also, at the time of the album's release, embracing motherhood, having given birth to Henrietta — her daughter with graffiti artist and then-husband André Saraiva — in 2009, at the age of 22.
"I wasn't happy, and I think that became very clear very fast," she remembers. "It felt a little bit like child slavery that I enslaved myself in. I wasn't ready for it. I didn't see myself as an artist."
Sex Dreams, Uffie admits, doesn't embody any of her truth. Instead, it's largely the product of her collaborators without much of her own input. "I was, like, crying, gagging in my mouth when I used to record," she says. "There was nothing organic or natural about it. It was just so stressful. It wasn't fun."
The album wasn't received kindly by critics either. "You wonder if they should have bothered," The Guardian wrote of Uffie's collaborators. NME gave it a zero out of ten. "She's missed the boat completely now," added Drowned In Sound.
Sex Dreams' most telling moment in that regard comes not at the apex of its singles — "Pop the Glock," the Pharrell-featuring "ADD SUV," and "MCs Can Kiss" — but during the only Feadz and Oizo collaboration on the album, "Our Song." Over a skipping guitar and a quietly shimmering tambourine, Uffie cracks open and gets honest. "I never claimed to be an artist / I can't even sing, you know? / Everything happened so fast / And I never knew I could get used to it / Now I'm kind of trapped in something shiny." She pauses. "Am I worth it all?" she asks. "Do you believe in me?"
[featuredStoryParallax id="192219″ thumb="http://static.spin.com/files/2016/04/UFFIE-LA-resize-2500px-84-300×144.jpg"]
At 16, Uffie began living her life almost entirely on the road. "I held place a lot in Paris, and then did a month in Berlin for another project, a month in London," she says, tracing the timeline with her finger in the air. "But I never had a home. I lived out of a suitcase."
Raising a daughter as a young mom became difficult as the touring increased. "My daughter would have a nanny that lived there, but it got to a point where she was the mom, and I was the dad who'd be home on Monday and Tuesday, trying to go from one life to another," Uffie says. "It was awful."
Though fame obviously had its benefits, Uffie struggled with a relentless promotional cycle. "It'd be, 'Tonight we're flying to Hong Kong, we're playing for Diesel to unveil my new collection, then we have to go to this dinner and you can't sleep, but then we get to fly business class to go to Tokyo for this festival.' And I was just like, 'Oh, we're not in the back of planes anymore,'" she says. "But when it happens so fast and you're struggling to keep up, you don't have a minute to step outside. Yeah, the crowds were getting bigger, and I noticed things like the schedule getting more hectic, but that's it. I just didn't have the confidence to be able to accept it."
Beyond the nonstop schedule, Uffie was learning to balance motherhood with her stage persona. "[That time] was a bit traumatic," she says of the Sex Dreams era. "I became a mom really young, and I tried to balance… I don't want to say 'growing up in the spotlight,' but [starting out as a] 16-year-old, you're going to f**k up, you're going to make mistakes. And I felt like people really encouraged that, and it was amplified, because it was online. It just started to crush me."
The lifestyle began to take a toll as Uffie struggled to keep up appearances. "I felt like every night I had to be what everyone thought I was: the fun party kid," she says, furrowing her brow. "And that was their fun night of the week, but for me, I had to be on like that every day. That catches up with you. I started to get angry at crowds. I would just be, at a certain point, mocking [them] 'cause I was just so over it. It's party music, and that's fun, but when you're doing it Wednesday through Saturday for years, you just don't feel that way anymore."
As she approached mainstream recognition, Uffie suffered what she calls a breakdown. "I had a bit of a freakout, and had to go rest for two months in a clinic," she says. "It wasn't a drug thing or an eating disorder, it was more just, 'I'm not okay. I don't know who I am anymore.'"
After her voluntary stay in the clinic, Uffie returned home. Her managers immediately thrust her back into the same intensive routine. "I was like, 'This is everything they told me not to do!'" she says. "After I [gave birth to] my daughter it was like, 'You're with a personal trainer every day. You can eat boiled chicken. You live off these diet pills.'"
She's talking more rapidly now, growing angrier. "I wasn't eating enough, I wasn't sleeping enough," she says. "Eventually I was like, 'I will not survive this. This isn't okay. It's not worth [losing] me as a person.' I just became a shell."
In July of 2012, Uffie stalled out. The same night she was set to DJ a later dismally received show in Shanghai, she learned her mother was dying of cancer back in Florida.
"My mom went through three weeks of chemo and radiation," she recalls. "We had a really hard relationship, so I was like, 'You gotta be there.' I canceled the rest of my shows [except that] one specific DJ set in Shanghai. That got terrible reviews. Everyone gave me so much s**t, but I'd just found out my mom was dying."
After finishing her Shanghai gig, Uffie flew home. A month later, in September of 2012, she found out she was pregnant with her son, her first child with her second husband, whom she married in 2013. An hour later, her aunt called from Florida to let her know her mother had died. "It was a jolt in my existence," she says quietly.
Unbeknownst to most, she'd actually already recorded almost an entire full-length sophomore album at the time of her mother's death. "I remember going to the south of France, because that's my safe haven where my dad is," she says. "I came up when I was eight months pregnant to record, and the night before I was like, 'I don't f**king want to do this. Why am I doing this? F**k everyone, I'm gonna do me and have my own life.'"
Scrapping the album entirely — which she'd worked on with the French house duo Cassius — Uffie instead moved to California's Joshua Tree with her children. "The whole backyard was a national park," she says of her escape from the music world. "I wore caftans, painted, sewed clothes, and cooked… every day for two years. It was bliss. I literally stopped talking to every single person except my dad and my sister."
She released a cover of Tom Tom Club's "Wordy Rappinghood" in 2011. Then, silence.
[featuredStoryParallax id="192221″ thumb="http://static.spin.com/files/2016/04/UFFIE-LA-resize-2500px-511-300×138.jpg"]
While raising her children in Joshua Tree, Uffie began pursuing a bachelor's degree in biochemistry in the hopes of becoming a biologist. "I was really scared at the beginning [of my time there]," she says of starting her new life. "I'm like, 'Who are you?' 'Cause… I wasn't me. I just became what people projected."
She enrolled at a local community college — "I had a 4.0, not to brag," she says with a smirk — hoping that her new direction might stick. "I was like, 'If you're gonna do something, and start your life over, do it for something that means something,'" she says. "And I loved it, and it was great."
That happiness lasted until late 2015, when Uffie divorced her second husband, photographer Mason Poole. "It's very amicable," she promises, declining to speak at length about her relationships. "We both were just like, 'Look, let's not hate each other, let's be good people and good parents together.'"
In December, she moved to Seattle to be closer to her sister in the hopes of re-grounding her life, but realized after a short while that she was itching to record again. This time, she promised herself, she'd be in control.
"It burned me hard," she says of her first go-around. "It was too much, too fast."
[featuredStoryParallax id="192879″ thumb="http://static.spin.com/files/2016/05/UFFIE-LA-resize-2500px-14-300×133.jpg"]
Her March sessions with Top 40 powerhouse Ammar Malik, pop top-liner Kevin Snevely, and Walking Shapes guitarist Nathaniel Hoho have yielded seven muscular demos — nine if you include two early-stages, dance-heavy tracks Uffie plays me poolside once her team leaves for the night. Songs like the charmingly rough-around-the-edges "Tied Up," "Uffie's Pirate Ship," "F**king Ghosts," and the emotionally walloping "Halloween" show impressive range. Some deliver urgent, thrashing pop-punk; there's a tuned-in ballad with lyrical depth; and Uffie being Uffie, there are plenty of rap-inspired bangers. It's a delightfully weird collection held together both by Uffie's beaming enthusiasm (you can practically hear her grinning on these tracks) and naked honesty.
"[When we started] I was like, 'Ammar, can we just do a folk album?'" she says with a laugh. "I was like, 'No rapping.' And he's just like, 'I'm sorry, Anna, but you're kind of a rapper.'"
Malik says working with Uffie has been a transformative approach to production for him because the two forged a friendship first, rather than meeting through an arranged label pairing. "[I'd ask] what kind of sound she was going for [and] Anna's the kind of person that will respond, 'I think I'm feeling like the bunnyman suit, Donnie Darko vibe,'" he says over the phone from Los Angeles in early May. "It made it really fun and exciting to kind of be like… 'Okay… what is she trying to say by that?' It was just such a refreshing approach."
Sex Dreams boasts a few pop-minded hooks, but it was very much an album in contrast to Top 40's polished chorus-and-verse structure. Uffie's new work, however, doubles down on the collaborative process — she's credited on fewer than half of the songs on Sex Dreams — and sharpens the songwriting. "Working with these guys, they're like, 'No, you can do this,'" she says. "They're making me feel confident as a writer, foremost, and as an artist, where I never recognized myself as either before."
"All those records aged really well," Malik says of Sex Dreams. "They kind of feel almost more current now than then. So I'm finding it not all that difficult to bridge the gap."
As the sky turns from blue to inky black above us, a slight breeze rustles through Blanco's backyard and Uffie pins down what her new record is meant to achieve. "Right now, this project is about art," Uffie says emphatically. "It's about what we all want to make. It's my album, but it's a band project in a way."
"It's almost more you now because we're taking you to avenues that otherwise you weren't [going to]," Hoho says from the other side of the pool, where he's been listening. "It feels like maybe before you didn't know how to voice yourself but now it's just expanding your voice."
"I was a bit too early for my own time and I think maybe that's why it became so stressful," Uffie admits. "Because I was the only one pushing against the grain, and when one little beetle is doing that, it's a lot harder than when it's a whole team of them. But now, f**k all that. I'm just doing my own thing."
The reception to her return has been positive based on social media alone, Uffie says, but even if it hadn't been, she's developed a new way of thinking to prevent excess stress and outside forces from puncturing her confidence.
"It's nice how everyone's remembering it fondly and everyone's excited," she says, "But then you worry: 'Will they want me to be the dirty bitch that you were before? Will they accept me progressing? And if not, will a new audience be open to it?'" She pauses. "That's not my role. The one prop I'll give myself is I don't give a f**k about them."

Uffie's far from finished with the album. Though she initially intended the project to be a comeback EP, the five-or-so sessions have been going so well that she's currently planning a full-time move back to Los Angeles. She's also hoping to rope in pop producer Ricky Reed — responsible for radio smashes like Jason Derulo's horn-heavy "Talk Dirty" and Meghan Trainor's recent shift towards electro-pop, "NO" — for some tinkering and polishing of the songs she's already tracked. When she finds out I'm actually (un-relatedly) headed to Reed's studio the next day, she muffles a shriek and claps her hands.
"This is fate," she says, her eyes glimmering. "Things happen for a reason."