Few cities continually beget bands with such resolute ethos and high capacity for rock'n'roll as Philadelphia. One of the area's newest acts, Thin Lips — who label themselves as "Punk for your sensitive side as played by four buds who would gladly water your plants if you asked them to" — carry on the City of Brotherly Love's spirit. The four-piece, strung together with ex-Dangerous Ponies members Chrissy Teashjian and Kyle Pulley and Superweaks drummer Mikey Tashjian (along with guitarist Chris Diehm), made their Thin Lips entrance with the 2015 debut EP, Divorce Year. Now, through hometown label Lame-O Records, the band is releasing their debut full-length Riff Hard, out May 20.
Taking its name from singer/guitarist Chrissy Tashjian's knuckle tattoos, the record does just that. As promised, the ten-track album delivers pop-punk laced with urgent howls and labyrinthine runs in just under 30 minutes. Slowing briefly and gracefully, the album hangs up its hurried melodies for "What's Wrong" and closer "Breaking Up And Breaking Down," showcasing Thin Lips' truest strength: their ability to unexpectedly but smoothly switch things up, both within their music and their scene. As Tashjian urges, "I won't settle for anything less," we know she means it.
Ahead of the May 20 release, you can pre-order the vinyl here, (and the digital version here), and check out Riff Hard and its cover art below. Alsomake sure to catch Thin Lips this summer on labelmate Modern Baseball's Holy Ghost tour with Joyce Manor — details are below.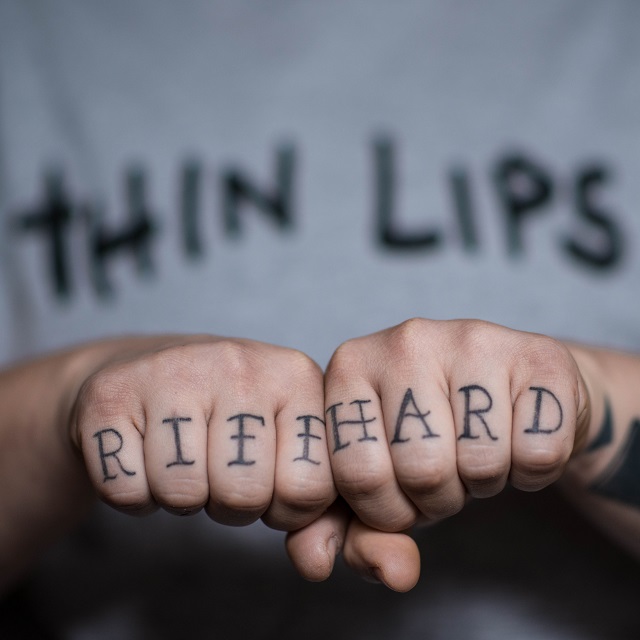 Thin Lips tour dates:
May 18 — New York, NY @ Shea Stadium
May 19th — Philadelphia, PA @ Everybody Hits
May 25 — Nashville, TN @ Exit/In
May 27 — Houston, TX @ House of Blues
May 28 — Austin, TX @ Emo's
May 29 — Dallas, TX @ Gas Monkey
May 31 — Phoenix, AZ @ The Pressroom
June 1 — San Diego, CA @ House Of Blues
June 2 — Santa Ana, CA @ The Observatory
June 3 — Pomona, CA @ The Glass House
June 4 — Los Angeles, CA @ The Echoplex
June 5 — San Francisco, CA @ The Fillmore
June 7 — Portland, OR @ Hawthorne Theater
June 8 — Seattle, WA @ Showbox
June 10 — Salt Lake City, UT @ The Complex
June 11 — Denver, CO @ The Summit
June 12 — Lawrence, KS @ Granada
June 14 — Minneapolis, MN @ Mill City Nights
June 15 — Milwaukee, WI @ The Rave
June 16 — St. Louis, MO @ The Ready Room
June 17 — Cincinnati, OH @ Bogarts
June 18 — Cleveland, OH @ Agora Theater
June 19 — Toronto, ON @ The Opera House
June 21 — Pontiac, MI @ The Crofoot
June 22 — Pittsburgh, PA @ Altar Bar
June 23 — Boston, MA @ House Of Blues
June 24 — New York, NY @ Irving Plaza
June 25 — New York, NY @ Irving Plaza
June 26 — Philadelphia, PA @ The Fillmore
June 28 — Baltimore, MD @ Baltimore Soundstage
June 29 — Richmond, VA @ The Broadberry
June 30 — Carrboro, NC @ Cat's Cradle
July 1 — Orlando, FL @ Beacham Theater
July 2 — Ft. Lauderdale, FL @ Revolution
July 3 — Tampa, FL @ The Orpheum