Three hundred and sixty-four days a year, Sweetgreen is a wildly popular chain of salad restaurants on the East Coast and in California. On the 365th day, it's a music festival organizer who'd also like to sell you lunch. Sweetgreen's festival is called Sweetlife, and since 2011 it's taken place at Merriweather Post Pavilion, the leafy concert venue in suburban Maryland made famous by an Animal Collective album. It's not just some small-scale, local show, though: This year's show, which took place on May 14, was headlined by Blondie, Grimes, the 1975, and teen-pop superstar Halsey. Last year, Sweetlife hosted hip-hop savoir Kendrick Lamar (fresh off To Pimp a Butterfly), breakout superstar the Weeknd, and alt-rock heroes Pixies.
"It's a celebration of this lifestyle that we talk about, this idea of the sweet life," Sweetgreen co-founder Jonathan Neman told me over the phone the week before the festival's 2016 installment. "So it's a depiction of that but it's also this idea of this intensity, that you can have a really fun day and also be healthy at the same time." With help from mentor Jon Cohen (a co-founder of Fader magazine) and D.C. live-music kingpin Seth Hurwitz (who runs the legendary 9:30 Club), Neman's company has successfully attracted A-list talent to perform at a well-regarded venue, and the showcase comes with a built-in audience: the customers and social media followers of the region's trendiest fast-casual chain.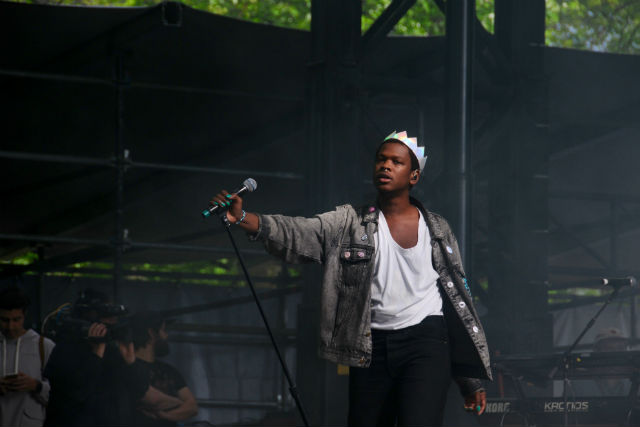 Let's get this out of the way: I'm a millennial. Modern marketing is a weird race to capture me and my disposable income. Drake and Chance the Rapper have exclusive deals with Apple. Red Bull has a "music academy" and a record label. Leggings brand Lululemon hired Yeasayer and St. Lucia to play at their half-marathon in Vancouver last year. And a salad restaurant founded by young men with fashionable taste runs a music festival and puts concert photos in its dining rooms and online. I eat at Sweetgreen; I even have the app. In the New York City-centric wellness media, the chain's fast, pricey salads are synonymous with the image of health, prosperity, and busyness that so many of my generation aspire to project. But could I be trying harder to optimize my well-being in my leisure hours? If I felt like a ridiculous self-parody ordering a salad called "Beets Don't Kale My Vibe," was it because I didn't really fit in with the rest of the clientele? I had to know: So, I went to Sweetlife.
I imagined a pop-up salad buffet, an impromptu yoga class beneath the trees, a volunteer to reapply my zinc-based sunscreen every 90 minutes. And in some ways, Sweetlife was super wholesome: free seltzer water, nap pods, vegetarian options that looked legitimately good. Ads for a local produce wholesaler played between sets by DIIV and Mac DeMarco (yes, he played "Salad Days"). The VIP tent was crowded with live plants and offered lattes on tap.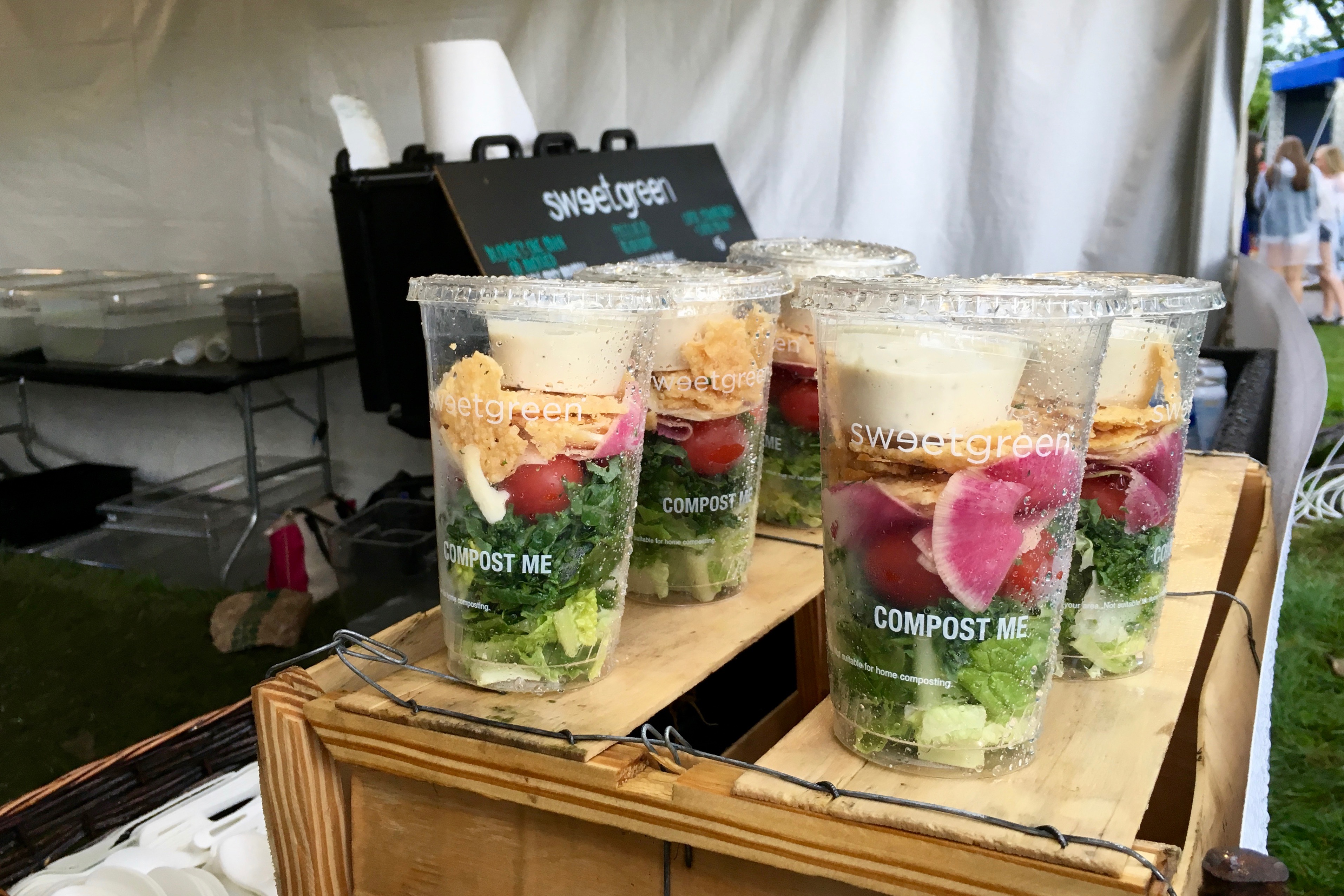 In most respects, though, Sweetlife was a music festival like many others. The chain's stores are sleek and full of baby lettuces, but Merriweather Post Pavilion feels like a summer camp and sells $12 pizza slices. Maryland weather was not feeling the sweet life: It rained twice, and the Pavilion's unpaved areas got muddy. The suburban location, single-day commitment, and end-of-the-school-year date drew a lot of high-school and college students. (The Pavilion also hosts the local Warped Tour stop.) According to an analysis by social media data company Crimson Hexagon, more than half of people discussing the 2015 festival on Twitter were under age 34, and they were 137 times more interested in the topic of "high school" than Twitter users in general. The majority of the 2016 crowd looked too young to drink.
But just when I'd see someone smoking a cigarette while eating cheese fries and start to feel like I was at a regular festival, I'd ask them about Sweetgreen. More than one person volunteered the brand's origin story (Neman and his co-founders met at Georgetown University) with the kind of familiarity most startup CEOs would kill for. Consultants Will Blake, 27, and Matt Hatton, 26, told me they eat salad for lunch three times a week, and both got free tickets to Sweetlife by clicking a link sent to the brand's mailing list. Twenty-year-old Sam Tabor could name the Sweetgreen location closest to her house in Manassas, Virginia, and knew offhand how long it took to drive there (40 minutes with traffic). Another analysis Crimson Hexagon ran in 2015 showed that the interests of people who discussed Sweetlife online aligned closely with the interests of people who mentioned Sweetgreen year-round (among them: "R&B," "health," "fitness," and "digital media"), suggesting that the festival reaches at least some aspects of its target demographic.
Sweetgreen presents the event as a showcase for youth and health, but it's also a platform for brands that aim to sell a youthful, healthy lifestyle. The seltzer water was from Massachusetts-based Spindrift. The nap pods were sponsored by mattress start-up Casper. There were freebies from Postmates delivery service, La Colombe coffee, and Vega protein powder. Another dozen companies secured on-screen logo placement, among them subscription club FitBox; "smart water bottle" HidrateSpark; Kind snack bars; Jessica Alba's natural products line, the Honest Co.; ex-Lululemon founder Chip Wilson's Kit and Ace luxury apparel; and something called Joola, which turned out to be a brand of ping-pong table. Overzealous festival sponsorships aren't anything new, but the concentration of health-oriented and tech-adjacent products made IRL feel oddly Web 2.0.
But how many of Sweetlife's young attendees are laundering their sweaty ping-pong duds with natural detergent while rocking cashmere joggers, slamming a vegan protein shake, and ordering a salad via courier? Hidden within the young crowd was something of an inter-millennial generational divide. The high school and college students I talked to didn't find it particularly strange that a restaurant would book national headliners for its own private festival. People in their mid-twenties and older had more reservations. "They have a passion for music, obviously, if they're willing to pay money to set this up," Hatton concluded. Photo editor Cory Lawrence, also 26, put it more bluntly: "They're really going beyond their brand with a music festival. No one really knows why it exists."
Sweetlife looks like a branding coup, but it faces steep competition as an event. Summer music festivals, like healthy food, operate in a crowded market where lasting success is uncertain. The East Coast has a highly concentrated population, many colleges, and a lot of music festivals. Another branded festival, Virgin FreeFest, took place at Merriweather Post Pavilion but called it quits in 2014. Within a few hours' drive of the Pavilion are Boston Calling (May 27 through 29), Firefly Music Festival (June 16 through 19), Newport Folk Festival (July 22 through 24), a half-dozen festivals in Pennsylvania, and all of New York City's competing festivals: Governors Ball, Panorama, North Side, and Afropunk, most notably. Landmark Festival debuted in nearby Washington, D.C. in 2015, but quietly postponed its next event until 2017. Blake and Hatton might have paid $100 for Sweetlife tickets, they said, if they hadn't already shelled out for Firefly in Dover, Delaware, a month later.
Sweetlife isn't a mega-festival. Depending on setup, Merriweather Post Pavilion's capacity is somewhere between 15,000 and 20,000, Neman said. The company declined to give any numbers on the festival's cost or revenue; Sweetlife upgraded to two days in 2015, but this year returned to Saturday only. ("We're a company that believes less is more," is all Neman would say about the 2016 schedule change.) On Friday night, with rain in the forecast, $100 general admission tickets cost $50 on D.C.-area Craigslist. Seats in the $175 VIP section never filled up, even after the 1975's heartthrob singer, Matty Healy, invited people on the lawn to come down.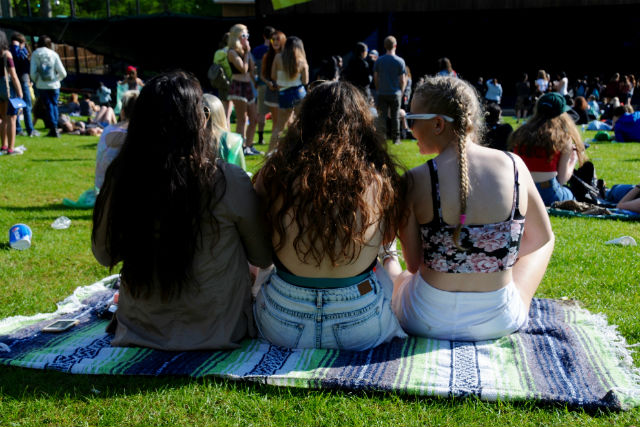 "I want to see this do well because it's always been a great place for local vendors to sell food," said Albert Ting, a 37-year-old in government affairs who was watching the 1975 from the very back. "And I like coming because I learn about new groups and new music." He was excited to see Grimes and Blondie, he said, but he felt last year's lineup was stronger. He didn't pay for his ticket, either: A friend on the mailing list passed him the link for free ones.
Sweetlife's greatest strength is that, in mid-May, it's about as early in the season as it possibly can be. And its organizers clearly have an ear for popular up-and-comers; when the 1975 wrapped at 9:15 p.m., what looked like the entire GA field turned and ran through the chilly night to see Halsey play her first-ever headlining festival slot. The 21-year-old singer has stage presence outweighed only by her social-media presence, and performs in front of CGI projections as if she's the star of a video game. The B stage, in the Pavilion's "backyard" area, was set amid a smattering of tall, pillar-like trees. If it weren't for the hoards of chattering teens, I might have found the glittering screen and the forest shadows soothing and kind of magical.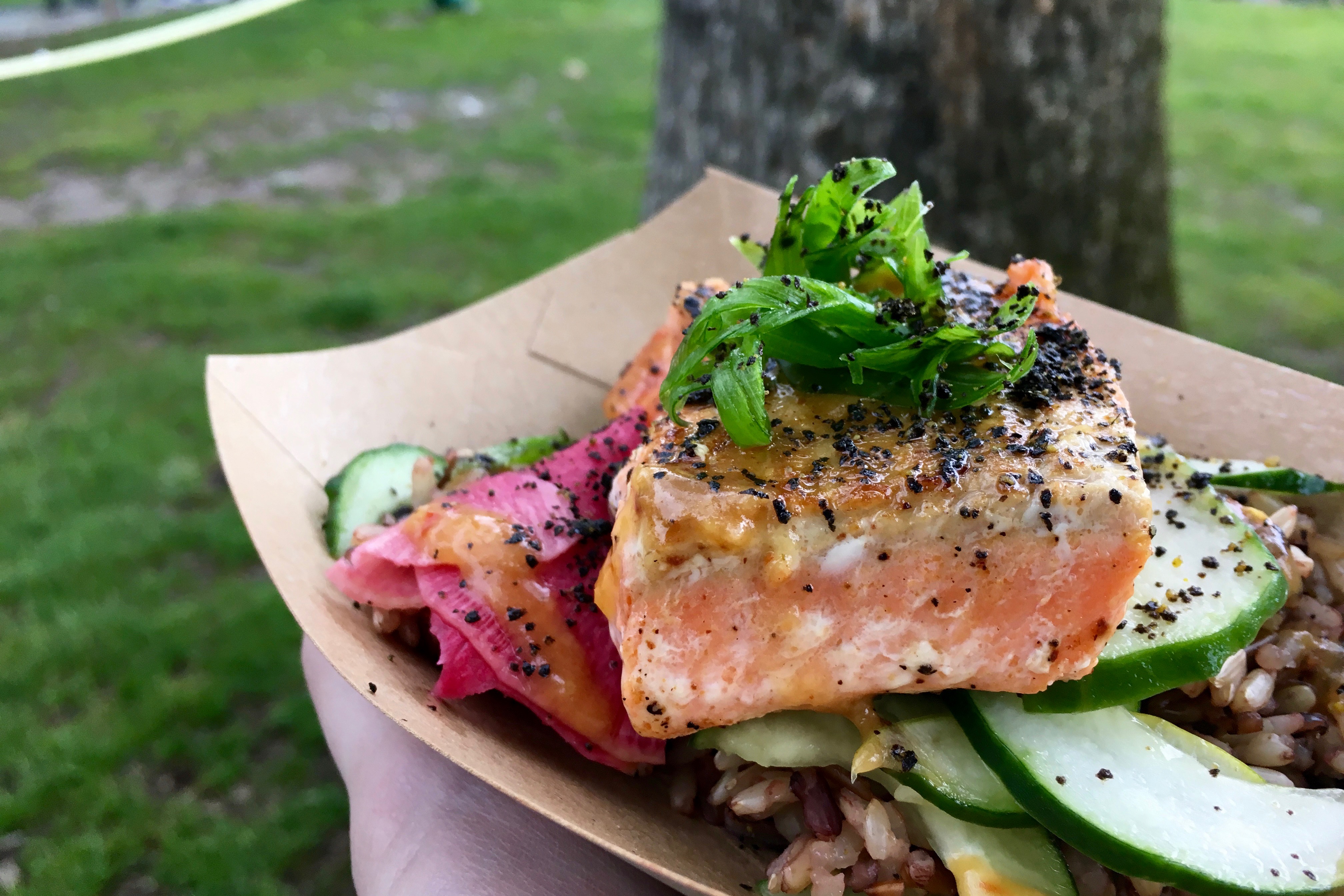 Sweetgreen has made as serious a run at creating a music festival as any non-music business is likely to. As a venue for promoting food, at least, it worked: The steelhead bento bowl I had for lunch was undoubtably the healthiest thing I've ever eaten at a festival and was beautifully plated in its brown paper boat. The sushi burritos were a hit, and every variety of hummus bowl sold out. Perhaps Sweetgreen's music angle will turn out to be a genius strategy to lock in the next generation of customers before they have lunch money to afford $13 salad on the daily. I wouldn't pay $100 to attend Sweetlife again — but then again, maybe I wouldn't have to. A lot of people took the chain up on its offer to go for free. When you run your own music festival, you can probably afford to eat the $100 ticket that buys this kind of brand loyalty.
Correction: An earlier version of this story misidentified the home state of Spindrift seltzer water. The brand is based in Massachusetts, not Maryland.