The wait is finally over. Five years after they released The King of Limbs, Radiohead have returned with their ninth album, A Moon Shaped Pool. SPIN staffers and contributors wade into the record and offer first impressions below.
Kyle McGovern: Honestly, who expected this album to be such a soothing listen? After "Burn the Witch" was set loose, it felt as though Radiohead were preparing us for a walls-closing-in freakout reminiscent of their Y2K-era crises. Instead, this entire set bears the closest resemblance, in mood and atmosphere, to 2007's In Rainbows: the low-key instrumentation that sparkles in some places and encroaches like a gas in others; Thom Yorke's warm murmurs; the overall sense of intimacy that creates the impression that the world's thinkiest band is letting us in. The 11-track LP may or may not be colored by Yorke's recent separation from Rachel Owen, his partner of 23 years, but it's definitely distinguished by Jonny Greenwood's museum-worthy string arrangements. On "Decks Dark," the frontman asks, "Have you had enough of me?" Not even close.
Early Score: 9/10
Annie Zaleski: Radiohead's previous album, The King of Limbs, had no staying power for me. I'm already more intrigued by this record, mainly because of its prominent orchestral flourishes: When combined with the mellow arrangements and electronic vibe, string-augmented songs like "The Numbers" conjure Air's early-2000s work. And although "Present Tense" and the Broken Bells-eque "Decks Dark" are a little sleepy — a vibe which has often plagued Radiohead post-Amnesiac — I already have moments lodged in my brain from this one: the mincing rhythms on "Burn The Witch," for example, and Thom Yorke's "Broken hearts / Make it rain" lyric from the standout "Identikit." I'm looking forward to a good headphones spin (or five) in the coming days.
Early Score: 7/10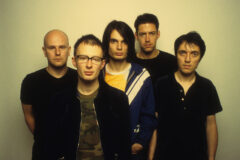 Rachel Brodsky: A record with this much buildup, fan hype, and we-might-be-wrong rumor is destined to make a splash regardless of its actual quality. That said, I'm relieved to find that A Moon Shaped Pool is every bit the masterpiece a band with as rich a history as Radiohead should produce. Thom Yorke's restless anxiety pervades every cut, yet splinters beautifully, whether it's on the scintillating "Daydreaming," the tightly wound "Ful Stop," or the re-invigorated, anguished classic "True Love Waits." Vexed as it makes me feel, Radiohead's Moon Shaped Pool is one where I'd happily drown.
Early Score: 9/10
Andrew Unterberger: So it seems like the most exciting moment of a new Radiohead album now is the actual act of downloading it, paying real money for it, scanning the track list for baked-in puzzles, pressing play with dry-mouthed anticipation. None of the music on A Moon Shaped Pool is as thrilling to me: The vocals are indistinct, the melodies border on monotonous, the rhythms have been so untangled that you can basically hear Philip Selway yawning from the back. Which isn't to say it's a bad listen — it's their most fluid LP since Kid A, and their development of yellow-mooned strings as their mid-'10s métier has proven surprisingly rewarding — just that I'm not quite ready for Radiohead to be mood music; I thought we had Christopher O'Riley for that. Nevertheless, King of Limbs took a half-decade to unfold as the late-career highlight it now sounds, I'm willing to put the work in for one of the best bands of my lifetime. True love waits, as always.
Early Score: 7/10
Dan Weiss: Fifteen years ago, Radiohead teased "True Love Waits" on the live set I Might Be Wrong, which was pretty and elegiac; most importantly, it moved — specifically the upstroke of its lone acoustic accompaniment. Movement has been this band's saving grace ever since they traded songs for compositions: 2011's The King of Limbs found the funk and the sex between its grayscale folds. Here they risk it all by standing still: updrifting piano, lone-bowed cello, strings pushing up through "Burn the Witch"-like daisies. The ardently analog Pool echoes lots of British folk; Pentangle and Nick Drake are all over "The Numbers." And this "True Love Waits" doesn't move.
Early Score: 7/10
Brian Josephs: Yes, A Moon Shaped Pool has been gestating for a while. "Burn the Witch" was tumbling around as an unfinished treasure for years — here, it's a regaling opener. "Ful Stop" became a live staple in 2012 — it's here, transformed from a fraught, paranoid piece to a six-minute act of alchemy. "True Love Waits" has existed without a studio version since the mid-'90s — two decades later, it's evolved into a vespertine triumph.  But don't get too tangled in context: Like Radiohead's finest, Pool is remarkable because no other band on Earth is capable of making even an approximation of it. Their ability to meld heady concepts and complex musicianship for pathos remains a singular gift.
Early Score: 9/10
AVERAGE SCORE: 8/10
Correction: A previous version of this post referred to Christopher O'Riley as Christopher Reilly.