Felix Walworth performs herculean feats of limb-flailing and time management as a drummer in four Brooklyn-based indie-pop bands. They (Walworth uses gender-neutral pronouns) are an essential part of the Epoch, a New York City art collective comprised of the bands they play in — Eskimeaux, Florist, Bellows, and their own grave Told Slant project — along with a few others, including a visual artist and a photographer. With a sigh and a requisite puff of a cigarette in the backyard of an East Village dive bar, they explain that over time they've actually played in more: six, to be exact. Still, on the late March day that Told Slant announces their second album of emotionally concussive recordings, Going By (due June 17 on Double Double Whammy), they relate a rising musician's oft-heard refrain: "I'm the busiest I've ever been."
"[Since Told Slant's debut was released], Eskimeaux will have released a record and another mini-record and Florist will have released an EP and a record in that time, and Bellows has released one and just finished recording another," Walworth says. "I've been involved in all of those recordings and touring on them. [There's] lots of other places that my energy has been directed for sure."
Primed by a half decade of crisscrossing the country, the Epoch have garnered the attention of the indie cognoscenti outside of their Brooklyn home for the first time. They're not opening for Wilco, like their pals in Girlpool (who, incidentally, sing on "Tsunami," one of Going By's effluvial high points), but they enjoy the small signifiers of DIY success (i.e. festival slots, positive reviews, being able to afford to live in New York City on an artist's budget). Over the course of eight days spanning late March and the first week of April, Walworth will play four shows with three different projects in various Brooklyn venues, then swiftly head out on a month-long tour with Eskimeaux opening for their friends in Frankie Cosmos. Walworth spent just about a third of 2015 on the road. Asked how such a madcap schedule works, they offer a simple answer: "I just make it happen."
After a childhood spent playing piano poorly, then guitar better, then drums well on a kit that belonged to their father Danny Walworth (who, incidentally, appears as a footnote in most Sonic Youth bios as a member of Thurston Moore's early band, the Coachmen), they started Told Slant at Bard College. There they met Bellows' Oliver Kalb and, inspired by discovering the Microphones, that famed Pacific Northwest existential institution, started writing songs that similarly celebrated the mundane — littering details (like empty beds and abandoned coffee cups) around grand realizations about life, love, and other mysteries.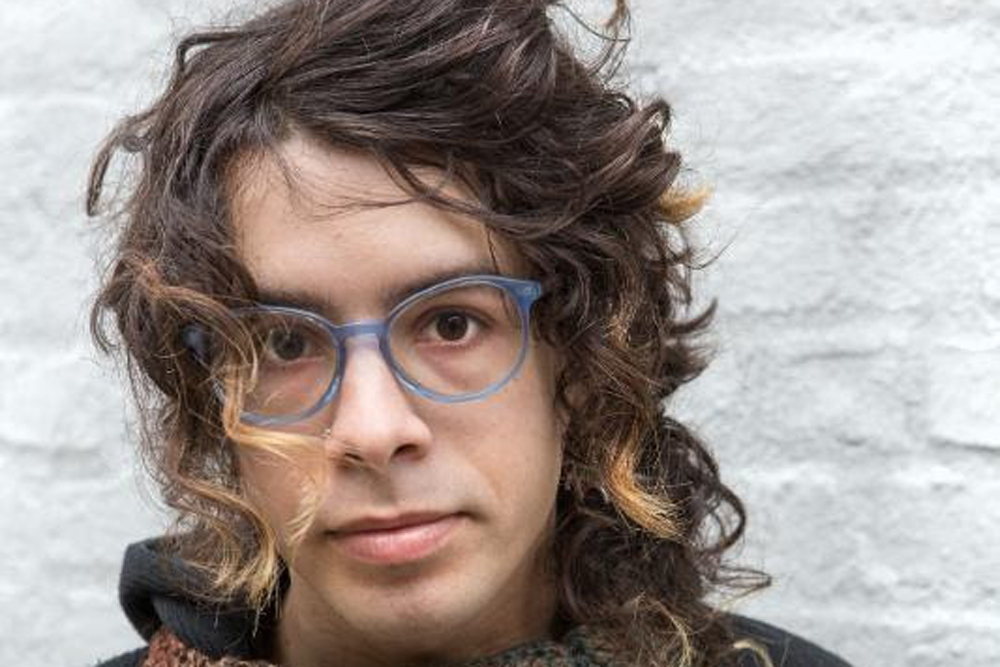 https://youtube.com/watch?v=KDpBJj6B7eo%3Flist%3DPLovuZwG8dkWzZ98sX-OMWexlmdSjY1Sfo
Since then, save for their debut — the 2012 Bandcamp release Still Water — they've mostly just grinded at shows, slowly developing one of the collective's most devoted fan bases. There are these moments in Told Slant sets where a sudden rush of energy can feel like a window being blown open, guitars come unhinged, drum lines — which Walworth plays at live shows while standing and singing — sputter and collide like the outside leaking in, gang vocals from their friends flickering candles in the bluster. The crowd responds in kind, screaming along every lyric, especially the older ones that Walworth no longer feels the same connection to. "Sometimes I can hear someone in the audience singing with more passion than I am," they say. "That's incredible. In that moment, I've failed the song and that person has given it life."
So yes, people have been waiting fervently for Going By for nearly three and a half years, and Walworth is excited to give it to them, but underneath the gung-ho help-out-your-friends attitude that marks their general public outlook is a darker set of circumstances. Coupled with Walworth's laborious songwriting process — basically, weeding through "many, many bad ideas" — it's a long, fraught period of inner searching. Part of the experience of making the record was a sort of wholesale unraveling in their life, a painful experience they relay in restrained abstractions rather than going into specifics.
"People have said my last record was sad," they say. "But this one is definitely more fearful and scared of loss. When there are certain relationships that you have in place that make the world make sense to you, and then those things start to slip away, the world can become very scary. You cannot know who you are or what you're worth, if anything."
That sort of depersonalization is echoed in the initial environment in which Walworth made the 11-track Going By. "It was mostly recorded in total isolation, not to get all Bon Iver about this," they joke. In May of 2015, Walworth decamped to their grandmother's house in Salt Point, a small town upstate, after she passed away. They holed up alone, waking up, recording, and going to sleep — listening endlessly to vocal takes, creating a destructive feedback loop of the negativity that was running through their head at the time. "[Recording there] was definitely one of the worst things I did for my mental health," Walworth says. "It was a horrible idea." They left after a few weeks, returning to Brooklyn DIY space David Blaine's the Steakhouse to finish.
Still, the psychic heft of the solitude, and the frayed headspace that spawned it, weighs heavily on Going By. It dwarfs all that preceded it in Walworth's catalog, a fact that seems like it can't be unconnected from the whirlwind of life experiences (and band bootcamp) that happens when you spend just about half a decade honing your songs and skills at dilapidated dives and basement venues across the country. Still Water was made up of recordings that swayed with a simmering grace, but Going By is something gnarlier, heavier — a series of gut punches rather than idle observations.
Even the album opener "I Don't," which relies on intimate yet abstract depictions of lost-domesticity idylls ("I used to look at you like a fireplace in a living room") to make its pained refrain ("I don't want to think about it at all / I don't, I don't, I don't, I don't, I don't") hit with the weight it deserves. It's unclear at this point if the record will measure up to the successes of past Epoch releases — though early cosigns from All Songs Considered and a long slate of shows with the Hotelier suggests that it might. It certainly deserves to, but for Walworth that's almost beside the point. For now, there are shows to be played — at least a few.