Photo credit: Jesse Lirola // Shop the look: Authentic 1969 slim fit jean
9:30AM. It's early (rock'n'roll time) and the fiery Texas sun is just starting to break through the morning mist. Despite crusty eyes, the stylish, no-frills quintet Grizfolk are all smiles and playful optimism. Including the band, we're a small crew of outsiders, assembled in the middle of a field outside Austin for a photo shoot. Surrounded by wildflowers and honky-tonks, Grizfolk are having a blast trying on Gap denim, cracking jokes, and bristling with excitement. Later that day, Grizfolk will be fashioned by celebrity stylist Petra Flannery before playing the Music is Universal Styld.by Gap music and fashion event, presented by Universal Music Group and Marriott Rewards.
Although the band has been around in various incarnations since 2011, at this moment, they are acting like they could be a band about to take their first photo shoot. Or step on stage for the first time. "This is the fun stuff," vocalist Adam Roth tells me. "Just playing around." Drummer Bill Delia has tucked a robin's egg blue wildflower behind his ear. Bassist Brendan James and guitarist Fredrik Eriksson are playing fashion show, and synth-man Sebastian Fritze lays spread-eagled on the wildflower patch. Earlier this year, the band released their debut LP, Waking Up the Giants, on Virgin Records. On record, Grizfolk's brand of aspirational guitar-driven electro-pop has only gotten tighter and on tour, their loyal fanbase has only grown larger. For Grizfolk, the journey is just beginning.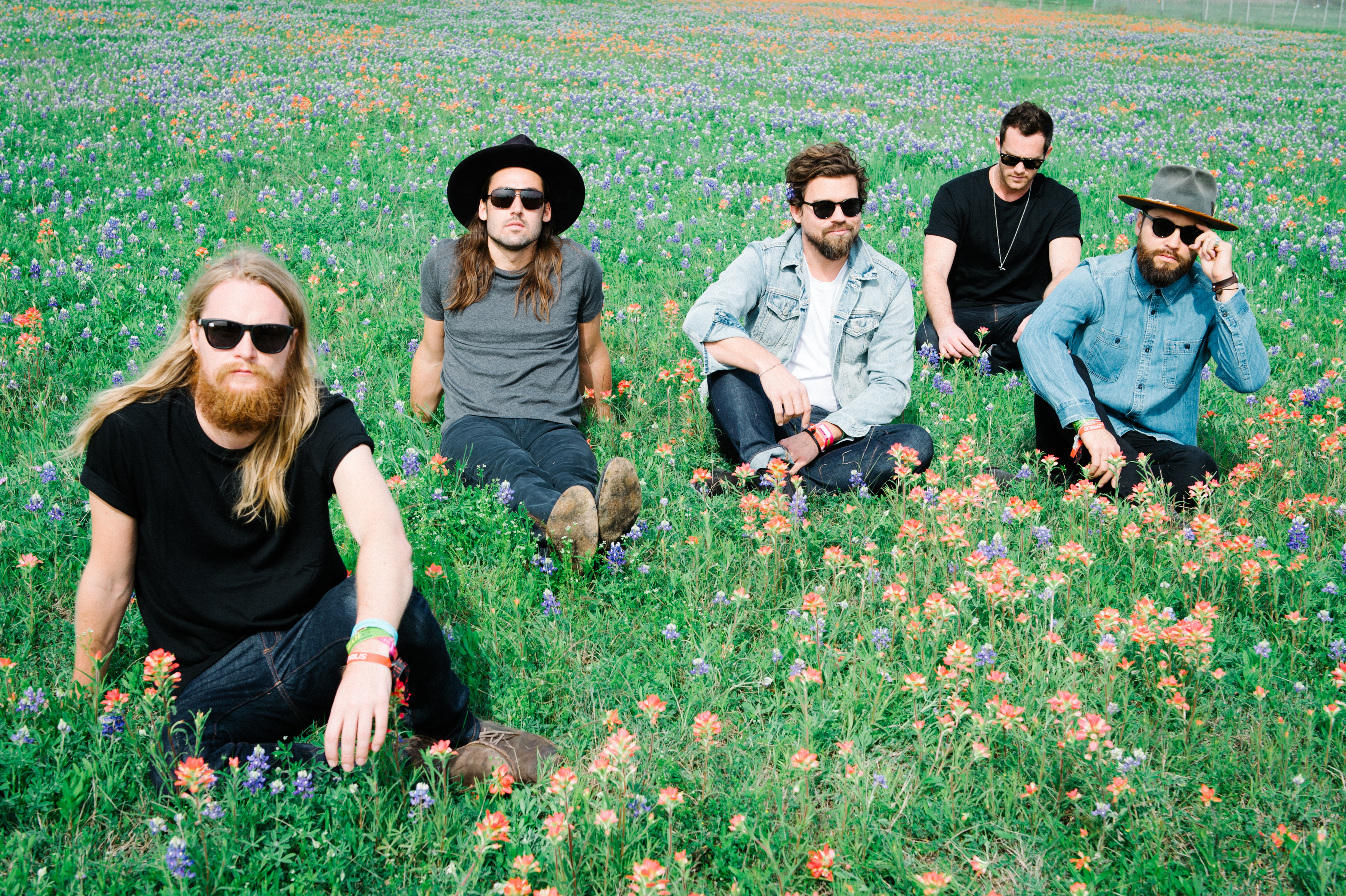 Photo credit: Jesse Lirola // Shop the look: Authentic 1969 skinny fit jean
Has 2016 been the craziest year for Grizfolk?
Adam: It was the first time we've ever done a headlining tour, and the first time we've put out a full-length record. It's been a huge buildup leading to this year. This is our proving ground, our pivotal moment, to show the world that we're a real band. We've always considered ourselves a touring band and we finally completed a headlining tour across America.
Brendan: The year is young, but we're hoping it's going to be crazy. We went to Europe a couple years ago and got to see Prague and Amsterdam so that was pretty crazy. Last year we were on the road for most of the year.
Did you celebrate on the Waking Up the Giants release day?
Bill: We had a little get-together at Sebastian's house. We had all of our close friends and family over.
Adam: It was a crazy day because the record debuted at #14 on the alternative album chart.
Brendan: The day our album came out was the same as David Bowie's last album. They were right next to each other in the store. It was really surreal.
I get an On the Road, Kerouac style from you guys. Who do you relate to stylistically?
Adam: We don't try and stand out too much. We keep it simple. That's why I liked what we were wearing for the Gap shoot. It was plain, everyday kind of clothing that is nice to wear on stage. Denim is just classic cool; everyday living, hard-working Americans.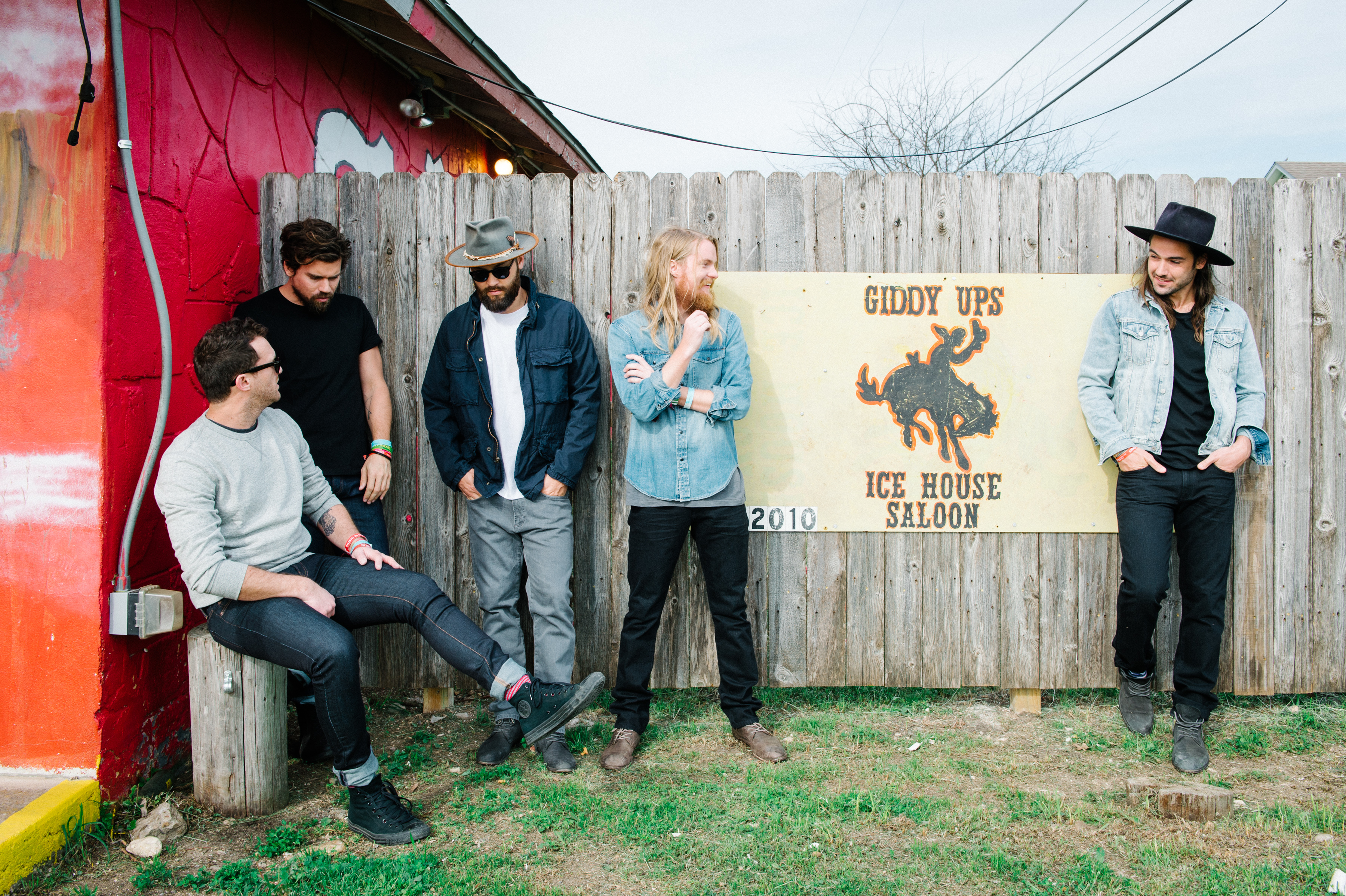 Photo credit: Jesse Lirola
Is there a lifestyle that goes along with the jeans and T-shirt look?
Bill: I wear denim every day. It feels very familiar and comfortable.
Adam: There's nothing like a nice pair of jeans when you don't wash them for a while. They fit to your body. They get better with age. Denim and wine both age really well.
Was there weighted pressure behind Waking Up the Giants?
Sebastian: It was a long process. We started three years ago. We've been on tour for so long and we've had the opportunity to try these songs out live, in front of big crowds, which has been great. We have a couple go-to crowd pleaser songs. For our live show, every song has its own feel and life. Watching us is like a roller coaster — it's a fun show.
Do you avoid industry parties? Is a chill, backyard party more your scene?
Sebastian: We welcome all parties. But in all seriousness, it really depends on the people.
Adam: I love a good backyard BBQ. Fire up the grill with some nice American lager and good music. That's my kind of party.
Bill: As long as keep enjoying the music we make and loving every album that we put out, I think we'll be happy. We don't need to be the biggest band in the world. We just want to be happy.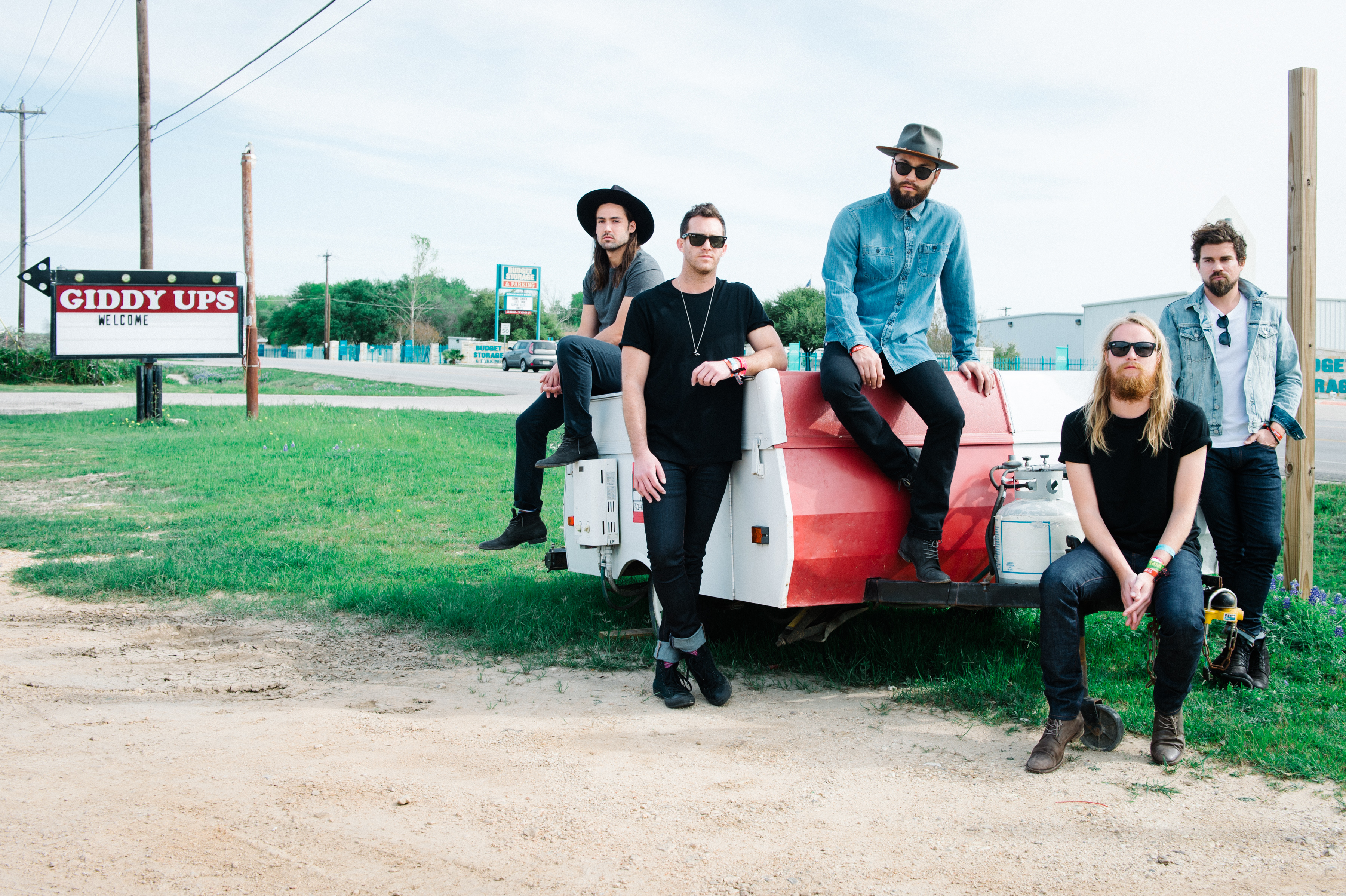 Photo credit: Jesse Lirola