This article was originally published in the July 2009 issue of Spin, to commemorate the 25th anniversary of Purple Rain. 
---
Dearly Beloved… We are gathered here today to get through this thing called life. And 25 years ago, life seemingly revolved around an elfin horndog with a rococo fashion sense, an alpine voice, and a purple motorcycle twice his size. Purple Rain is remembered for its music — the soundtrack album produced four Top 40 hits and is a beloved pop masterpiece — but the movie, released on July 27, 1984, remains the nerviest act of Prince's quixotic career. As the Kid, a struggling Minneapolis rocker, he feuds with his alcoholic father, slaps his adoring girlfriend, and seethes with jealousy over his zoot-suited rival.
But Purple Rain wasn't some widescreen ego trip; the spectacle of a famously image-conscious artist introducing himself to the mainstream as fragile and occasionally cruel could have killed his ascendant career. Prince rarely talks, especially not about Purple Rain, but in new interviews with his former collaborators, he is always front and center, inspiring devotion and disgruntlement. Purple Rain may not be an autobiography, but it may be as close as we'll get to his true story.
Let's go crazy.
Part I: Baby I'm a Star 
On April 10, 1983, Prince played the final show of his Triple Threat tour — a five-month jaunt that saw him traveling the U.S. with his protégés, the Time and the risqué girl-group Vanity 6. Though the tour began in theaters, Prince steadily upgraded to arenas, thanks to such hits as "1999," an upbeat, apocalyptic dance-off, and "Little Red Corvette," a first-person locker-room brag that's either about a two-seat sports car or a clitoris (or both). Those tracks would help his 1999 album eventually sell more than five million copies worldwide, while the accompanying videos introduced the world to Prince's backing band, a multiracial, sexually cryptic collective known as the Revolution.
LISA COLEMAN (keyboardist, the Revolution, 1980-87) From the very early days, we were controversial. We were black and white, we were girls and boys, and we were traveling together. We'd go to truck stops in Bible Belt country, and people would look at us like they wanted to kill us. But we were like brothers and sisters. We loved each other.
BOBBY Z. (drummer, the Revolution, 1978-87) We were kind of a carnival troupe.
DEZ DICKERSON (guitarist, the Revolution, 1979-83) One of the things that made the chemistry of that band unique is we shared a certain ethos and certain values. All of us wanted to be the best. None of us were party animals. We knew how to have fun, but it wasn't in a nihilistic, destructive way. Prince would pay for these elaborate parties, and we'd show up for 12 minutes and go back to the hotel.
WENDY MELVOIN (guitarist, the Revolution, 1983-1987) Pre-Purple Rain, we were still seen as part of the underground, psycho-punk scene. I was proud of that.
DR. FINK (keyboardist, the Revolution, 1979-91) During that tour, we kept running into Bob Seger and the Silver Bullet Band. After one of the shows, Prince asked me what made Seger so popular. I said, "Well, he's playing mainstream pop-rock." Michael Jackson and Prince were breaking ground, but there was still a lot of segregation on mainstream radio. I said, "Prince, if you were to write something along these lines, it would cross things over for you even further." I'm not trying to take credit for anything here, but possibly that influenced him.
COLEMAN The idea of doing a movie had been bubbling for years. Prince carried a notebook, and he'd always come up with little scenarios on a plane or on buses or, back then, in the occasional station wagon.
BOB CAVALLO (former manager) We managed Prince in '78, '79, something like that, until '89, the ten really good years, as far as I'm concerned. I call [partner Steve Fargnoli] and he's on the road with Prince: "Steve, there's about a year left on our deal, mention to Prince that we'd like to re-up." A day or so later I get a response: "He'll only sign with us if he gets a major motion picture. It has to be with a studio — not with some drug dealer or jeweler financing. And his name has to be above the title. Then he'd re-sign with us." He wasn't a giant star yet. I mean, that demand was a little over the top.
COLEMAN You know how he is — it wasn't about coming out with the next record. The next record had to be a whole environment.
MELVOIN It was exciting, but I was concerned it would be cheesy. I was just turning 19, and even at that age, I was this odd, geeky cinephile. I was one of those kids watching The Tin Drum and Seven Samurai. So I was really concerned with doing a rock movie and it not being as cool as A Hard Day's Night.
ALAN LEEDS (former tour manager) Two pop hits doesn't mean you're a movie star. And this was before MTV had any significance, particularly with black music. But I don't know how you describe his obsession. It was beyond confidence. It wasn't even arrogant. It was destiny, and either you're on board or you're going to miss out.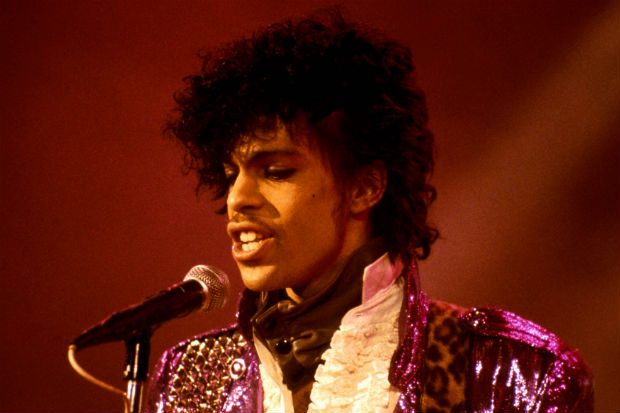 With no previous filmmaking experience, newly minted producer Cavallo began pitching Prince's idea around Hollywood, taking meetings with such potential investors as Richard Pryor and David Geffen.
CAVALLO Prince just kept pushing, and everybody turned us down. Nobody wanted to give me the money. We were gonna make a movie in the late fall, in Minneapolis, with unknown black people in front of the camera and me as a first-time producer. I went out to find a writer because no one would do it. Finally I found a TV writer who'd won Emmys.
WILLIAM BLINN (screenwriter) I was the executive producer of Fame, the television series. I went to Hollywood, where Prince was putting together final touches on a video. Met him at an Italian restaurant in Hollywood. What I remember more than anything was that he was the only person I had ever seen in my life who had pasta and orange drink. I didn't get it then, I don't get it now, but what the hell. He had definite ideas of what he wanted to do — a generalized story line, broad strokes. It wasn't his life, but it was about his life. Not that it was wall-to-wall docu-drama, but he knew where he'd come from, and he wanted the movie to reflect that.
BOBBY Z. I think there always was a battle-of-the-bands story line — the Triple Threat tour was definitely the impetus. We had an epic food fight with the Time that could've easily been in the movie; it spurred the whole Time-versus-Revolution myth. It went from the show to the hotel and back to the bus to the airport and never stopped for about three days.
JELLYBEAN JOHNSON (drummer, the Time) We're onstage, and all of a sudden, [Time singer] Morris Day's big bodyguard grabs [Time guitarist] Jesse Johnson and snatches him offstage. And Prince takes his place playing guitar. They take Jesse backstage, chain him to a coatrack or whatever, and proceed to pour syrup, or whatever food was in their dressing room, all over him. Now the band is wondering what the hell's goin' on: Prince is still playing guitar, and Jesse's gone, and then they got Jerome [Benton, dancer and backing vocalist] too. So when we got done with the last song, we decided, "We're gonna kick their ass." We took all our suits off and got into some dirty clothes, and we got eggs and everything, and we made them quite uncomfortable. We wouldn't do it while the show was going on, 'cause we figured we would've got fired, but the minute the show was over, it was on. We got all of them. We didn't discriminate.
BLINN Shortly after meeting Prince, I went to Minneapolis. We went to a couple of clubs, and I kinda picked up what I could on that scene. We were certainly an odd couple: I'm a fairly large human being, about six-three and 190 pounds. It was hard for me to just blend into the background. We found a way to work. He respected what I was doing, and I respected what he was doing. I did a couple of series with Wilford Brimley, whom I genuinely liked, and you could not pay me enough to ever work with him again. Prince was never a diva. He was there to do the work, and he worked his ass off.
With Blinn's first draft in hand, Cavallo set out to find a director. He was eventually steered toward Albert Magnoli, a film editor and recent USC grad with a jazz docudrama as his sole directorial credit.
ALBERT MAGNOLI (director) I had problems with the script. It just didn't have any truth. If a film like this works, it works because it's speaking to the kids and it's coming from the heart.
CAVALLO We meet for breakfast, and [Magnoli] is jumping up and down and kneeling on the floor, telling me how he was gonna take the last scene of The Godfather — the famous montage of the christening while the guys are getting rid of all of Michael's enemies. He said, "That's how we'll open the film. Prince will be performing, but we'll introduce all the characters as we cut back and forth b