This article was originally published in the July 2009 issue of Spin, to commemorate the 25th anniversary of Purple Rain. 
---
Dearly Beloved… We are gathered here today to get through this thing called life. And 25 years ago, life seemingly revolved around an elfin horndog with a rococo fashion sense, an alpine voice, and a purple motorcycle twice his size. Purple Rain is remembered for its music — the soundtrack album produced four Top 40 hits and is a beloved pop masterpiece — but the movie, released on July 27, 1984, remains the nerviest act of Prince's quixotic career. As the Kid, a struggling Minneapolis rocker, he feuds with his alcoholic father, slaps his adoring girlfriend, and seethes with jealousy over his zoot-suited rival.
But Purple Rain wasn't some widescreen ego trip; the spectacle of a famously image-conscious artist introducing himself to the mainstream as fragile and occasionally cruel could have killed his ascendant career. Prince rarely talks, especially not about Purple Rain, but in new interviews with his former collaborators, he is always front and center, inspiring devotion and disgruntlement. Purple Rain may not be an autobiography, but it may be as close as we'll get to his true story.
Let's go crazy.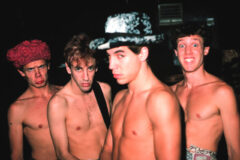 Part I: Baby I'm a Star 
On April 10, 1983, Prince played the final show of his Triple Threat tour — a five-month jaunt that saw him traveling the U.S. with his protégés, the Time and the risqué girl-group Vanity 6. Though the tour began in theaters, Prince steadily upgraded to arenas, thanks to such hits as "1999," an upbeat, apocalyptic dance-off, and "Little Red Corvette," a first-person locker-room brag that's either about a two-seat sports car or a clitoris (or both). Those tracks would help his 1999 album eventually sell more than five million copies worldwide, while the accompanying videos introduced the world to Prince's backing band, a multiracial, sexually cryptic collective known as the Revolution.
LISA COLEMAN (keyboardist, the Revolution, 1980-87) From the very early days, we were controversial. We were black and white, we were girls and boys, and we were traveling together. We'd go to truck stops in Bible Belt country, and people would look at us like they wanted to kill us. But we were like brothers and sisters. We loved each other.
BOBBY Z. (drummer, the Revolution, 1978-87) We were kind of a carnival troupe.
DEZ DICKERSON (guitarist, the Revolution, 1979-83) One of the things that made the chemistry of that band unique is we shared a certain ethos and certain values. All of us wanted to be the best. None of us were party animals. We knew how to have fun, but it wasn't in a nihilistic, destructive way. Prince would pay for these elaborate parties, and we'd show up for 12 minutes and go back to the hotel.
WENDY MELVOIN (guitarist, the Revolution, 1983-1987) Pre-Purple Rain, we were still seen as part of the underground, psycho-punk scene. I was proud of that.
DR. FINK (keyboardist, the Revolution, 1979-91) During that tour, we kept running into Bob Seger and the Silver Bullet Band. After one of the shows, Prince asked me what made Seger so popular. I said, "Well, he's playing mainstream pop-rock." Michael Jackson and Prince were breaking ground, but there was still a lot of segregation on mainstream radio. I said, "Prince, if you were to write something along these lines, it would cross things over for you even further." I'm not trying to take credit for anything here, but possibly that influenced him.
COLEMAN The idea of doing a movie had been bubbling for years. Prince carried a notebook, and he'd always come up with little scenarios on a plane or on buses or, back then, in the occasional station wagon.
BOB CAVALLO (former manager) We managed Prince in '78, '79, something like that, until '89, the ten really good years, as far as I'm concerned. I call [partner Steve Fargnoli] and he's on the road with Prince: "Steve, there's about a year left on our deal, mention to Prince that we'd like to re-up." A day or so later I get a response: "He'll only sign with us if he gets a major motion picture. It has to be with a studio — not with some drug dealer or jeweler financing. And his name has to be above the title. Then he'd re-sign with us." He wasn't a giant star yet. I mean, that demand was a little over the top.
COLEMAN You know how he is — it wasn't about coming out with the next record. The next record had to be a whole environment.
MELVOIN It was exciting, but I was concerned it would be cheesy. I was just turning 19, and even at that age, I was this odd, geeky cinephile. I was one of those kids watching The Tin Drum and Seven Samurai. So I was really concerned with doing a rock movie and it not being as cool as A Hard Day's Night.
ALAN LEEDS (former tour manager) Two pop hits doesn't mean you're a movie star. And this was before MTV had any significance, particularly with black music. But I don't know how you describe his obsession. It was beyond confidence. It wasn't even arrogant. It was destiny, and either you're on board or you're going to miss out.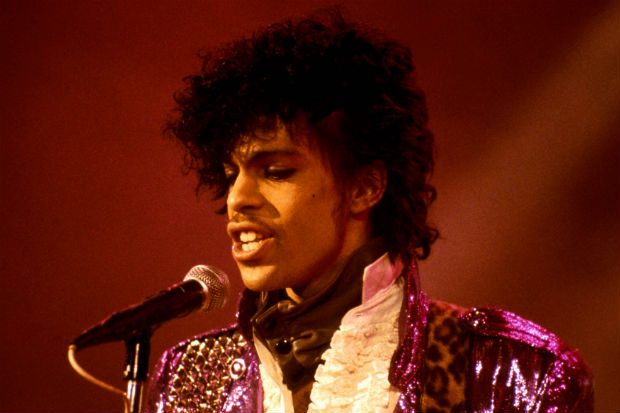 With no previous filmmaking experience, newly minted producer Cavallo began pitching Prince's idea around Hollywood, taking meetings with such potential investors as Richard Pryor and David Geffen.
CAVALLO Prince just kept pushing, and everybody turned us down. Nobody wanted to give me the money. We were gonna make a movie in the late fall, in Minneapolis, with unknown black people in front of the camera and me as a first-time producer. I went out to find a writer because no one would do it. Finally I found a TV writer who'd won Emmys.
WILLIAM BLINN (screenwriter) I was the executive producer of Fame, the television series. I went to Hollywood, where Prince was putting together final touches on a video. Met him at an Italian restaurant in Hollywood. What I remember more than anything was that he was the only person I had ever seen in my life who had pasta and orange drink. I didn't get it then, I don't get it now, but what the hell. He had definite ideas of what he wanted to do — a generalized story line, broad strokes. It wasn't his life, but it was about his life. Not that it was wall-to-wall docu-drama, but he knew where he'd come from, and he wanted the movie to reflect that.
BOBBY Z. I think there always was a battle-of-the-bands story line — the Triple Threat tour was definitely the impetus. We had an epic food fight with the Time that could've easily been in the movie; it spurred the whole Time-versus-Revolution myth. It went from the show to the hotel and back to the bus to the airport and never stopped for about three days.
JELLYBEAN JOHNSON (drummer, the Time) We're onstage, and all of a sudden, [Time singer] Morris Day's big bodyguard grabs [Time guitarist] Jesse Johnson and snatches him offstage. And Prince takes his place playing guitar. They take Jesse backstage, chain him to a coatrack or whatever, and proceed to pour syrup, or whatever food was in their dressing room, all over him. Now the band is wondering what the hell's goin' on: Prince is still playing guitar, and Jesse's gone, and then they got Jerome [Benton, dancer and backing vocalist] too. So when we got done with the last song, we decided, "We're gonna kick their ass." We took all our suits off and got into some dirty clothes, and we got eggs and everything, and we made them quite uncomfortable. We wouldn't do it while the show was going on, 'cause we figured we would've got fired, but the minute the show was over, it was on. We got all of them. We didn't discriminate.
BLINN Shortly after meeting Prince, I went to Minneapolis. We went to a couple of clubs, and I kinda picked up what I could on that scene. We were certainly an odd couple: I'm a fairly large human being, about six-three and 190 pounds. It was hard for me to just blend into the background. We found a way to work. He respected what I was doing, and I respected what he was doing. I did a couple of series with Wilford Brimley, whom I genuinely liked, and you could not pay me enough to ever work with him again. Prince was never a diva. He was there to do the work, and he worked his ass off.
With Blinn's first draft in hand, Cavallo set out to find a director. He was eventually steered toward Albert Magnoli, a film editor and recent USC grad with a jazz docudrama as his sole directorial credit.
ALBERT MAGNOLI (director) I had problems with the script. It just didn't have any truth. If a film like this works, it works because it's speaking to the kids and it's coming from the heart.
CAVALLO We meet for breakfast, and [Magnoli] is jumping up and down and kneeling on the floor, telling me how he was gonna take the last scene of The Godfather — the famous montage of the christening while the guys are getting rid of all of Michael's enemies. He said, "That's how we'll open the film. Prince will be performing, but we'll introduce all the characters as we cut back and forth between Prince getting ready to go for the gig."
BLINN I think we had a better first draft — more mysterious and offbeat. The character of the father was a suicide, not an attempted suicide, and he was gone. The overall thrust of the picture was the Kid being torn between the dark allure of death — what it does to a kid when a parent commits suicide — and music and sexuality.
MAGNOLI I was told, "You're gonna sit in a hotel room for a couple of hours, and then we're gonna meet Prince at midnight. We're gonna go have a meal, and then you'll talk about the script." They picked me up at 11, and I sat myself down in the lobby near the elevator. At midnight, the doors parted and Prince walked out. That put the last 30 pages of the screenplay in my mind — I was able to discern a tremendous amount of vulnerability in him, which the material I'd studied hadn't given me. Because when Prince is performing, he's extremely assured. But what I saw walking across the lobby was a very vulnerable kid.
CAVALLO You know how he's called the Kid in the movie? Well, that's all I ever called him: Kid.
MAGNOLI We got to the restaurant — it was just a Denny's or something like that — and sat in a booth. I ordered a grilled cheese sandwich; Prince ordered spaghetti and orange juice, which was one of his favorite meals. I launched into the same pitch I'd given Cavallo the day before: A kid from the other side of the tracks, someone that's not appreciated, he's in this wonderful musical world, and he's got parent problems.
PRINCE (to Tavis Smiley, 2009) My father was so hard on me. I was never good enough. It was almost like the Army when it came to music… I wasn't allowed to play the piano when he was there because I wasn't as good as him. So when he left, I was determined to get as good as him, and I taught myself how to play music. And I just stuck with it, and I did it all the time. And sooner or later, people in the neighborhood heard about me and they started to talk.
MAGNOLI Prince and I then walked out the door and got in the car. He started to drive and didn't say a word. We were on a freeway for about five seconds, and then we got off, and I swear to God we were driving in a complete vacuum of blackness. There was about five minutes of complete silence, and then he said, "Do you know me? Have you read anything about me?" I said no. So he said, "Do you know my music?" And I said, "1999," "Little Red Corvette." And he said, "That's it? How is it that you can tell me my whole life in seven minutes?" When he dropped me off at the hotel, he says, "I have over a hundred songs produced. Maybe you can come by tomorrow and listen to them, because I think some of them might be good for the movie."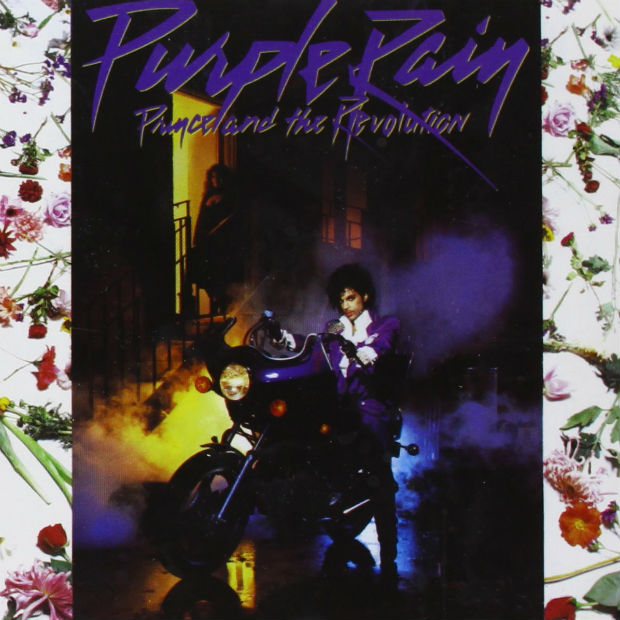 Magnoli signed on to direct the film and rewrite Blinn's screenplay. In August 1983, he relocated to Minneapolis, where he conducted interviews with Prince, the Revolution, and the Time, and immersed himself in the local music scene.
DAVID Z. (producer, Prince collaborator) Minneapolis was a very reclusive, isolated place for a long time. We were trying to get a hit record out there for 35 years, and nothing would happen. Nobody would come and see us, 'cause they all thought we had nothing going on in our backyard. And then two things happened: [Lipps Inc.'s] "Funkytown" and Prince.
COLEMAN "Funkytown" was more along the lines of what was considered the Minneapolis sound, because it was tight, funky, gizmo-synth kind of stuff. But it's funny, because "Funkytown" was about wanting to get out of Minneapolis and being miserable there.
PAUL PETERSON (keyboardist, the Time, 1983-85) I've lived there my entire life, The musicians that were around then all pretty much knew each other. We all sat in together at different clubs. There were the different cliques — Soul Asylum, the Replacements, and all those people. We didn't necessarily interact with those guys, but in the funk scene, we all hung out.
DICKERSON Prince was the game-changer. One of the reasons the area had always been cover-band-dominated was there wasn't a template of "Do this, put together a showcase, get A&R people." Nobody knew anything about that. So there was no label presence until Prince. Once that happened, people started coming in. So you have Hüsker Dü and Soul Asylum and the Suburbs and those bands benefiting from that.
To prepare for Purple Rain's grueling production schedule — Magnoli had only eight weeks to shoot — Prince enrolled the cast members in dance and acting classes at Minnesota Dance Theatre.
LEEDS You had one guy who couldn't do a push-up and someone like Prince who could do splits in his sleep.
COLEMAN I wish I had films of those things, because it was hilarious. We took a proper jazz/ballet class, and we were doing jazz hands. And imagine Jellybean, the drummer from the Time, doing pirouettes across the floor.
JOHNSON That was bizarre for me, being a kid from the streets.
FINK We'd sit in a circle and play mind-development and memory games. The dancing was required for a while. Then Prince didn't make it mandatory after several weeks, because some people were not into it. It was mainly to get in shape. The instructor was playing the old Jane Fonda workouts first thing in the day.
For the film's love interest, Prince cast Vanity, née Denise Matthews, as an aspiring singer torn between the affections of the Kid and Morris.
MAGNOLI When I met Vanity, I was at [nightclub] First Avenue, in the mezzanine area. Before anyone even said a word, I felt a quickening in the air. Within seconds, people started buzzing, "Vanity's here, Vanity's here." I saw her coming through, one of the most beautiful women you could ever lay your eyes on, packed into latex or whatever second skin, looking exquisite.
COLEMAN Vanity was supposed to be the lead, but she left right before the film. It almost tanked the film. I don't know what happened. Maybe it was a personal issue between her and Prince. They were dating.
MELVOIN My only speculation was that they had a big blowout. That's what I heard. They had a huge blowout and she bolted.
MAGNOLI What happened was — and it's the Hollywood story — Martin Scorsese was casting for The Last Temptation of Christ, and they gave her an offer to play Mary Magdalene. She came to me and said, "Listen, I've got this offer, my agent wants me to take it, what should I do?" I felt bad for her because I knew she was in a terrible bind. In the end, she and her representative made the determination that they would do the Scorsese project, which then got delayed because of financing.
CHRISTINE HARRIS (secretary to Pure Heart Ministries and Denise Matthews) Being that Denise did not appear in Purple Rain, she would not have anything to add to your story. God bless.
JILL JONES (actress, singer) When she pulled out, a good friend of mine, Gina Gershon, auditioned for it. That would've been a totally different film.
MAGNOLI I saw hundreds of girls, and Apollonia was the last one. She came in with sweatpants and a sweatshirt on, no desire to glam up or impress. I called Prince and said, "You gotta come and see this girl."
APOLLONIA KOTERO (actress) I was in South America and Mexico — singing in nightclubs, doing commercials, TV series, films. I had to submit my tape with songs and the acting reel, meet the producers in L.A., and meet Prince in Minnesota. He was shy. And he smelled real good. Like purple. [Laughs.] We sat there and stared at each other for the longest time.
COLEMAN Apollonia came and saved the day. But she was not a singer. She was an actress. So the poor thing was thrown into the studio: "Here, you have to sing this." She was like, "Oh my God, I don't know how to sing." And she did the best she could. I doubled her vocals on "Take Me With U" to make it sound a little better.
KOTERO I don't remember that. But I would imagine she's on [the song].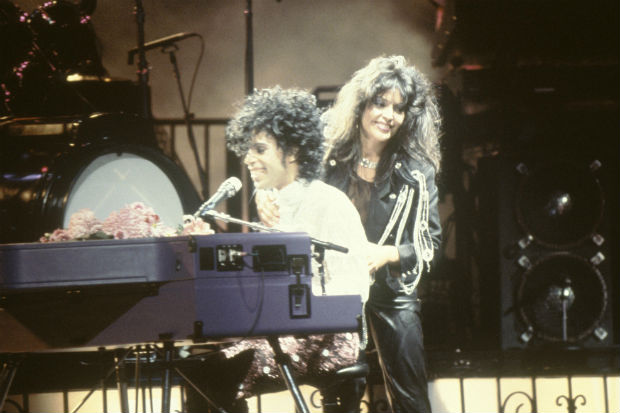 Much of the Purple Rain soundtrack was recorded over the summer of 1983 at a warehouse in suburban Minneapolis and live onstage at First Avenue.
MARK CARDENAS (keyboardist, the Time, 1983-84) On one side of the warehouse was Prince's huge stage; on the other side was the Time's little club set-up. It was a constant reminder of how big Prince was and how little the Time were.
MELVOIN [For the title song] Prince came in with the melody and the words and an idea of what the verses were like. I came up with the opening chords, and everybody started playing their parts.
BOBBY Z. My first reaction was, "Wow, this is almost a country song." It had a different feel than anything we'd been rehearsing for the rest of the album. I realize now it was probably, in his mind, the centerpiece of the story. But that's Prince — his ability to thread the needle, so to speak.
BLINN The first time you hear that song, you realize that this person who's built like a jockey and speaks barely above a whisper can just knock something out of the park.
One of the album's most enduring moments is the spoken-word introduction to "Computer Blue," featuring Coleman and Melvoin.
COLEMAN I have a Facebook page and I can't tell you how many people post "Is the water warm enough?" on there. I don't know what it means. Prince handed us a piece of paper and said, "Will you guys go out there and say this?" I didn't think twice. Honestly, I hate to say that it doesn't mean anything. Is it tea? Is it a bathtub? Whatever you want to think. It was just us being cheeky.
MELVOIN We had no idea that it had some weird psychosexual connotations. Now it's like some odd tagline for us. I roll my eyes, because some people say it like I've never heard it before.
COLEMAN [Our relationship] was never meant to be a secret. We were just who we were. She was my girlfriend, and that lasted until just about six years ago. We were married for 20 years. I mean, not married, but together.
MELVOIN We were very quiet with the press. You could call it closeted, but we didn't want to put our relationship at risk. And everybody loved the mystery: "I bet they are. I bet they're not."
With a final budget of just over $7 million, Purple Rain commenced shooting on November 1, 1983.
MAGNOLI We had over 900 extras who came to the set every day excited. They gave the whole scene a tremendous amount of realism. And we didn't know it at the time, but those images had a tremendous amount of influence on the direction that MTV took.
COLEMAN When it came to shooting, Prince was very focused and specific about the way he wanted things to look. He got very involved. He made you feel safe and proud.
JONES He would just let you be who you were and try to help bring it out. When you're in his company, you're like, "Yeah, we can do this." That's a great quality, even with all the sociopathic behavior that he can exhibit.
KOTERO One minute we're hanging out, playing basketball like two buddies, and then the big kiss scene. It was in the barn and I had to be topless. He was really a gentleman—he looked straight in my eyes. We have great chemistry. But the whole world has this idea we dated. At the time, I was seeing David Lee Roth.
MAGNOLI I didn't find it very difficult to direct them. Because they were already performers and because the story was organic to them, all they had to do was be themselves. But I feel that Prince, Morris Day, Jerome Benton, Apollonia — they were who they needed to be in those roles. There was no embellishment, there was no flourish. They stayed true to their characters.
LEEDS No one was going to win any awards for acting. No one had any illusions that they were. The majority of the music-buying public hadn't seen what a remarkable performer Prince was. Whatever success the movie was going to have depended entirely upon how well the performance scenes came off.
CAVALLO We were a few weeks behind, and we had four weeks set to shoot the music. So I said to Prince, "You know, Albert is gonna want to do 20 takes, he's gonna want different angles." And Prince, he almost changed color. "I'll give him one take for each song." I said, "No, that's extreme. What if we just did a couple of takes with a bunch of cameras?" We got a bunch of cameramen, and Prince, who's unbelievable, always hit his mark. If he did three takes, there was no change. Within a week, we had done the four weeks' work.
MELVOIN We were rehearsing the live material for six months. We didn't have to worry about that part.
STEVE McCLELLAN (former owner, First Avenue) The fact that the movie didn't show what was going on musically beyond the funk circle and was so narrow-focused — it had no sense of reality to me. Then, after the film came out, people came to the club just to see if Prince was there. I thought, "These people are kind of shallow, aren't they?"
What is perhaps the most frequently quoted scene in Purple Rain takes place not in First Avenue, but on the banks of a chilly lake outside of Minneapolis, where the Kid cruelly tests Apollonia's loyalty by asking her to "purify [herself] in the waters of Lake Minnetonka," prompting her to strip down and jump into the drink.
KOTERO Some crew guy comes over with a flask of Courvoisier and goes, "It's like magic Jesus juice! This is gonna help ya!" I was like, "You know what, I'm okay." I jumped in and, basically, there was a little sheet of ice, and that was the very first take. When I came out, I was supposed to have dialogue and I lost it — I was completely in a state of shock because it was colder than I ever imagined. Hypothermia was setting in.
Later in the film, after it's revealed that Apollonia has been spending time with Morris, a jealous Kid attacks her. The film's portrayal of women drew charges of misogyny from some critics.
KOTERO I discussed all of this when I was doing the tour to promote the film — the movie had to do with alcoholism and a dysfunctional family. There was an abusive relationship, and it paralleled the relationship he had with his parents.
Though the Time scored two hits as a result of Purple Rain — "The Bird" and "Jungle Love," both widely believed to have been cowritten by Prince — the band was in shambles: Founding members Jimmy Jam and Terry Lewis had been fired by Prince during the 1999 tour after missing a gig, causing tension between Prince and Day.
LEEDS Morris was not happy with what Prince had done: "It's my band, but I have no voice in this." Of course, the hypocrisy was, it never really was his band.
COLEMAN All the different bands he has created have been sides of his personality: Vanity 6 would be the sexy girl, Morris Day would be the comedy guy, and then Prince was the rock star.
MELVOIN Morris was the guy who could make him laugh more than anyone on the planet. I never saw it as being a subordinate relationship, but I knew Morris was helping Prince out. Morris would wash his car sometimes for a couple bucks or something. I didn't see it as being as strained as it was portrayed in the film.
DICKERSON The Time was a collaborative effort, an arrangement between Prince and Morris, who had been friends for many years. But the Frankenstein aspect of it was that the Time became such a force as a live band that there was this onstage competition — they pushed us to the limit. Which was a good thing. We were out to blow one another off the stage every night.
JOHNSON You imagine something you created is beating your ass in all these towns down South? Prince was the one who had the money and was putting us all out there, but you're talking about hungry kids from the ghetto trying to get their groove. The only power we had was those 45 minutes onstage, because it's a dictatorship. He ran everything. He still does that to this day.
According to Johnson, tension between Prince and Day eventually led to an on-set scuffle.
MAGNOLI That's news to me.
JOHNSON I was there; I broke them up. Why did they fight? I have my theories, but I can't tell you. Morris is my brother and I have to work with him, and Prince, I still have to deal with his punk ass. What Rock and Roll Hall of Famer has time to be looking at what is said about him and watching every word and all that bullshit? He, unfortunately, is one of them.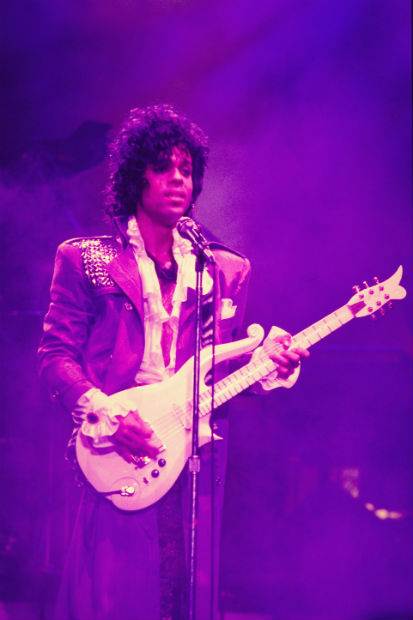 Part II: Punch a Higher Floor
In the spring of 1984, as Prince began prepping a new tour, Cavallo and Magnoli were trying to convince Warner Bros. that Purple Rain wasn't just a rock star's vanity project.
MAGNOLI They originally were gonna release it in 200 theaters. Prince had a hit album [with 1999], but so what? He was an urban-based musician. They thought no one understood him besides the urban base.
CAVALLO We had our first screening somewhere in Culver City [California]. Kids were fighting over the passes; we had fan-club kids telling us they had their passes taken away from them by bullies. We knew it was pretty hot. But Warners gets the numbers back, and they're too good to be true.
MAGNOLI [The studio says,] "We need to go to Texas now and screen this in front of an all-white, redneck audience." A week later, we fly down to Texas and put it up in front of 300 white kids. Within three minutes, they're all up on their feet. Bob was able to get the studio to understand that they needed to get this into the heartland.
CAVALLO We got 900 theaters, which was enough for us to be a huge success.
MAGNOLI Rick Springfield had a movie [Hard to Hold] coming out at the same time. Warner Bros. says, "We're nervous." So I got to a screening, and this was my report: "Guys, we have nothing to worry about. It's got nothing to do with reality, nothing to do with the world of musicians. They tried to make him into a movie star. Not gonna work."
On June 9, a month and a half before Purple Rain's opening, Prince released "When Doves Cry," a stark downer that addressed the film's themes of personal and familial tumult. It became Prince's first No. 1 single.
CAVALLO We wanted to precede the picture with a song that would appear in the movie like a video.
?UESTLOVE (drummer, the Roots) Before, brothers had a hard time embracing a bikini-clad, high-heel-boot-sporting, five-foot, Midwest, light-skinned guy with a falsetto. But the second after my block saw the "When Doves Cry" video, and he was getting on Apollonia, that changed a lot of opinions.
COLEMAN Prince had a lot of meetings with wardrobe people, and all the clothes were made for us. There was a little bit of consulting, but it was more like, "This is your look, and this is your look, and this is what we're going to do."
BOBBY Z. He was really good at style, and he knew that when you feel good in something, your character comes out. He could take people and find their strengths. I had a mustache and curly hair, and it's pretty easy to turn that into a suave character. Who doesn't want to be suave?
FINK I wore a gold satin tuxedo once; I looked like a freaking waiter. From there, I moved on to a black-and-white jail suit. In late '79, we got on tour with Rick James, and he had this big oversize jail suit, and the front of it was Velcroed together so he could tear it off and be half-naked. So Prince said to me, "I think you better change your image."
COLEMAN Prince actually got mad at me because I was such a jeans-and-T-shirt girl. He was like, "God, you look like a roadie. What if Mick Jagger sees you?" He was always imagining the absolute nth-degree scenario. I was like, "Dude, it's okay. I'm going to 7-Eleven."
FINK Prince said, "Did you have any other ideas when you thought of the jail suit?" And I said, "Well, you gave me this khaki paratrooper's jumpsuit. I could wear that again." He goes, "No, that's passé." I go, "A doctor's suit?" And then the light bulb went off above his head: "That's it." He had his wardrobe gal run out to a uniform shop in Chicago and get me authentic scrubs. And Prince goes, "I'm going to get an easel and a canvas up there, and I want you to act like you're painting when I introduce you. It will be weird. It will be funny. Watch." So for several nights, I was introduced as Dr. Fink, and I'm up there painting.
COLEMAN He's really controlling, but he was also kind of a puppy. He'd say it in a way where you couldn't say no. If you said, "I'm not going to wear that," you'd probably get fired.
MELVOIN I didn't want to wear bustiers. Wearing that stuff, I just felt like a transvestite.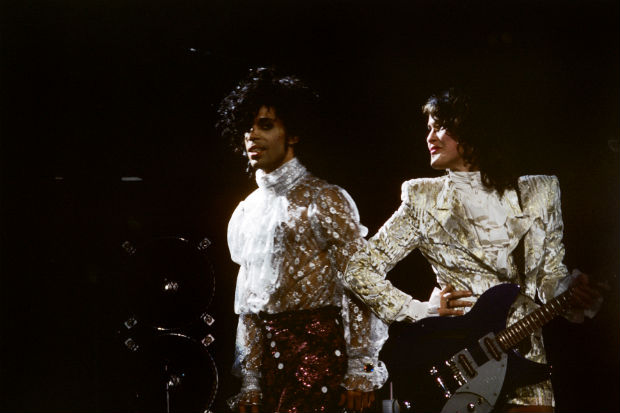 Despite an R rating, Purple Rain grossed more than $7 million in its first weekend, prompting Warner Bros. to add 1,000 more screens its second week. The movie eventually earned $68 million in the U.S., making it the ninth-highest-grossing movie of 1984. And though critics were divided — the New York Times praised the concert scenes but noted, "The offstage stuff is utter nonsense" — it made Roger Ebert's and Gene Siskel's year-end Top 10 lists. Meanwhile, the film's opening number, "Let's Go Crazy," hit No. 1 in September, helping the soundtrack remain at the top of the charts for 24 weeks. Purple Rain and its creator were impossible to ignore, no matter how hard some parents tried.
TIPPER GORE (founder, Parents' Music Resource Center, in an excerpt from her 1987 book, Raising PG Kids in an X-Rated Society) I purchased Prince's best-selling Purple Rain for my 11-year-old daughter… When we brought the album home, put it on our stereo, and listened to it together, we heard the words to another song, "Darling Nikki": "I knew a girl named Nikki / Guess U could say she was a sex fiend / Met her in a hotel lobby / Masturbating with a magazine." The song went on and on in a similar manner. I couldn't believe my ears! The vulgar lyrics embarrassed both of us. At first, I was stunned — then I got mad! Millions of Americans were buying Purple Rain with no idea what to expect.
CAVALLO We just didn't pay attention. Any time Prince got bad publicity, it helped him.
BOBBY Z. I thought she was kind of late. Where was she during "Head"?
The Purple Rain tour opened on November 4, 1984, with a seven-night stand in Detroit. Morris Day left the Time shortly after the movie wrapped. Sheila E. served as the opening act.
COLEMAN We were a crack band. Prince would do these dances, and if he did a hand signal, we'd do this little turnaround we had discussed at soundcheck.
BOBBY Z. We'd been playing arenas, but it turned into multiple nights: seven nights at the Forum [in L.A.], 11 nights at the Summit in Houston. We put down stakes, just camped out in the city.
FINK We were in Detroit or Atlanta — I can't remember which — in this huge mall, all the members of the Revolution except Prince, and we ran into Bruce Springsteen. He was out looking like the average street dude in a trench coat, a little bit disheveled, trying to blend in. We introduced ourselves, and we all went to eat at a restaurant in the mall. Next thing we know, everyone recognizes us, and there's a crowd gathered around us blocking the doors and we couldn't get out. We had to go through the restaurant kitchen, the secret catacombs of the mall, to get out. It was like the Beatles or something.
LEEDS In D.C., Prince needed to get his hair done, and there wasn't an adequate salon in the hotel. So our stylist made an agreement with a salon in Georgetown. With Prince, this means you close down the salon and black out the windows, and no other customers are present; even the people who work at the salon vacate the premises. The same with nightclubs: You'd have to buy out the club because he didn't want the public in. Find a local modeling agency and invite a hundred models, but not the general public. Oh God, the money wasted.
DICKERSON He invited me and my wife at the time to catch a couple shows in D.C. The first night we were there, Prince invited us to his suite, and at that point, the way they were traveling was full-blown, diamond-level status — they're hauling a grand piano from city to city for his suite. But in terms of the personal interaction, it was great. We got back to old times. As we were about to leave, I said, "Hey, we were thinking of going to Georgetown tomorrow to do some shopping," which is what we always did as a band when we were on the road. At first he got this smile on his face and was about to say something, but then he stopped — I'll never forget, the look on his face changed and his voice dropped — and he said, "You know, I really can't go anywhere anymore."
In the spring of 1985, Purple Rain won the Academy Award for Best Original Song Score. The competition: Kris Kristofferson and the Muppets. The category was eliminated the following year.
MELVOIN The cast of Amadeus was right in front of me, and I was sitting next to Jimmy Stewart. He looked over at us and was like, "Who are these weird, medieval-looking, grim reaper types?"
COLEMAN When we got the award, Prince made a joke like, "We better run, because they're going to think we stole it." We were running out the back door. He let Wendy and me keep it at our house for a long time.
LEEDS There has not been a tour bus that I've been on in 20 years where the first movie played was not Purple Rain. It drives me up a wall. These young artists, they know every word in the script.
Prince and the Revolution didn't wait long to record a follow-up to Purple Rain: Less than a month after the Oscars, the kaleidoscopic Around the World in a Day appeared in stores. It sold far fewer copies than its predecessor but yielded a pair of Top 10 hits: "Raspberry Beret" and "Pop Life." Parade followed the next year, as did a European tour, but relations between Prince and his band were becoming strained.
COLEMAN He became more of a satellite. It hurt our feelings. He used to travel with us on the same bus, but then he got his own. He would always be escorted ahead of us in his own car, and we were left behind. He had his big house, and when he got the guard at the gate, it was, "Wow, dude. It's me. I did your laundry." I lived with him for a while in his house — I'd fix him a sandwich or we'd do laundry together. It was really brother-and-sister stuff. When it changed, I'd have to go through other people to talk to him. I was not into that. I'm still not into that.
DAVID Z. I think what changed him more than anything was being on tour and staying right across the street from the Dakota when John Lennon was shot in 1980. He's diminutive, and when you walk into a place and every eye is on you, he just saw himself as a target. That got to him.
LEEDS He was very protective of his image as this weird, shy, quiet, introverted, nerdy, creative genius. He really did hide behind managers and bodyguards and so on.
COLEMAN At the end of the [1986] Parade tour, he brought Wendy and me to his house for dinner. We always called it the "paper-wrapped chicken dinner," because it was wrapped in pink slips. We'd be here in L.A. and he'd send us tapes with a piano and vocal, just an idea, and then we'd produce it. We would do all the instruments and background vocals. He felt like, "I need to take it back and do it all myself again. I'm losing touch with myself. So unfortunately, I'm going to let you go, because you're doing everything."
Bobby Z. and keyboardist Brown Mark left the Revolution along with Wendy and Lisa. Dr. Fink stayed on until 1991. The full group hasn't performed together since 1986.
BOBBY Z. Would I have like to have gone on and done more Prince and the Revolution stuff? Of course. It was a band for the ages. But Prince wanted to experiment with different musical people. I mean, it happened to Lennon and McCartney. It's just human nature.
CAVALLO Warner Bros. had no rights for a sequel. I had this idea: Purple Rain 2: The Further Adventures of the Time. It would start with Prince in some big arena, playing one of his incredible concerts. The Time are there, about to go to Las Vegas because they won a contest to play a lounge in a big hotel. And the basic story would be the Mob were the people who booked them, so they eventually get into trouble, and the only friends that they have are the showgirls. Well, for some reason, Morris thought that character took away his manhood.
LEEDS Prince's [subsequent] musicians were always talented. But arguably, they're not of the level he once had. If they don't bring any ideas, they don't challenge him, they don't stimulate him. The Revolution were constantly bringing songs to his attention. They would leave rehearsal and go listen to a Duke Ellington record or a country-western record. He was all ears. The more money he's had, the more he's been able to isolate himself from the real world. He handpicks his input.
?UESTLOVE Purple Rain really started hip-hop culture, whether the historians want to view it that way or not. You have Prince himself, a very unusual-looking figure, five feet tall — pretty much anybody considered a musical genius in hip-hop has some sort of odd physical feature, i.e., Biggie's lazy eye. And then the whole idea of beefs — Prince and Morris. Morris' whole pimp attitude, that was something you didn't hear since the blaxploitation films of the early '70s. Prince sang about sex and he worked with drum machines.
MELVOIN We did keep in touch a little. I believe it was toward the late '90s that it got very strained and we didn't speak that much until — well, we've been speaking for about seven years now.
BOBBBY Z. Wendy and Lisa and Prince had talked about [a reunion] a while ago, but it doesn't seem in the stars. He just launched a whole new platform and triple album that could keep him on the road for two years. You know, it's his call.
DICKERSON I did go back to Minneapolis last spring for a thing called the Prince Family Reunion. A bunch of people — basically, everyone but Prince — got together and played Prince songs.
COLEMAN He has hinted to Wendy and myself recently that he can't condone who we are or be friendly in a certain way. We both have kids now with other partners — he's been a little less than Uncle Prince. So that hurts, especially because he liked that element in his band back then. We were trying to mix it up and bust the categories: Androgyny and multiracialism were the way to go. I always feel he should open up and be honest because he's a fucking cool guy.