In the wake of Prince's death, SPIN's staffers and contributors are looking back on some of their favorite albums by the beloved icon. Check back today to continue reliving the Beautiful Ones with us.
The first song I knew the words to was "Little Red Corvette." I was 7 years old. Having lived their lives in sleepy towns deep down South where communion wine was Welch's and intercourse was not premarital, my parents were too innocent to realize their little girl was prancing around the house singing about used condoms.
We didn't talk about sex in our family, anyway. When I was 12, my mama gave me "the talk" but I didn't exactly understand the logistics of sex until I was almost out of high school. Prince, however, filled in the blanks. The first time I felt sexual arousal snake around my pelvis was watching him press his lips on, then glide his hands up, the dancer's belly in the video for "Kiss." The first time I heard about AIDS was in the song "Sign o' the Times." And the first time a boy slid his fingers down my own stomach, Prince's The Hits 2 was playing on my hand-me-down car's tape deck. 
[articleembed id="192495″ title="Let Love Decide: Prince's 'Diamonds and Pearls'" image="192567″ excerpt="In the wake of Prince's death, SPIN's staffers and contributors are looking back on some of their favorite albums by the beloved icon"]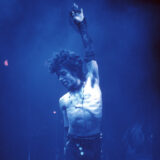 It was more than situational, though, more than just how intertwined he was in so many important, private moments in my life. He loved women and I knew it. It made me want a man like him and made me want to be a woman who would catch his expertly lined eye, a woman who walked in through the out door. ("Woman" is the right word, too — Prince was a stickler for men being with their equals: women, not girls. Blame him for my complete disdain of men who choose the latter). He loved women in the deepest way possible, by respecting and admiring and desiring their minds, souls, and bodies. Nowhere was this more obvious than Sign o' the Times, Prince's stunning ninth studio album. 
Last year, SPIN ranked the 300 Best Albums of the Past 30 Years; I voted Sign o' the Times as my No. 1 album of the period (it finished at No. 3 on the final list) and tried to sum it up in under 200 words. "By 1987, Prince had already established himself as the Greatest of All Time," I gushed before nearly tripping over myself to praise "the lyrically next level (the sublime 'If I Was Your Girlfriend,' on which he toys with gender and relationship dynamics) and the musically indelible (it's hard to imagine the strutting 'U Got the Look' or frenzied 'Housequake' not shutting down literally any party)." But I kept the blurb professional and my personal revelations to myself.
What I didn't say was how refreshing his honesty on "I Could Never Take the Place of Your Man" is; imagine the hours of post-coital behavioral analysis you and your BFF would free up if f**k buddies would only follow Prince's script of "Baby, don't waste your time / I know what's on your mind / I may be qualified for a one-night stand / But I could never take the place of your man." I didn't talk about how sex becomes a different yet equally exquisite experience with each song. How he was so utterly comfortable in his own skin and self-assured in his sexuality that he could play with our expectations of masculinity by adopting a female alter-ego named "Camille" in that ridiculously catchy bodyrocker "Housequake" or having Dorothy Parker laugh at him for ordering a fruit cocktail or calling himself a "baby doll" in between those jagged riffs on "Hot Thing." Or how, my GOD, I want to meet the person who inspired Prince to write the sex-iest — in the literal sense — song of all time, "It."
Prince never f**ked with the patriarchy, instead helping me realize I wield power solely because I am a woman. Vanity and Apollonia were his creations, yes, but they were strong and sexual and fun. I had no idea what a sex shooter was, but I too wanted to be part of the fembot army that had pussy control over Prince. I grew up hearing the sexiest man in the world quickly reassure his girlfriend that no matter how many things he wanted to do for her on "If I Was Your Girlfriend," he didn't think she was helpless and he wasn't trying to manipulate her. I grew up hearing this man get giddy over monogamy, and it's often made me think that I, and a whole bunch of us, gotta be doing it wrong since we're so bored in it. 
The way that we marvel over him was exactly the way he thought about us women. I know many men have their own stories about Prince, but he desired getting inside and then belonging to us. Of course he wanted to watch, so he sung and smirked and smoldered and swaggered his way into all of our bedrooms, soundtracking not just the sex we had, but the love we made. His adoration for women manifests itself in so many ways on Sign o' the Times that listening, I knew I had the ability to flower into a gorgeous, omnipotent being, too. Because, see, actually being gorgeous was such a small part of what he was attracted to. 
My mom recently sent me a bunch of photographs she found stashed in my drawers. I had this thing for about four pre-teen years where I took so many selfies I put Kim K to shame. I'd set the timer on my little point-and-shoot and pose, pout, splay myself across the bed like a motherf**ker. Sometimes I'd enlist my mom to snap a particularly complicated setup, and I laughed thinking how baby-me was not only so overtly sexual, but just so damn confident. 
"Oh, you were always like that," she said. "Remember Prince?"