The Purple One will take over theaters once again this weekend when AMC Theaters nationwide will screen 1984's Purple Rain, starting on Saturday, according to The Hollywood Reporter. The screenings will continue through Thursday.
Prince's passing yesterday also prompted MTV Networks to rededicate their schedule to Prince music videos, live performances, and Purple Rain itself. The rock musical, which stars Prince as a troubled artist on the rise, is considered a classic by many and was released at the height of the singer's stardom. The accompanying soundtrack went 13 times platinum and is often cited as one of the greatest albums of all time.
Purple Rain, which featured Morris Day and The Time and Apollonia Kotero, was also a commercial heavyweight, earning almost $70 million at the box office. Theaters will likely be packed this weekend. Find out where it's screening in New York, New Jersey, and Los Angeles (for other cities, look here) below, and give the original Purple Rain trailer another watch while you're at it.
Prince's Purple Rain screenings: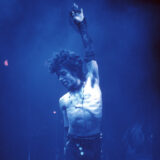 New York/New Jersey
19th St East 6 AMC Empire 25 (890 Broadway, New York, N.Y. 10003)
Jersey Gardens 20 (651 Kapkowski Rd, Elizabeth, N.J. 07201)
Kips Bay 15 (570 Second Avenue, New York, N.Y. 10016)
New Brunswick 18 (2196 Nesconset Hwy, Stony Brook, N.Y. 11790)
Palisades 21 And Imax (4403 Palisades Center Dr, West Nyack, N.Y. 10994)
Stony Brook 17 (2196 Nesconset Hwy, Stony Brook, N.Y. 11790)
Los Angeles
Atlantic Times Square 14 AMC Broadway 4 (450 N Atlantic Blvd, Monterey Park, Ca. 91754)
Covina 17 (1414 N Azusa Ave, Covina, Ca. 91722)
Norwalk 20 (E., 12300 Civic Center Dr, Norwalk, Ca. 90650)
Ontario Mills 30 (4549 Mills Cir, Ontario, Ca. 91764
Orange 30 W/IMAX (20 City Blvd W, Orange, Ca. 92868)
Promenade 16 (21801 Oxnard St, Woodland Hills, Ca. 91367)
Rolling Hills 20 (2591 Airport Dr, Torrance, Ca. 90505)