Prince won music. He was the best at playing, singing, writing, dancing, entertaining, performing masculine sexuality with respect, scoring hits, nailing bizarro concepts that could never be hits, covering Foo Fighters during one of the all-time greatest halftime shows, doing whatever the f**k he wanted and being the greatest popular musician of the rock era. He did no wrong for longer than any other mortal could. He was just the master of anything he did — tried jazz, reggae, rap, and never once seemed like Michael Jordan attempting baseball. He fantasized about banging his sister and he fantasized about getting married. None of it was half-assed. Everything was basketball for him, even basketball.
He made too much great music to list here, so I just want to focus on the stuff you might've missed if you believe his legend ends in the '80s. You're not mistaken that Dirty Mind, Sign o' the Times, 1999, and the rest of the rightfully acclaimed stuff are where to begin (don't forget Controversy or Parade, by the way). Here's where to continue, though, starting with a couple of disenfranchised soundtracks. Prince created an entire album for Tim Burton's smash Batman in 1989, and it's usually sort of lopped off from the canon. This is an outrage; even the Sheena Easton duet "The Arms of Orion," possibly the cheesiest ballad of his career, is a stunner. And 1990's Graffiti Bridge film wasn't a well-received sequel to Purple Rain, but the soundtrack was glorious, endless-groove gold, 68 minutes typified by the outstanding George Clinton duet "We Can Funk."
What's colloquially known as The Love Symbol Album from 1992 was actually titled after the rune he'd temporarily change his name to (my cousin's fiancée calls it a "drunk ampersand") and functioned as his New Jack Swing move, slamming down a rap gauntlet with the outrageous "My Name Is Prince" ("Until I f**k your daughter / I won't leave this town"). The ferocious The Gold Experience from 1995 contained one of Prince's last real smashes, "The Most Beautiful Girl in the World," though the rest couldn't be further from that syrupy outlier: check the opening "P Control" (yep, stands for pussy), which is followed by "Endorphinmachine," the hardest-rocking thing he ever recorded. The following year brought both the unjustly maligned freak-guitar showcase Chaos and Disorder and the insane triple-dipper Emancipation, meaning we're celebrating 20 years since this guy released four extremely strong and top-to-bottom listenable discs in 1996 alone.
His work in the 2000s was more scattered, though an electric jazz -fusion album called N.E.W.S. could be fun if you let it. Let's not sully either 2004's Musicology or 2006's amazing 3121 with a pointless platitude like "return to form." He deigned to make pop-centered music again, and re-entered the charts as naturally as he exited: Comeback singles are rarely as galvanizing as the bumpy throwback "Musicology" and the electrocuting, photo-negative funk of "Black Sweat." And "Get on the Boat," the Maceo-juiced, Latin-funk extravaganza of a closing track from 3121, is not to be missed by even a casual fan. As recently as 2013's "Breakfast Can Wait," the man was finding new nuances in his funk and humor (the single's cover art featured Dave Chappelle from his famous pancake-centric Prince sketch).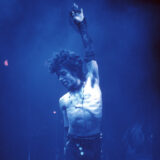 Play any of his allegedly subpar albums from the last 20 years and you'll find worthy surprises all over the place. The closest thing Prince made to bad albums were either superfluous (are even the hardcore ready to take on Crystal Ball's four discs of outtakes?) or weird enough to merit their own conversation (The Rainbow Children is a trip through Prince's spiritual psyche weirder than anything Thom Yorke's ever mumbled). No one denies Prince Rogers Nelson was a genius. Let's make clear that he never stopped being one. Happy hunting.