Update: TMZ reports a statement from Prince's rep saying the artist has been suffering from the flu, but is currently out of the hospital:
A rep for Prince tells TMZ, the singer has been fighting the flu for several weeks. He canceled 2 shows on April 7th but wanted to make Thursday night's performance in Atlanta, even though he was still not feeling well.

After the show, he got on a plane and felt considerably worse, so his plane made an emergency landing in Moline, Illinois, where he was taken to the hospital and treated. He was released 3 hours later, got back on the plane and is now back home.
Prince has been hospitalized after his plane made an emergency landing earlier today, TMZ reports. "According to our sources, Prince's private plane made an unscheduled landing at Quad City International Airport in Moline just after 1 AM," the website claims. "The singer was immediately transported by ambulance to a nearby hospital."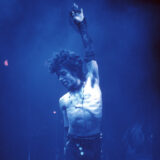 The site goes on to list conflicting reports about the Purple One's current medical status, one source claiming that he's "not doing well," another saying he's doing fine and has already been released from the hospital. No further details are available at this time about Prince's condition.