In the wake of Prince's death, SPIN's staffers and contributors are looking back on some of their favorite albums by the beloved icon. Relive the Beautiful Ones with us.
Prince was in a transitional place in 1991.
He'd released the Graffiti Bridge film and soundtrack a year earlier and was in the midst of a creative renaissance following the Nude Tour with his newly-formed band, the New Power Generation. After the critical and commercial success of Sign o' the Times in 1987, Prince had started moving back towards the funk and R&B of his earlier years after several albums of more pop/rock-oriented material. But it wasn't until 1990 that he began putting together his new "official" backing band. And with Diamonds and Pearls, Prince married his new band to Bomb Squad-style hip-hop production and New Jack Swing (a distinctive mix of R&B, dance, and hip-hop that had emerged in 1987), while also delivering his most accessible set of pop songs since 1984s Purple Rain.
[articleembed id="192516″ title="If I Was Your Girlfriend: Prince's 'Sign o' the Times'" image="192562″ excerpt="In the wake of Prince's death, SPIN's staffers and contributors are looking back on some of their favorite albums by the beloved icon"]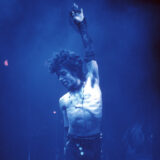 In 1991, New Jack Swing was at its absolute peak. The style was, in many ways, born of Prince's own innovations and musical legacy. He'd been at the forefront of drum programming on his groundbreaking funk albums of the late '70s to early '80s, and super-producers Jimmy Jam and Terry Lewis, who helped introduce and define New Jack Swing, were affiliated with Prince during their early days in Minneapolis, and as members of the Time. Their work on Janet Jackson's breakthrough 1986 album Control was rooted in the "Minneapolis Sound" that Prince had perfected on 1999, but Janet's album also featured hints of what was to come via an emerging generation of producers.
Prince had been paying attention to what his former protégés and other studio innovators like Teddy Riley, L.A. Reid, and Babyface were doing in R&B. On the strength of hit albums by New Edition (1988's Heart Break) Keith Sweat (1987's Make It Last Forever), Guy (1988's Guy), and especially, Bobby Brown (1988's Don't Be Cruel) and Janet Jackson (1989's Rhythm Nation 1814), New Jack Swing had replaced standard funk music as the definitive sound of black dance floors across America. New Jack was more digitally driven and industrial, and Prince first recorded in that style on 1990's Graffiti Bridge soundtrack — with mixed results: some stellar (Tevin Campbell's hit "Round and Round") and some forgettable ("Tick Tick Bang"). But this was a new year.
"Gett Off" hit radio that summer, a supercharged sex anthem laced with booming bass, an instantly catchy flute, and a Public Enemy-style "kettle whistle" sax loop. It announced that Prince was back — and not just with a new album. This was Prince's brand of hard funk and dance filtered through hip-hop aggression and edge, a raunchily aggressive track that served as announcement that Prince still understood the times — and he could grasp what was happening in R&B/pop, meld it into his own sound, and still be Prince. Literally built from earlier ideas (a remix of 1988's "Glam Slam," which used a portion of Graffiti Bridge's "Love Machine," and a B-side with the confusingly similar  title "Get Off"), "Gett Off" was the first clue as to where Diamonds and Pearls was going. By the time the album was released in October, it was clear that Prince could still deliver a project accessible and exciting to a mainstream audience, without sacrificing an ounce of integrity or creativity.
"Thunder," the album opener, is a straightforward melody buried under an ornate production that features the New Power Generation throwing in synth-sitar loops, heavy guitars, and hard drum beats — establishing the album's sonic trademarks — before it explodes into a coda showcasing some of Prince's virtuosity. It's more confident than almost anything on Graffiti Bridge but unlike a lot of Prince's classic album openers, it's merely a musical appetizer for what follows.
The title track is one of the most gorgeous pop songs Prince ever recorded, a melodically lush pop-rock ballad that also echoes the sublime Philly Soul productions of Linda Creed and Thom Bell. It became a standout showcase for the New Power Generation band in full flight — especially vocalist/keyboardist Rosie Gaines. A beautifully soulful duet, the song is one of Prince's most beloved, and for good reason.
A No. 1 hit when it was released that fall, "Cream" stands out as another one of Prince's most ubiquitous '90s hits: a song that's sorta funky rockabilly pop and kinda pop-rockin' funk. A spiritual sequel to his 1986 classic "Kiss," it's one of several hit songs that showcase the Artist's effortless ability to blend genres into his own unique style with clever simplicity. "Diamonds and Pearls" and "Cream" are the two pop smashes, but they only serve to kick-start the most musically remarkable stretch on the album — "Cream" is followed by the mock-lounge groove of "Strollin'" (with its Charlie Christian-esque solo), the gospel-fied blues shuffle of "Willing and Able," and the lightly percussive acoustic pop song "Walk Don't Walk" with its odd sound effects and lyrics about non-conformity that recall earlier idealistic paeans "Alphabet St." and "Paisley Park."
"Money Don't Matter 2Nite" is one of the album's most understated masterpieces, a commentary on war, love, and materialism ("So what if we're controlling all the oil / Is it worth a child dying for?") delivered via a perfect homage to '70s AM pop. "Insatiable" is a scorching bedroom ballad, Prince at his most seductive, playing every instrument with his falsetto in rare form. The single was only sent to R&B stations, and it's on the short list of the best quiet-storm grooves he ever released. And, as if to accent his obvious versatility, he manages to successfully meld the New Jack Swing template to full-on hard rock on the album closer, "Live 4 Love," delivering a more nuanced effort than similar attempts from the period (like En Vogue's monster hit "Free Your Mind").
Of course, Diamonds and Pearls isn't flawless. Songs like "Jughead" and "Push" are close to the clumsier New Jack Swing attempts of the Graffiti Bridge soundtrack that can best be described as filler, but they don't weigh down the album. Most of the track list stands as some of Prince's best pop songs of the 1990s, and among his most successful sonic experiments of the period. And it's a brilliant showcase for his woefully underrated band.
It can't be denied that the Revolution is the most iconic band Prince performed and recorded with, but there's a case to be made for the NPG as his most top-to-bottom talented set of backing instrumentalists. Tommy Barberella's keys on "Diamonds and Pearls," Levi Seacer's rhythm guitar and Sonny T's bass motoring the hits "Cream" and "Gett Off," the drumming of Michael B throughout the album, and the aforementioned and inimitable Rosie Gaines — it all produces the fullest sound Prince had enjoyed on record up to that point. Even while acknowledging the then-trendy production tropes of New Jack Swing's programmed beats and loops, Prince delivered an album born of a live band's sound.
And that's truly the most remarkable aspect of Diamonds and Pearls. It's a fascinating document of an artist "keeping up with the times" while pushing his own individual creativity forward — independent of what was considered fashionable. Prince is catering to tastes without conforming to them, and delivering amazing pop songs without pandering. Even while reaching the highest reaches of the charts, he could still break ground. Not many artists were able to indulge the marketplace and their artistic muse as effectively.